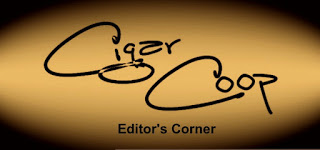 As you can see, in this month's column we actually are going to explore three different topics.    Let's dive right into it.
The Coffee Chain
Just before we published last month's column, a well-known coffee chain – Starbucks made a decision to ban all smoking within 25 feet of all of its stores as of June 1st.  When the announcement was made, it was met with some discontent among tobacco enthusiasts, and in particular the cigar industry.  However, as the month went on, the decision seemed to be met with a more complacent reaction going forward.  In other words, I haven't noticed tobacco enthusiasts flocking away from this coffee chain.
First up, this coffee chain exercised a right it most certainly has.  They made a decision as a business to do this.  This was not some government mandate.  However, a business that makes such a decision must be able to deal with the consequences.  The only way this decision will change is to react in a way that will impact it's business.  It was immediately after this decision that I decided to no longer be a customer at this coffee chain.
But what I am amazed is how many tobacco enthusiasts seem very quiet on the decision.  Tobacco enthusiasts represent a good chunk of this coffee chain's business, yet I still see many still going there – or even worse: waxing poetic about the place.
There are plenty of other options for a good cup of coffee or a latte.  In this case, if tobacco enthusiasts are unhappy, there is an easy solution – and it's not to go there.  In the end, this is a personal decision.  Overall, I would hope more tobacco enthusiasts join me and not patronize this chain.
2013 IPCPR Trade Show
You probably have noticed as the month of June has progressed, we have entered IPCPR 2013 preview mode on Cigar Coop.  While many media outlets will cover the show, we feel its just as important to cover the announcements leading up to the show – as well as the show itself.
For 2013, our readers can expect the same deep coverage that they have come to expect from Cigar Coop.  We'll change up a few things, but for the most part there will be a ton of information we will relay.
In terms of the coverage leading up to the show, you might have already noticed a change.  We have moved away from re-posting press releases.  Instead we have incorporated press release information provided to Cigar Coop into our own content.  This allows us to put news and previews into our popular "at a glance" format with blend and vitola information.  Our goal is to keep the content as fact and extend some of the background information.  At the same time, we are not interjecting opinion into this content.  There will be some isolated where we will still re-post press release information – particularly around events, at manufacturer request, or if we simply cannot expand on the content.  We hope you enjoy this change and this will continue beyond the 2013 IPCPR as well.
"The Streak"
July 2, 2013 will mark a significant day in the history of Cigar Coop.  It will mark the 365th consecutive day of daily posting on Cigar Coop.  When we say daily posting, we mean daily posting. We aren't backdating our content to ensure we have post every day.  Our content is pro-active and now that we are moving away from re-posting press releases, our readers will know they are getting Cigar Coop content pretty much day in and day out.  The goal is for our readers to check out our site every day and know that they can find something new on that day.
Our goal is to keep "the streak" going indefinitely.  Because of you – our loyal readers, we'd like to thank you for supporting Cigar Coop.  We look forward to continuing to provide you leading edge daily content in the form of cigar news, original feature stories, and in-depth cigar assessments.