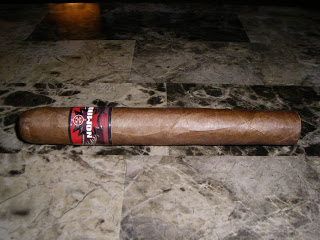 Nomad LE Esteli Lot 1386
The Nomad LE Esteli Lot 1386 is the second cigar to be released by Nomad Cigar Company. It is intended to be a one time limited release. Nomad Cigar Company was launched in 2012 by Fred Rewey. Rewey is an accomplished author and public speaker – especially around entrepreneurial topics. He is also a cigar enthusiast, and soon turned his attention to cigar making. After the self titled Nomad line was made in the Dominican Republic, Rewey set his sights on making a cigar in Nicaragua. He has plans for his new Nicaraguan-made Nomad S-307 line this Fall, but as fate had it, Rewey would stumble on to what he has termed some exceptional ligero. He decided to use it on a one time limited run – and thus the Nomad LE Esteli Lot 1386 was born and would be released first. There is no doubt Rewey had found some special tobacco, because after sampling several of these cigars, Rewey hits the jackpot. This cigar is nothing short of a home run.
The name of the cigar is interesting. The "LE" obviously stands for "Limited Edition". Esteli refers to where the cigars are made and lot 1386 actually refers to latitude 13 (N) and longitude 86 (W) – the coordinates in Esteli. Even the company name has meaning with "Nomad" as it is Rewey's vision to travel from place to place (country to country) to make cigars.
On the Nomad web-site, Rewey mentioned his thought process when he came across the special tobacco in this blend. Rewey did mention he considered this for a personal blend for himself.
Sometimes you stumble on a small amount of really exceptional tobacco. At that point you have three choices. #1. Leave it; #2. Make some cigars for yourself; #3. Make some for friends. Fortunately for the cigar enthusiast, we chose option three. Very limited run that can not be repeated.
Last year, the company became the seventh company to be distributed under the House of Emilio distribution by Emilio Cigars. This allows Rewey to focus on blending and production while Emilio can facilitate sales and distribution.
Without further ado, let's break down the Nomad LE Esteli Lot 1386 and see what this cigar is all about:
Blend Profile
For the Nomad LE Esteli Lot 1386, this cigar features an Ecuadorian Habano wrapper over Nicaraguan binder and filler. The blend features a full leaf of Esteli ligero in it. This will play a big role in the profile as we will see.
Wrapper: Ecuadorian Habano
Binder: Nicaraguan
Filler: Nicaraguan
Vitolas Available
The Nomad LE Esteli Lot 1386 has been released in a single vitola – a 6 x 52 toro. There will be 307 boxes of 12 produced. The 307 is significant because it represents the approximately square mileage of the tobacco growing region in Esteli.
Appearance
The Ecuadorian Habano wrapper of the Nomad LE Esteli Lot 1386 is a medium brown and almost has a dark caramel color to it. The wrapper itself is somewhat oily. I'd categorize it as a smooth wrapper, but there are some visible veins and visible wrapper seams.
The band is pretty much the same band that is on the Dominican-made core Nomad line. It features a red, maroon, black, silver, and white color scheme. Highlighting this band is the winged Nomad logo with a navigator symbol at the top. The text "NOMAD" is on the logo in a white colored modern style font. To the right of the band is the text @GODFADR which is Rewey's Twitter handle.
Preparation for the Cigar Experience
For my smoke of the Lot 1386, I went with my usual select of a straight cut. I then moved on to the pre-light draw. The dry draw notes from the Lot 1386 had a nice mix of cocoa, natural tobacco flavor, and cherry sweetness. There were also some spice notes that were a little hard to pinpoint at this time. Overall, I considered this an excellent pre-light draw. At this point I was ready to light up my Nomad LE Esteli Lot 1386 and see what this cigar would bring to the table.
Flavor Profile
The start to the Nomad LE Esteli Lot 1386 provided notes of natural tobacco, cherry, and spice. The spice was more defined once the cigar was lit as it was a definite baker's spice in my book. These flavors all were in the forefront. Some notes of cocoa and cream emerged in the background. The cream notes particularly played a key role in the flavor profile as it gave this cigar a unique edge. This surprised me a bit given there was a full ligero leaf in the blend. However, the ligero could definitely be detected on the retro-hale as the spice was a lot sharper and more of a classic pepper variety.
As the Nomad LE Esteli Lot 1386 progressed through the first two thirds, the cocoa notes meandered between the forefront and background. By the second third, the cherry sweetness diminished and became a background note. At the same time, there was a caramel sweetness I could detect from time to time as a tertiary note.
In the last third, the profile changed up again. It got more earthy and spicy. At this point, the ligero really kicked in. The resulting nub was firm to the touch and cool in temperature.
Burn and Draw
Nomad prides themselves on great construction and that is what is delivered with the Lot 1386. This is reflected in the attributes of the burn and draw. The burn was as low maintenance as a burn can get as this required minimal touch-ups. The resulting ash was tight and firm. It had a mostly white color with some dark speckling in it. The burn rate and burn temperature were ideal.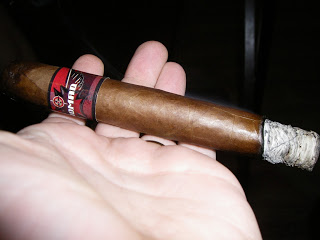 Nomad LE Esteli Lot 1386 – burn
The draw was excellent. It had a touch of resistance to it – which makes an ideal draw in my book. This was an enjoyable cigar that was low maintenance to puff on.
Strength and Body
The strength is a interesting story around this cigar. The Nomad LE Esteli Lot 1386 starts out medium and stays like that for the first half. By the midway point, it does creep into medium to full strength. Somewhere before the second third, the strength really accelerates – moving rapidly to full strength. There is no doubt the ligero kicked in. This kick happened on each Lot 1386 I smoked (if you read our preview, the pre-release we smoked also did this) This isn't a negative in my book as I do like a strong finish on a cigar.
The flavors are robust. They definitely are full-bodied in my book. I would say the body has an edge over strength until that last third. The kick in strength actually balances the strength and body in the end.
Final Thoughts
I've smoked through about five of these cigars – including the pre-release we highlighted in our preview. I smoked these at various points of age. This is a cigar that is aging really well – and it's hitting its sweet spot. I'm wondering what even more age will do to this cigar. Time will tell.
This cigar is the total package – flavor, complexity, and construction. There is no doubt whatever tobacco Rewey uncovered in Nicaragua had something really special going for it. Rewey is a rising star in this industry, and this is as good a sophomore effort for a cigar maker that I have seen. Given the strength at the end, this is probably a cigar for the more seasoned cigar enthusiast. As for myself, this is a cigar that is easily worth a box purchase of. It's definitely a cigar I'd hold on to.
Final Thoughts
Burn: Excellent
Draw: Excellent
Complexity: High
Strength: Medium (1st Half), Full (by 2/3 point)
Body: Full
Finish: Good
Assessment: Memorable
Score: 94
Source: The cigars for this assessment were purchased from Burns Tobacconist in Chattanooga, Tennessee and Outland Cigars in Charlotte, North Carolina. Additional samples from IPCPR and pre-IPCPR were provided by Nomad Cigar Company. These samples were initiated by Nomad Cigar Company in order to provide feedback. Cigar Coop is appreciative for the sample, but in no way does this influence this review.