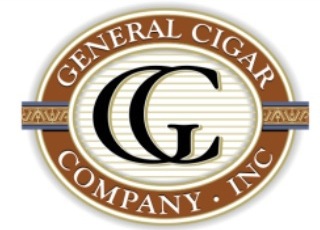 A few weeks ago, we previewed six offerings under Foundry Tobacco Company's Compounds, Elements, and Musings line aimed to be brick and mortar exclusives. The line is also offering exclusives to large internet and catalog companies. Today we look at those latter offerings.
Compounds, Elements, and Musings is perhaps the most ambitious line launch the cigar industry has ever seen. This new line launches 12 new offerings – containing a total of 18 distinct blends. These offerings will be split between brick and mortar exclusives and internet / catalog exclusives. True to General Cigar Company form, these offerings will feature some of the most unique packaging ever seen in the cigar industry. There are 6 new offerings containing 9 distinct blends that will be geared toward the brick and mortar retailers and another 6 offerings containing 9 blends geared toward the internet catalog.
We mentioned several times that General Cigar Company was the leader in terms of releasing new products – and in particular new blends. The Richmond, Virginia based company kept things under lock and key before the show and then opened the show with a bang. Of all of the brands under General, the most activity was around the Foundry brand. Foundry was launched their core line last year. In addition to the Compounds, Elements, and Musings et, Foundry launched a line called War of Currents featuring two blends and six front marks
The inspiration for Compounds, Elements and Musings comes from the Periodic Table of (chemical) elements. Each offering is represent by either an element name or a compound (combination of elements). We've been told all of the internet/catalog releases are small batch, limited release – meaning "once they are sold out, they are sold out". Foundry is keeping much of the details around the blends under wraps, but we do know these are not your run of the mill tobaccos.
In terms of the small batch, limited production, we were told "once they are sold out, they are sold out".
Gold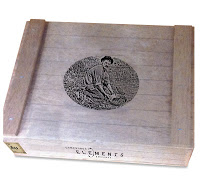 Vitola: 5 1/2 x 55
Gold (known by its periodic table name Au) is probably the best known element of the Internet / Catalog offerings. It is highlighted by having a "golden brown wrapper).
Gold is packaged in boxes of 25. The theme of the packaging is focused around the Gold Rush. Given Director of Innovation Michael Giannini's passion for history, this is no surprise. The packaging features a rustic wooden style box with an image of a gold rush miner on the lid of the box.
Argon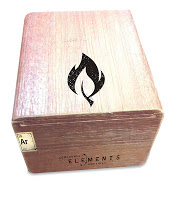 Vitola: 5 1/2 x 50
Argon is a noble gas that is found in the earth's atmosphere. For the Foundry offering we were told this will be a mix of Honduran, Nicaraguan and Brazilian tobaccos.
Argon is being packaged in boxes of 25. It is also being offered as a robusto-sized offering.


Europium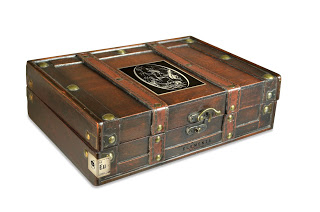 Vitola: 7 x 60
According to Wikipedia, Europium is "a moderately hard, silvery metal which readily oxidizes in air and water." While it is periodic element 63, Giannini took his inspiration for this offering based on "travel" (i.e. "Europe), thus the packaging represents a wooden travel chest.
As for the cigar, Europium is a big 7 x 60 cigar that is being packaged in boxes of 20.
Xenon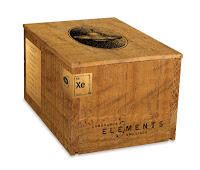 Vitola: 6 1/4 x 54
Xenon is a another noble gas that is found in the earth's atmosphere.
The Xenon offering in Compounds, Elements, and Musings is a box-press torpedo. The cigar is being packaged in boxes of 20. The box is a rough cut wooden box.
Vandium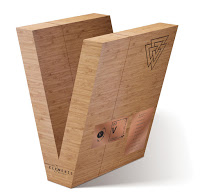 Vitola: 6 1/8 x 54/36 (perfecto)
According to Wikipedia Vandium is, "a hard, silvery gray, ductile and malleable transition metal. The element is found only in chemically combined form in nature, but once isolated artificially, the formation of an oxide layer stabilizes the free metal somewhat against further oxidation."
The packaging is definitely unique with this one. It is actually shaped like the letter "V". This also matches this element's symbol in the periodic table. The lid fits over the V-shaped design and there are ten cigars on each "wing" of the "V" for a total of 20 cigars.
The Vandium is the perfecto-shaped offering being offering to internet and catalog shops.
Plutonium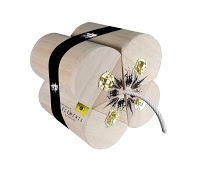 Vitola: 5 x 50 (Four blends)
Plutonium is a radioactive element. It is considered to be a man-made element.
This is possibly the most innovative packaging of the twelve offerings in the Compounds, Elements, and Musings set. Plutonium's packaging is shaped like a four chamber stick of dynamite held together by an inner tube of a tire with a fuse in the middle. Once separate, each chamber is its own box with a slide top box. Each chamber contains its own blend. Plutonium is the only internet/catalog offering containing multiple blends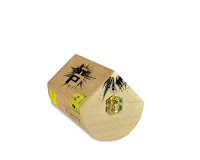 The blends are all robusto shaped. Each blend has its own label color – covering a good portion of the robusto. Consistent with the rest of the series, the blend details are not disclosed. The cigars are known as Plutonium Green, Plutonium Yellow, Plutonium Orange, and Plutonium White.
—
The following are the six brick and mortar exclusive offerings in the line:
Carbon
H20
Hydrogen
Uranium
Helium
Titanium
Source: Photo credits from www.foundrytobaccocompany.com