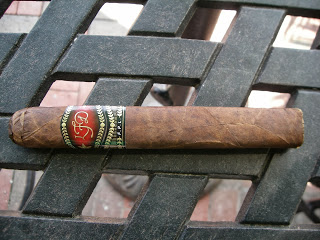 La Flor Dominicana Factory Press Limitado 2013
At the 2013 IPCPR Trade Show, La Flor Dominicana showcased its 2013 edition of its Factory Press Limitado. The Factory Press Limitado was one of two all new blends launched by LFD at the trade show (the other being the new La Flor Dominicana Chapter One). The Factory Press series is a limited production series that comes out on a periodic basis by LFD. This year's Factory Press Limitado is actually the second cigar in this series to take on that name as it was back in 2007 when the first one was released. This year's Factory Press Limitado has now made its way to retailers. I have recently had an opportunity to smoke a few of these cigars, Overall, this was a solid smoke. I found a cigar with not only a different flavor profile, but one with some excellent aging potential.

Litto Gomez, owner of La Flor Dominicana once explained the genesis for the Factory Press series: "For years I have been fascinated with our cigar box-pressing system. Many times I have thought how great it would be to share the process with our fans. That is why I'm offering a very special cigar shipped in the actual factory press. Because the concept is so special we needed to blend a cigar that will be totally unique to La Flor Dominicana"
Without further ado, let's take a closer look at the LFD Factory Press Limitado 2013 and see what this cigar brings to the table.
Blend Profile and Vitolas Available

Normally, we divide the blend profile and vitolas into two sections, but we are going to recap the history of this line below, so it is easier to combine these sections.
First up, we look at the cigar at hand – the Factory Press Limitado 2013. According to La Flor Dominicana, this cigar uses some of the darkest Sumatra wrappers that they could find. La Flor Dominicana could find. As with each of the Factory Press releases, the Factory Press Limitado is available in a single vitola. This size is 6 1/4 x 60.

Wrapper: Sumatra
Binder: Nicaraguan
Filler: Dominican
Vitola: 6 1/4 x 60

Below is the blend and vitola information for the previous releases of this series:

Factory Press I
Wrapper: Connecticut Broadleaf
Binder: Sumatra-seed
Filler: Corojo
Vitola: 6 1/2 x 60


Factory Press II
Wrapper: Oscuro Natural Nicaraguan
Binder: Dominican
Filler: Dominican
Vitola: 6 1/4 x 54


Factory Press II Limitado (2007)
Wrapper: Connecticut Broadleaf
Binder: Nicaraguan
Filler: Dominican
Vitola: 6 1/4 x 54


Factory Press III
Wrapper: Connecticut Broadleaf
Binder: Nicaraguan
Filler: Dominican
Vitola: 6 1/4 x 58
Factory Press IV
Wrapper: Mexican
Binder: Ecuadorian
Filler: Dominican (La Canela Farm)
Vitola: 6 1/2 x 60
Appearance
The Factory Press Limitado 2013 definitely lives up to being a darker Sumatra wrapper. It has a coffee bean brown/colorado red blend to its color scheme with some darker marbling to it. There is a slight amount of oil on the surface. It had some visible veins, but the darker coloring does a nice job at hiding the wrapper seams. The box-press itself is well-packed, however it was not as "sharp" a box-press as what was seen on previous releases such as Factory Press IV.
There are two bands on this cigar. The first is the classic LFD gold script logo with the burnt red and black background. It also has the standard LFD gold adornment for trim. There is a gold medallion and leaf on the left and right side of the band.
Just under the primary band is a secondary band that is black with gold adornments. On that secondary band are the letters F.P.L. in white font (standing for Factory Press Limitado).
Preparation for the Cigar Experience
Prior to my smoking experience of the Factory Press Limitado 2013, I went with a straight cut to remove the cap. I then moved on to the pre-light draw. The dry draw provided a very interesting combination of flavors. I detected a nice natural tobacco sweetness and a touch of pepper. I also picked up what I would term a smoky wood taste. It wasn't quite a fire-cured taste, but more along the lines of a hickory note. Overall, I considered the pre-light draw to be positive on the Factory Press Limitado 2013. At this point, I was ready to light up this cigar and see what the smoking experience would deliver.
Flavor Profile
The start to the Factory Press Limitado had a peppery start with a little bit of hickory in the background. The flavor soon evolved to notes of wood, hickory, and pepper in the forefront with some lemon sweetness and natural tobacco in the background.
For the most part the notes above were the flavors I got for the majority of the smoking experience. The flavors tended to complement each other well. While the notes varied at different degrees of intensity throughout the smoke, I found the wood and natural tobacco spent the most time in the forefront while the hickory tended to be more of a distant secondary note. The pepper and lemon notes tended to be the most dynamic – moving between a primary and secondary note. By the second half though, I did notice an increase in pepper in the forefront, but it never became overwhelming.
The resulting nub was on the softer side, but it remained cool in temperature.
Burn and Draw
The burn to the Factory Press Limitado performed extremely well. The burn line remained relatively straight – requiring some touch-ups, but not an unordinary amount of them. The resulting ash was mostly white in color with some black speckling. I would categorize the ash as being somewhat firm. There were a couple of loose spots along the way, but for the most part it held up pretty well. The burn rate and burn temperature were ideal.
The draw to the Factory Press Limitado was excellent. It required little in the way of maintenance to puff.
Strength and Body
From a strength perspective, I found the Factory Press Limitado to deliver some power, but it is not a smoking experience that will overwhelm you with nicotine. I assessed this cigar to be medium to full in strength. As for the flavors, they also had some nice depth. I also assessed the Factory Press Limitado to be medium to full-bodied. There was an excellent balance between both the strength and body with neither attribute overshadowing the other.
Final Thoughts
One thing that I thought was very interesting is that when I talked to others that smoked this cigar, they did not get the same flavor profile as I did. Someimes after I talk to someone, I can pick up some things that they mentioned. In the case of the Factory Press Limitado, I still got the same flavors that I got above. In the end, I'd encourage all cigar enthusiasts to go with the instincts of their taste senses.
Overall, I thought the La Flor Dominicana Factory Press Limitado did a great job at delivering some really unique flavors. While don't think that this was a "young" cigar, my gut instinct tells me that there is some really good aging potential with this cigar. This is still a good enough cigar that I would recommend to others. In particular, I think experienced cigar enthusiasts will like this cigar. This would also be a good cigar for a novice to try something that is closer to full strength and full-bodied. As for myself, this is definitely worth getting a five pack and smoking again.
Summary
Burn: Excellent
Draw: Excellent
Complexity: Medium
Strength: Medium to Full
Body: Medium to Full
Finish: Good
Assessment: Nice to Have
Score: 90


Source: The cigars for this assessment were purchased from Union Cigar Company in Monroe, NC.