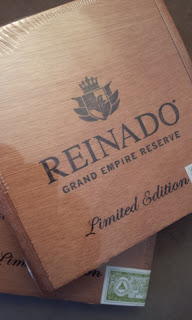 Antonio Lam, owner and founder of Reinado Cigars was a guest on Episode 69 of the Stogie Geeks show and discussed some plans for three projects that are in the works for his company.
First up, a 6 x 60 vitola is being added to the Reinado Grand Empire Reserve Premium Collection. The 6 x 60 had been delayed because Lam had felt it was not ready at the time when the other line extensions were released. The 6 x 60 will be parejo and shipped in ten count boxes with a price point around $11.00. It should be released over the next couple of months. Lam showed an unbounded version of this cigar during the show.
Lam confirmed plans for a Connecticut Shade wrapper blend. This blend is being based on the current Reinado Grand Empire Reserve blend, but with a Connecticut Shade wrapper. Lam said the blend is still in the prototyping stages. Lam wanted to go after something that he described as an "early afternoon smoke" and something "not quite as heavy as the Grand Empire Reserve". He described the cigar as medium and smooth. He described the cigar as having a feel of being in a bakery. Finally, he described he wanted to do something "interesting with the packaging", so this will be something to look out for. Lam also showed an unbounded prototype of the cigar during the show

The third item is a project revolving around the company's fifth anniversary. There were no specifics discussed other than the project is in the works. He is predicting it will be in "one size" and with "low count packaging" (boxes of 10 or 12). He said it will be special in terms of packaging as well, but not something "lucrative" in terms of packaging.