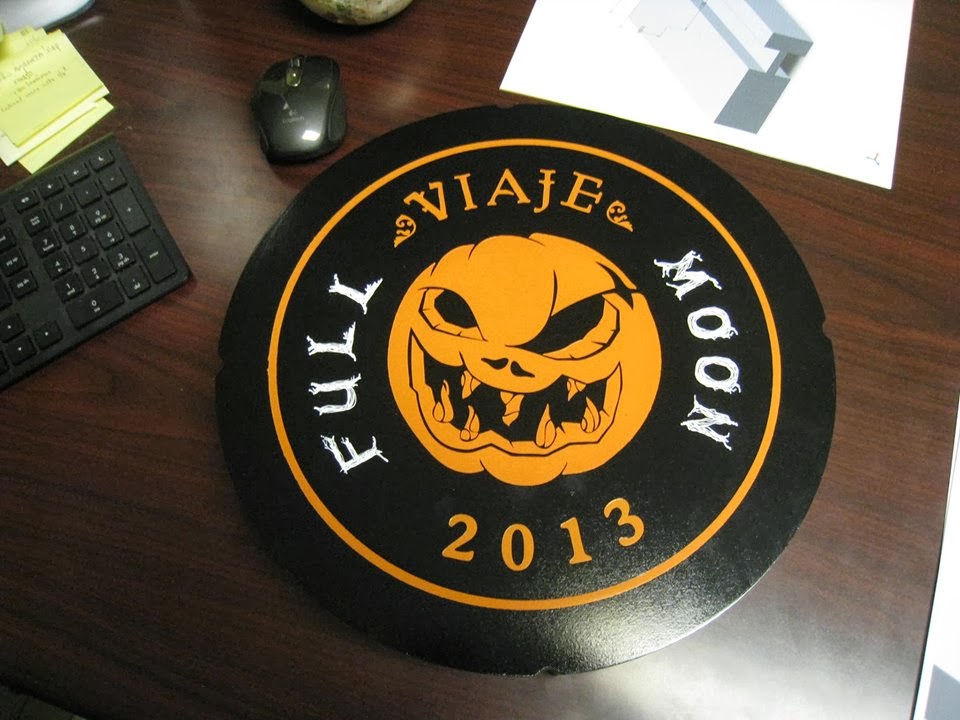 Circular box of the Viaje Full Moon 2013
(Photo Credit: Andre Farkas Facebook page)
Viaje will be releasing a new line in its October shipments to retailers called the Viaje Full Moon 2013. In 2013 company President Andre Farkas has focused much around line extensions and 2013 batches for his existing small batch lines. The Full Moon 2013 represents the first new line in the 2013 calendar year to be shipped by Viaje. The 10/22/13 Cigar Insider had some details around this release.
For the past few months, Farkas has mentioned several times he had something special planned for Halloween, and the Full Moon 2013 represents that. While some details around the release have been disclosed, Farkas is actually keeping the cigars and the banding a secret until they show up at retailers. He did however provide a glimpse of some of the unique packaging.

As for the packaging, it features a lacquered circular-shaped box with a Halloween jack-o-lantern design on it. The circular box is shipped in a cardboard carrying case with a similar design on it.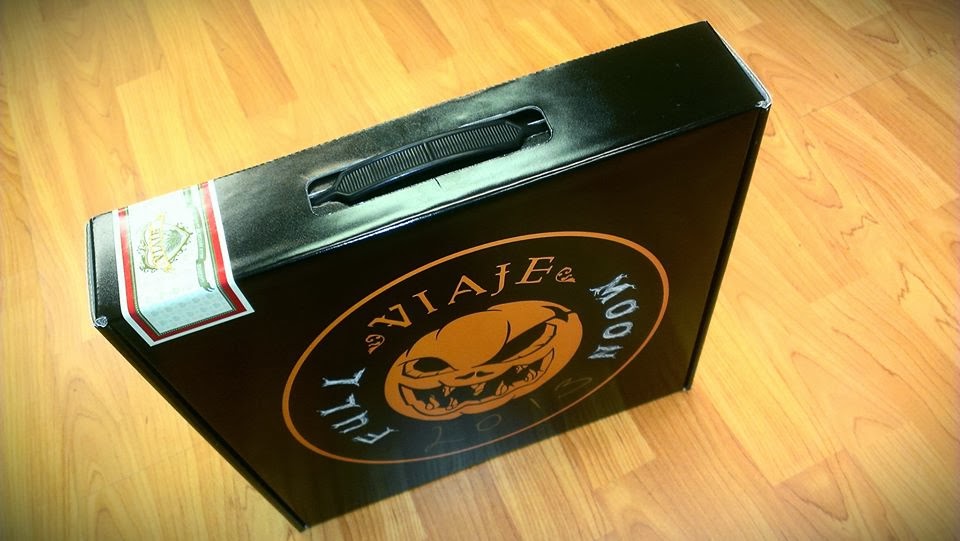 Packaging of the Viaje Full Moon 2013
(Photo Credit: Andre Farkas Facebook page)
The Full Moon is included in a shipment to retailers along with the ninth batch of the Viaje Skull and Bones (a M?stery Maduro) and the Viaje WLP Stuffed Turkey 2013 White Meat / Dark Meat.
Update 10/27/13: Viaje Full Moon has shipped to retailers. Here is a look at the cigar:
Viaje Full Moon 2013
At a glance, here are the cigar specifications of the Full Moon 2013 as reported by Cigar Insider (and confirmed by Farkas)
Blend Profile
As with many Viaje releases, the Full Moon 2013 is a Nicaraguan puro:
Wrapper: Nicaraguan Corojo
Binder: Nicaraguan
Filler: Nicaraguan
Vitolas Available
The Full Moon 2013 will come in one size – a 5 x 58 gordo. There will be 24 cigars packaged per box and a total of 400 boxes are being allocated. The price will be $11.40 per cigar.