Assessment Updates will be posted on this web-site to: 1) Assess "pre-review" cigars that were not given a rating or score (typically pre-release cigars); 2) Provide numeric ratings to cigars previously assessed prior to the implementation of the numeric scoring system; 3) A re-assessment and re-score of a previously assessed/score cigars. Today, we provide an assessment rating and score for the E-Stunner by E.P. Carrillo. This was a cigar we did a pre-release review in August, 2013.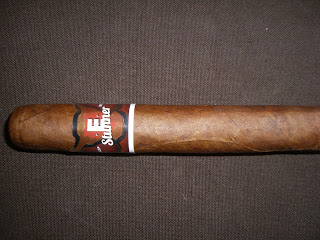 E-Stunner by E.P. Carrillo
The E-Stunner was a project spearheaded by Ernesto Perez-Carrillo Jr's children, Ernesto III and Lissette The packaging, and even the cigar names have a Western theme to it. In a conversation we had with Ernesto Perez-Carrillo III, he said that the idea was to reach a much younger demographic.
The blend features a higher priming Ecuadorian Sumatra wrapper, Nicaraguan binder, and a mix of Nicaraguan and Dominican filler. Traditionally the ratio of Dominican to Nicaraguan tobacco in an E.P. Carrillo blend has been 80/20. With the E-Stunner, the ratio is 50/50. The cigar comes in three sizes – each named for cattle: Corriente (4 x 46); Siboney (5 x 50); and Brahman 5 1/2 x 54. In this update we will look at the Brahman.

With this blend, I did find it needed to age several weeks after it was released, but once it ages it will really deliver for you. The E-Stunner Brahman will deliver a complex flavor profile of earth, nut, exotic spice coffee, cream, and melon sweetness.
It has a nice balance of strength versus body as both attributes are in the medium to full range. It's got some kick to it, but it won't knock out you. The construction has been excellent on this smoke as well.
Click here
for the pre-release assessment of the E-Stunner by E.P. Carrillo.
Assessment: 3.5 – Box Split
Score: 91
* Some cigars for this assessment update provided by E.P. Carrillo Cigars. The samples were received in order to provide feedback. Cigar Coop is appreciative for the samples, but in no way does this influence this write-up.