Assessment Updates will be posted on this web-site to: 1) Assess "pre-review" cigars that were not given a rating or score (typically pre-release cigars); 2) Provide numeric ratings to cigars previously assessed prior to the implementation of the numeric scoring system; 3) Provide a re-assessment and re-score of a previously assessed/score cigars. Today, we provide an assessment rating and score to the Casa Miranda Chapter Two cigar by Miami Cigar and Company in the Robusto size. This was a cigar we did a pre-release assessment for in the Toro format back in July, 2013.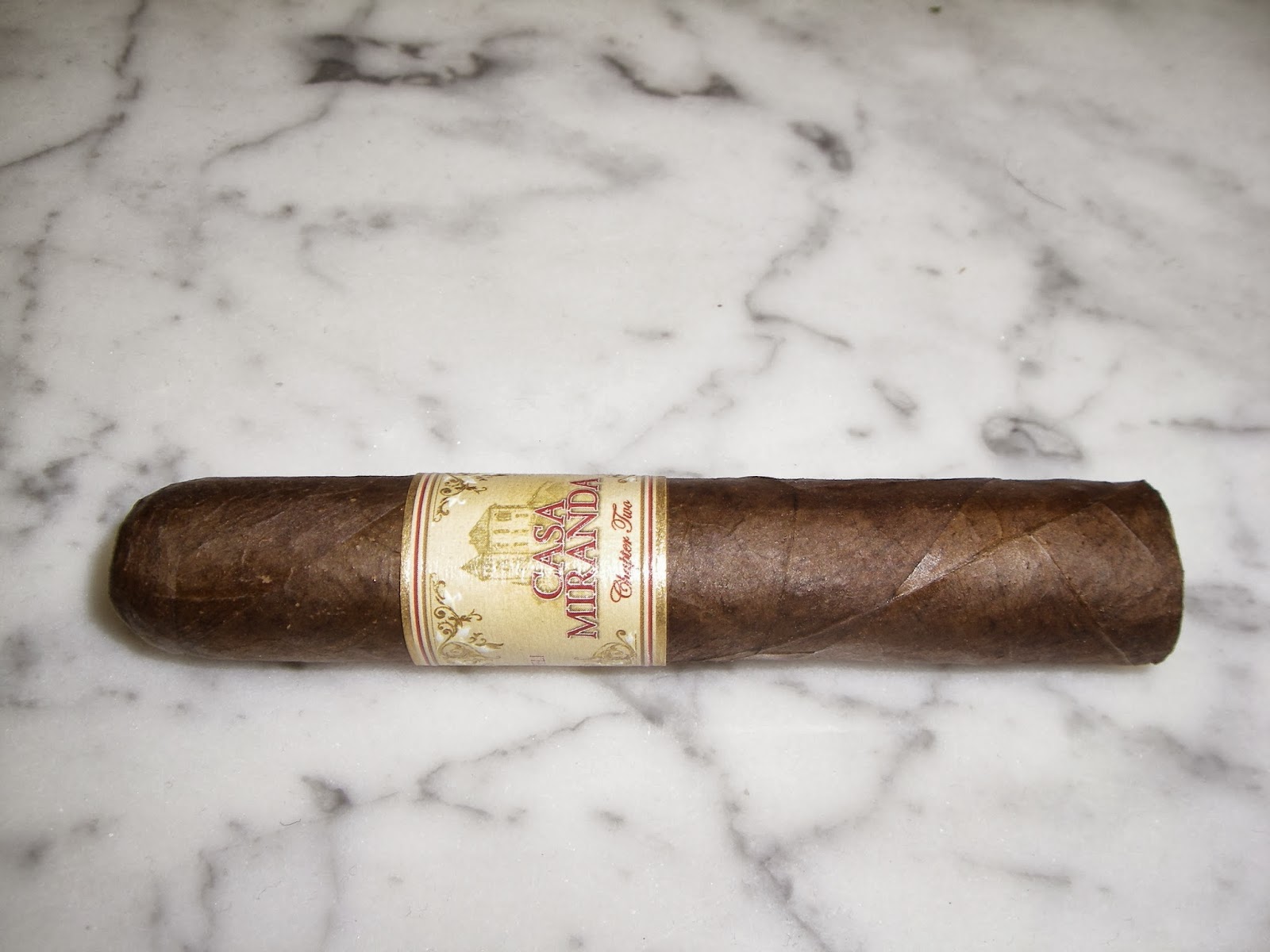 Casa Miranda Chapter Two Robusto
The Casa Miranda Chapter Two is the second blend in Miami Cigar and Company's Casa Miranda line. The Casa Miranda line was launched at the 2011 IPCPR Trade Show with the Casa Miranda Chapter One and it finished as our #6 Cigar that year. Last year, the Chapter Two was launched at the 2013 IPCPR Trade While the original Chapter One came out of Miami's El Titan de Bronze, the Chapter Two comes out long-time Miami Cigar and Company collaborator – the My Father Cigars factory.

The blend features a Nicaraguan Corojo wrapper and an undisclosed binder. The filler is atypical for a My Father Cigars in that it not only contains Nicaraguan tobaccos, but also tobaccos from Brazil and the Dominican Republic. It has been released in four sizes: Robusto (4 1/2 x 50), Corona Gorda (6 x 46), Toro (5 1/2 x 54), and Gran Toro (6 x 60). While we originally smoked the Toro in our pre-release review, today we look at the Robusto. This cigar is a production cigar that was received by Cigar Coop this past month.
When I smoked the pre-release of the Casa Miranda Chapter Two in the Toro format, I found it delivered quite a complex flavor profile. I found the production Chapter Two in the Robusto continued this trednd. This cigar delivered notes of coffee, white pepper, and earth. Along the way I also detected notes of oak, earth, citrus, and chicory. The production release definitely showed the flavors maturity The strength and body are both medium to full strength.
The burn and draw were both excellent on this – both required very little maintenance during the cigar experience. This cigar is definitely worth a fiver and keeping some in your humidor.
Click here for our original pre-release assessment on the Casa Miranda Chapter Two in the Toro format.
Summary
Burn: Excellent
Draw: Excellent
Complexity: High
Strength: Medium to Full
Body: Medium to Full
Finish: Good
Assessment: 3.0 – The Fiver
Score: 90
References

Price: $6.35
Source: Cigars provided by Miami Cigar and Company
Stogie Geeks Podcast: n/a
Stogie Feed: n/a
* The cigar for this assessment was given to Cigar Coop by Miami Cigar and Company. Cigar Coop is appreciative for the sample, but this does not influence the review.