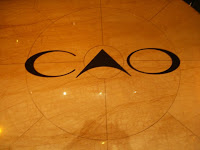 CAO is adding a fifth vitola to its CAO Flathead line. The CAO Flathead Sparkplug will add a 4 1/2 x 50 size into the line. The Sparkplug has been already making its way around the country at various events, but Cigar Aficionado is reporting the line is already shipping to retailers.
The Flathead line was the third regular production core released by CAO since the brand was absorbed into the portfolio. The Flathead is an all-box press line of vitolas and the Sparkplug follows suit here.

The theme of the CAO Flathead is based on cigars, cars, and girls with very much a retro-theme associated with it. In a press release issued on the CAO Flathead "Rick Rodriguez and I were talking about the great people we've met at CAO events across the country, and about the conversations we've had with them. It didn't take us long to realize that the conversations were always about the same things: Cigars, Cars and Girls. Not necessarily in that order. So that's what led us to come up with Flathead."
At a glance, here is a look at the CAO Flathead line:
Blend Profile
Wrapper: Connecticut Broadleaf
Binder: Ecuadorian Connecticut
Filler: Nicaraguan
Vitolas Available
As mentioned the CAO Flathead Sparkplug becomes the fifth vitola in this line
V450 Sparkplug: 4 1/2 x 50
V642 Piston: 6 1/2 x 42
V554 Camshaft: 5 1/2 x 54
V660 Carb: 6 x 60
V770 Big Block: 7 x 70
When we talked to blender Rick Rodriguez at the 2013 IPCPR Trade Show on the Flathead line, he told us he adjusted the blend such that the smaller ring gauges would have more emphasis on body, while the larger sizes emphasized more flavor. This was achieved by tweaking the proportions of the ligero and seco in the filler from the same leaf.