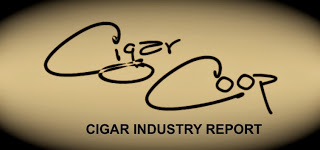 The Cigar Industry Report is a one stop place to catch up on the activity here at Cigar Coop and Stogie Geeks. It is a combination of our news reports, cigar reviews, and assessment updates we do throughout the week. We will also recap what happened on our Stogie Geeks show. Finally, each week we will look back at Cigar Coop history. Look for this report every Saturday morning at 8am Eastern time.


IPCPR 2014


Our 2014 IPCPR Digest is now live. Follow this to keep track of all products and news related to this year's trade show in July.
Feature of the Week: Viaje May Shipment
Andre Farkas threw a couple of surprises into his latest shipments of his small batch products. First up, we learned that the Viaje Zombie Antidote, a cigar he broke news on during his appearance on Stogie Geeks will be hitting retailers. However, the big surprise would be the packaging – the syringe shaped vitola will come packaged in a prescription style jar.
Another surprise was the release of the Viaje Cloudmaker, a 5 x 60 offering in the Skull and Bones with a white label will be released in this latest batch.
Finally the Viaje Roman Candle as well as the Viaje Skull and Bones FOAB and MOAB are returning and will be a part of the May shipment
FDA Regulatory Information
We are into the period of public comment for the FDA's proposed regulations. We have a digest below of our links and other useful links when making your response:
We also recommend some of the following in regards to the FDA:
News and Previews.
Legislative News
Stogie Geeks Episode 97