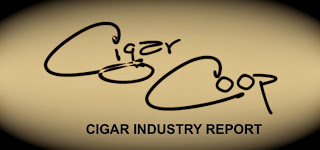 The Cigar Industry Report is a one stop place to catch up on the activity here at Cigar Coop and Stogie Geeks. It is a combination of our news reports, cigar reviews, and assessment updates we do throughout the week. We will also recap what happened on our Stogie Geeks show. Finally, each week we will look back at Cigar Coop history. Look for this report every Saturday morning at 8am Eastern time.


IPCPR 2014


Our 2014 IPCPR Digest is live. Follow this to keep track of all products and news related to this year's trade show in July.

We have completed four installments of our 2014 IPCPR Preview Series. Part 5 will be this Sunday.
Part 1: "The Five Boutiques to Watch."
Part 2: The Potential Cigar Trends
Part 3: Manufacturer Spotlight
Part 4: Around the Show Floor (First Pass)
Feature of the Week: Cubanacan Cigars Announces HR Blend

We are getting into the rapid-fire pre-IPCPR coverage for this year's trade show. While a lot of big announcements have been made, perhaps this one could be the most significant. This week Cubanacan Cigars announced a partnership with Hirochi Robaina, the grandson of the legendary Don Alejandro Robaina for the new HR Blend. Hirochi currently runs the Vegas Robaina farm located in Pinar del Rio, Cuba which has been in his family since the 1800s. Gonzalez who has over 40 years involved in the cigar industry from the cultivation of tobacco to spending many of those years overseeing La Corona Cigar Factory, one of the largest factories in Havana. The HR Blend will be made at the Cubanacan factory in Nicaragua. The cigar will be positioned as a new brand under the Cubanacan Cigars umbrella and will be launched at the 2014 IPCPR Trade Show.
IPCPR News and Previews
.
This week the busy news leading up to the IPCPR 2014 Trade Show continued. All of these cigars will be launched at the 2014 IPCPR Trade Show.
Other News
Legislative News
FDA: No new sponsors were added to HR792 this week. The total remains at 157 co-sponsors (158 total sponsors)
The period for Public Comment to the FDA's Deeming Document has been extended 30 days until August 8th. If you are looking for guidance on how to comment, follow the links below:


We have a digest below of our links and other useful links when making your response:
Stogie Geeks Episode Episode 102