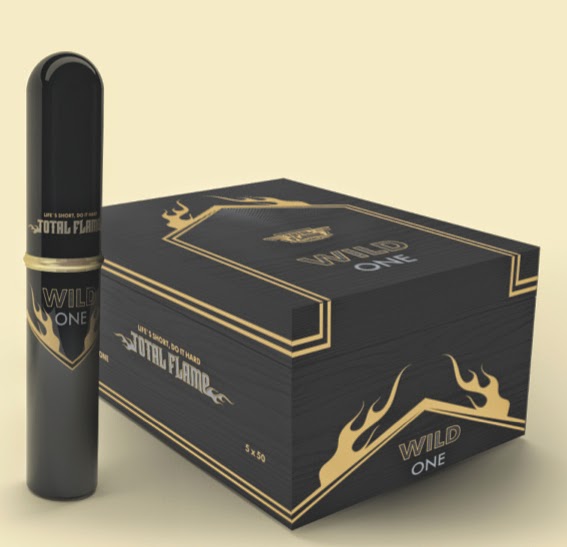 Total Flame Cigars will introduce a blend that contains andullo tobacco. The Total Flame Wild One will be launched at 2014 IPCPR Trade Show in Las Vegas and is targeted for release this November. It will be launched in a 5 x 50 robusto format packaged in a tube.
For the Wild One, Total Flame turns to the La Aurora factory in the Dominican Republic. This factory has produced an Andullo tobacco blend before with Ventura Cigar Company's Project 805. Typically andullo tobacco has been found in pipe and chewing tobacco, and the Project 805 was one of the first major releases to use this tobacco.
Andullo tobacco undergoes a very different curing process than traditional cigar tobacco leaves. This involves putting tobacco leaves in palm seed pods. The pods are then wrapped in rope causing the andullo tobacco to compress into a thick bar almost looking like a roll of salami.

Total Flame Cigars was founded by Vladimir Roshchin and Maxim Privezentsev. The duo met at a cigar event in Moscow, Russia and learned they had a common passion for both cigars and motorcycles. They soon collaborated to launch a cigar company and in 2011 they also set forth on a well documented tour of the globe riding their motorcycles. The company has a United States operation in Amarillo, Texas.
The 2014 IPCPR Trade Show is proving to be a busy one for Total Flame Cigars. The company is also launching a perfecto tube out of La Aurora called the Total Flame Premium Perfecto.. There are also two cigars out of the Plasencia factory – a cigarillo called Total Flame Spokes and a petit robusto called Total Flame OTR (Off the Rails).


At a glance, here is a look at the Total Flame Wild One:


Blend Profile


In addition to the Andullo tobacco in the blend, the Wild One features tobaccos from Ecuador, the Dominican Republic, and Nicaragua.
Wrapper: Ecuadorian Sumatra
Binder: Dominican Republic
Filler: Nicaraguan, Dominican Republic


Vitolas Available


Total Flame Wild One is available in one size – a 5 x 50 robusto in a tube. The cigars will be packaged in boxes of 20.