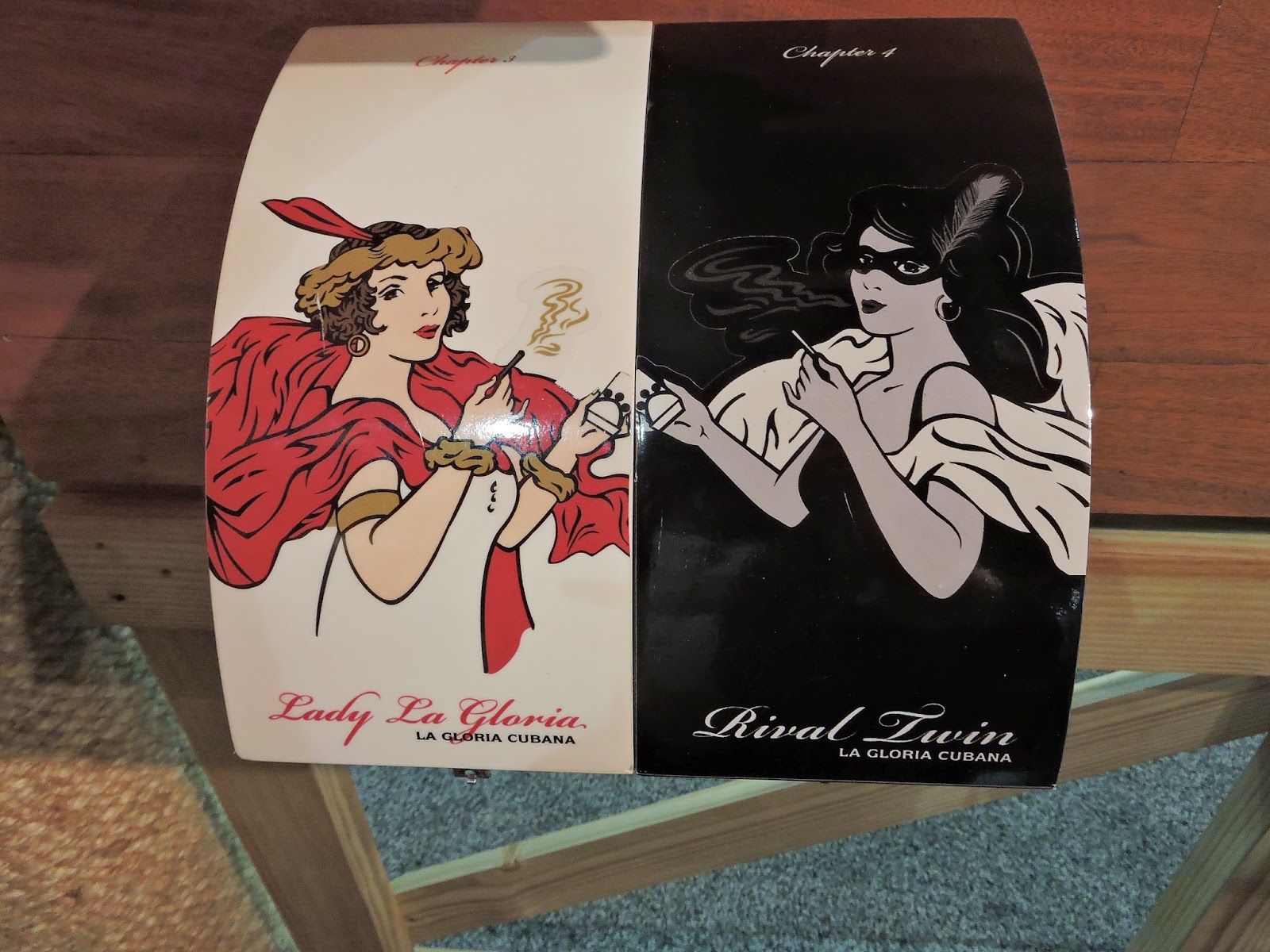 At the 2014 IPCPR Trade Show, La Gloria Cubana unveiled the next installments of its "Rival Twin" series – called Chapter 3 and Chapter 4. This package brings together two different blends – one from La Gloria Cubana's Dominican-based factory and one its Honduran based factories. The cigar has a story that is a rivalry between Lady La Gloria representing the Dominican factory and her "darker rival twin" representing the Honduran factory. The two blends called Rival Twins Finale will feature some unique packaging and will be limited to a run of 1,200 boxes of 24.

Chapter 3 will be the Lady La Gloria blend and will feature an Ecuadorian Habano-based blend. Chapter 4 will the the darker Rival Twin's blend and will feature a Honduran Rosado Oscuro wrapper. Both cigars will be a large 8 x 52 vitola. The packaging will feature two compartments held together by a magnet. One compartment will contain 12 cigars of Chapter 3 and the other will contain 12 cigars of Chapter 4.
The Rival Twins Series was quietly launched earlier this year with Chapter 1 and Chapter 2 and features the same theme of darker maduro (Connecticut Broadleaf) "rival twin" (Chapter 1) from a Honduran factory up against the natural Lady La Gloria (Chapter 2) blend from the Dominican factory. Chapter 1 was a 7 x 62 vitola while Chapter 2 was 7 x 64. La Gloria Cubana says Chapters 3 and 4 will brinf
The Rival Twin Finale of Chapter 3 and Chapter 4 should arrive at retailers later this month.
Chapter 3:
At a glance, here is a look at the Rival Twins Finale Series:
Blend Profile
Chapter 3 (Dominican Blend)
Wrapper: Ecuadoran
Binder: Ecuadoran
Filler: Nicaraguan, Honduran


Chapter 4: Honduran Blend
Wrapper: Honduran
Binder: Indonesian
Filler: Honduran, Mexican, Colombian
Vitolas Available
As mentioned both blends of the Rival Twin Finale (Chapter 3 and Chapter 4) are 8 x 52 double coronas. The cigars are packaged 12 cigars per blend for a total of 24 cigars for box. Each cigar will have an SRP of $9.50