Assessment Updates will be posted on this web-site to: 1) Assess "pre-review" cigars that were not given a rating or score (typically pre-release cigars); 2) Provide numeric ratings to cigars previously assessed prior to the implementation of the numeric scoring system; 3) Provide a re-assessment and re-score of a previously assessed/score cigars. Today, we re-assess Leccia Luchador by Leccia Tobacco in the El Hombre (Gran Robusto) size. This was a cigar we did a pre-release assessment back in April, 2014.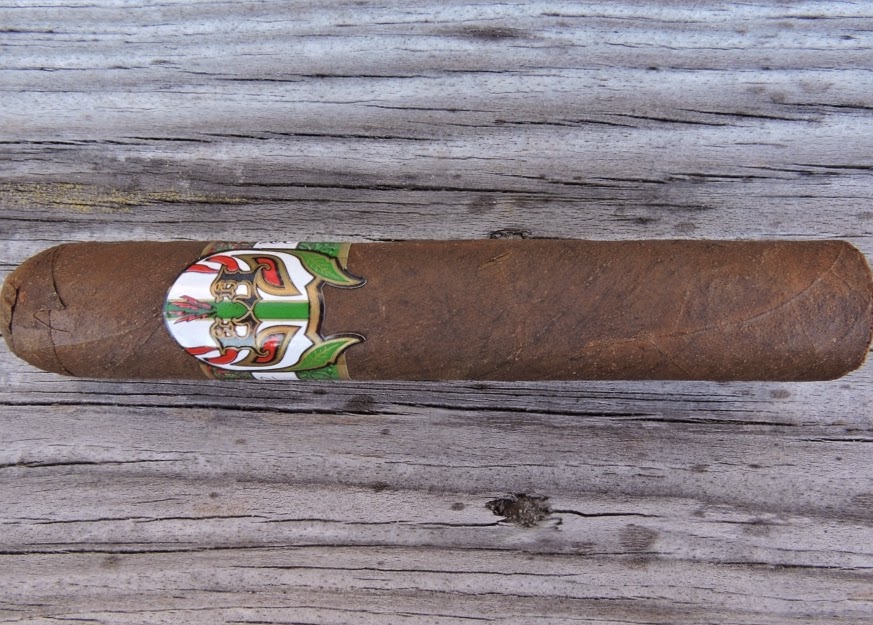 Wrapper: San Andres Mexican
Binder: Habano Ecuador
Filler: Ometepe (Nicaragua), Esteli Viso (Nicaragua), Pennsylvania Ligero (U.S.), Jamastran Ligero (Honduras)
El Hombre: 5 x 54
The Leccia Luchador is the third blend to be released by Sam Leccia's Leccia Tobacco. For this new release, the Luchador introduced a Mexican San Andres wrapped offering into the Leccia Tobacco portfolio. There is also a Mexican theme with this cigar. While the wrapper hails from Mexico, the Luchador also has a theme of paying homage to the wrestlers from that country. To complete the whole Mexican theme, the cigar also had an official on the Mexican feast Cinco de Mayo on May 5th.
Leccia Tobacco was launched in 2013, and it marked the return of Sam Leccia to the cigar industry. After a year and half, Leccia would sell his brands to General Cigar and join the company as a Cigar Blend and Tobacc Specialist. While Luchador was one of the brands that went to General, today we assess a Luchador that came from the Leccia Tobacco company.
The cigar centers on three tobaccos that grown in volcanic areas, the Habano, San Andres, and Ometepe (Nicaragua). Volcanic soil is typically so rich that fertilization is often not necessary.
Overall I found the Luchador maintained much of the same qualities as when I smoked the pre-release. This cigar delivers notes of mocha, earth, and pepper. The cigar featured some pepper on the onset, and then developed a mocha sweetness. The sweetness rapidly changed to a spicy profile in the second half where it held until the end. Like the pre-release, the spice was slightly pungent at the end. The mineral component I got on the pre-release was not really a factor this time around.
The Luchador maintains a good balance between strength and body. Both attributes started out medium to full in the first half. When the spice ramps up toward the midway point, this is when the cigar transitioned to full strength and body. The construction was excellent.
Overall this was an excellent blend. In some ways its profile was a throwback to the old days Leccia had with Cain in terms of strength and body. In other ways, it had a different flavor profile. This one is worth a box split in my book.
Summary
Burn: Excellent
Draw: Excellent
Complexity: Medium
Strength: Medium to Full (First Half)
Body: Medium to Full (2nd Half)
Finish: Good
Assessment: 3.5 – Box Split
Score: 91
References
Original Assessment: Cigar Pre-Review: Leccia Luchador by Leccia Tobacco
News: Leccia Tobacco to Release Leccia Luchador (Cigar Preview)
Price: $8.10
Source: Sample Provided by Manufacturer
Stogie Geeks Podcast: Episode 93
Stogie Feed: Leccia Luchador El Hombre by Leccia Tobacco (Pre Release)