Assessment Updates will be posted on this web-site to: 1) Assess "pre-review" cigars that were not given a rating or score (typically pre-release cigars); 2) Provide numeric ratings to cigars previously assessed prior to the implementation of the numeric scoring system; 3) Provide a re-assessment and re-score of previously assessed/score cigars. Today, we provide an assessment rating and score to the Sindicato by Sindicato Cigars in the Corona Gorda size. This was a cigar we originally assessed back in May, 2014 in the Churchill format.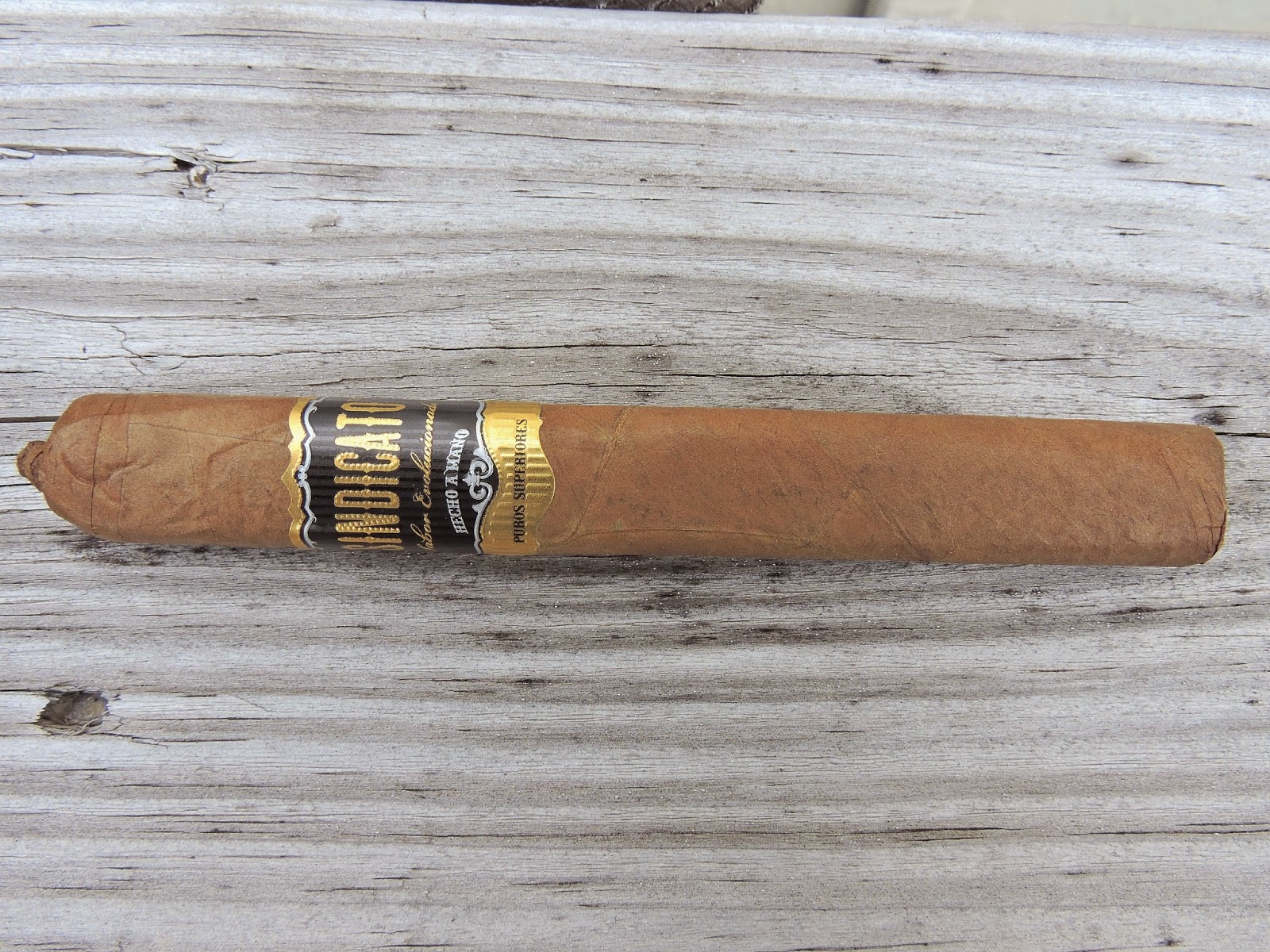 Sindicato Corona Gorda by Sindicato Cigars

Wrapper: Shade Grown Corojo Jalapa
Binder: Esteli Double Leaf
Filler: Jalapa and Esteli

Corona Gorda: 5 1/2 x 48 (box-press)
The Sindicato is Sindicato Cigars' eponymous named cigar. It was the fourth line to be launched by the company since its inception (joining Affinity, Hex, and Casa Bella). The company officially in launched March, 2013. The company was started by a group of 45 strong cigar retailers who joined together to enter the manufacturing side of the business. Industry veteran Jim Colucci serves as their President and CEO.
The company has employed a strategy of partnering with established factories to make their cigars. For the Sindicato cigar, the company partnered with Casa Fernandez to make the cigar. Sindicato was blended by Arsenio Ramos. It features tobaccos that come from Casa Fernandez farms. One distinguishing feature is that the Sindicato uses a unique limited shade grown Corojo Jalapa wrapper from the Fernandez farms. Sindicato says the wrapper is grown under shade to provide a consistent appearance of the wrapper leaf. The cigar was released in five sizes. Today we take a look at how this smoked in the Corona Gorda format.
The Sindicato Corona Gorda featured the similar notes of cedar sweet-spice, natural tobacco, exotic pepper, and nut that I detected when I smoked the Sindicato Churchill. The nut flavors seemed to emerge much quicker on the Corona Gorda. The sweet notes of the Corona Gorda also had more of a classic corojo sweetness I find on many other cigars made by Casa Fernandez – namely a mix of natural tobacco sweetness with some cherry notes mixed in. The Corona Gorda still maintained the full-bodied profile that I got on the Churchill. The strength of the Corona Gorda seemed slightly dialed back, but it still maintained medium to full strength throughout the smoking experience. The construction was excellent and this was reflected very nicely on both the burn and draw.'
Overall, I still preferred the flavors to the Sindicato Churchill over the Corona Gorda, but that is not a knock on the Corona Gorda which still delivers fine flavor. I also thought the Churchill mixed things up a little more in terms of the complexity. However, this is still a very nice cigar and it is one worth picking up a five pack of.
Summary
Burn: Excellent
Draw: Excellent
Complexity: Medium
Strength: Medium to Full
Body: Full
Finish: Good
Assessment: 3.0 – The Fiver
Score: 89
References
Original Assessment (Churchill): Sindicato by Sindicato Cigars
News: Sindicato by Sindicato Cigar Group Officially Announced
Price: $10.95
Source: Sample Provided by Manufacturer
Stogie Geeks Podcast: Episode 99
Stogie Feed: Sindicato Churchill