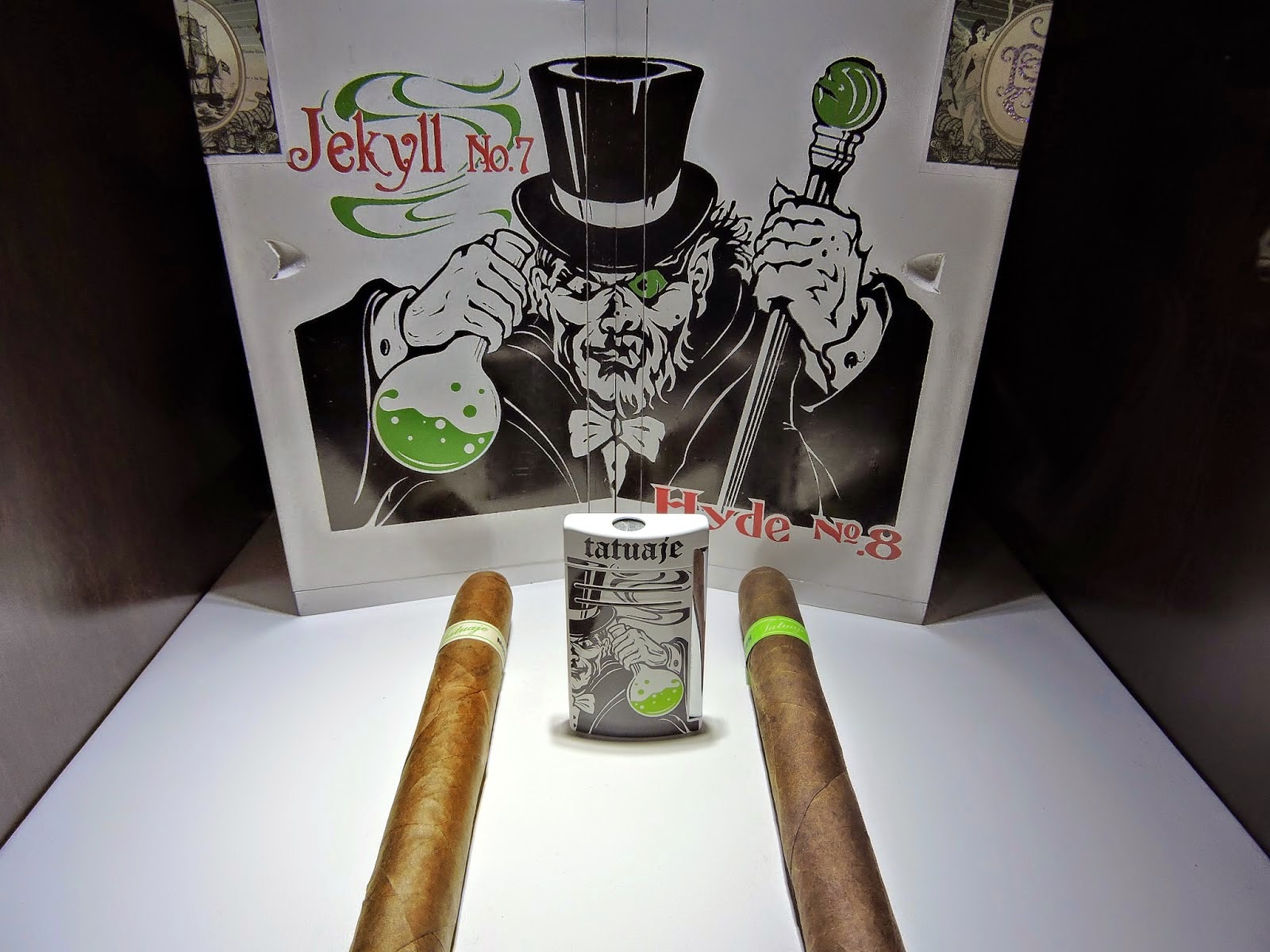 Tatuaje Jekyll (Left) and Tatuaje Hyde (Right)
Packaging and Cigars
Tatuaje Cigars owner Pete Johnson has officially announced on his Facebook page the list of the thirteen "Unlucky Retailers" who were chosen to receive dress boxes of the Tatuaje Jekyll. The Jekyll is the seventh installment in Tatuaje's annual Monster Series. The thirteen retailers on the list will able to acquire the custom-designed boxes with the 2013 Monster theme to sell. Other authorized Tatuaje retailers will be able to acquire plain boxes containing the Jekyll.
Jekyll is one of the main characters in Robert Louis Stevenson's "The Strange Case of Dr. Jekyll and Mr Hyde". Back in November on an appearance on Stogie Geeks, Johnson first announced plans for to add the Jekyll and Hyde characters to the series.  Prior to the 2014 IPCPR, Johnson confirmed that these characters would be both the 2014 and 2015 installments of the Monsters series. The 2014 release is Tatuaje Jekyll while next year the 2015 will be the Tatuaje Hyde.
At the 2014 IPCPR Trade Show, Tatuaje showed off the dress boxes for both Tatuaje Jekyll and Tatuaje Hyde.  When placed together, the two images form a single image.
Tatuaje Jekyll will be unique in that it is the first Tatuaje to use the Sancti Spiritus wrapper.  This has been a wrapper Johnson has used on releases from his other company, L'Atelier Imports. 2015's Hyde release will use an Ecuadorian Sumatra wrapper.
Over the past few years, this has typically become one of the most anticipated cigar releases of the year by many cigar enthusiasts. As in the past, a pre-announcement of these retailers was made to the Tatuaje Saints and Sinners club this past Wednesday
It is anticipated that most Tatuaje accounts will be able to get the plain boxes, but in the past the Unlucky 13 have gotten a larger allocation.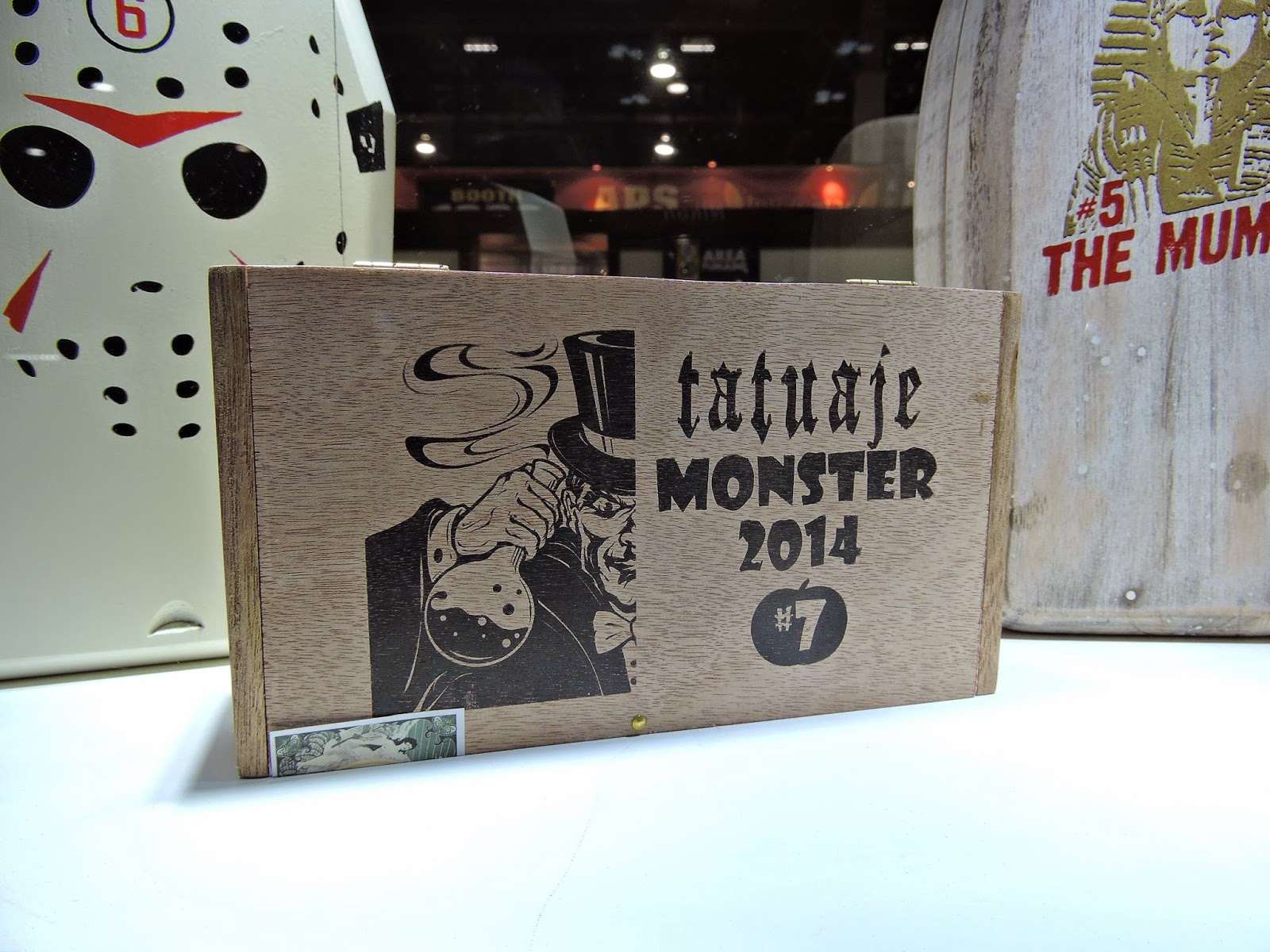 Check out our preview we did on both the Tatuaje Jekyll and Tatuaje Hyde.
The Unlucky 13
The Cigar Shoppe (Cumming, GA)
Cigar King (Scottsdale, AZ)
Corona Cigar Company (Orlando, FL)
Finck Cigar Co (San Antonio, TX)
Fujioka Wine Times (Honolulu, HI)
J. Shepherd (Louisville, KY)
Neumann's Cigars & More (Libertyville, IL)
Nice Ash Cigars (Warren, PA)
Rocky's News & Cigars (Syracuse, NY)
Smoke Inn (Boynton Beach, FL)
Stogies World Class Cigars (Houston, TX)
Tobacco Road (Sacramento, CA)
Two Guys Smoke Shoppe (Nashua, NH)