Assessment Updates will be posted on this web-site to: 1) Assess "pre-review" cigars that were not given a rating or score (typically pre-release cigars); 2) Provide numeric ratings to cigars previously assessed prior to the implementation of the numeric scoring system; 3) Provide a re-assessment and re-score of a previously assessed/score cigars. Today, we re-assess Joya Red by Joya de Nicaragua in the Robusto size. This was a cigar we did a pre-release assessment back in August, 2014.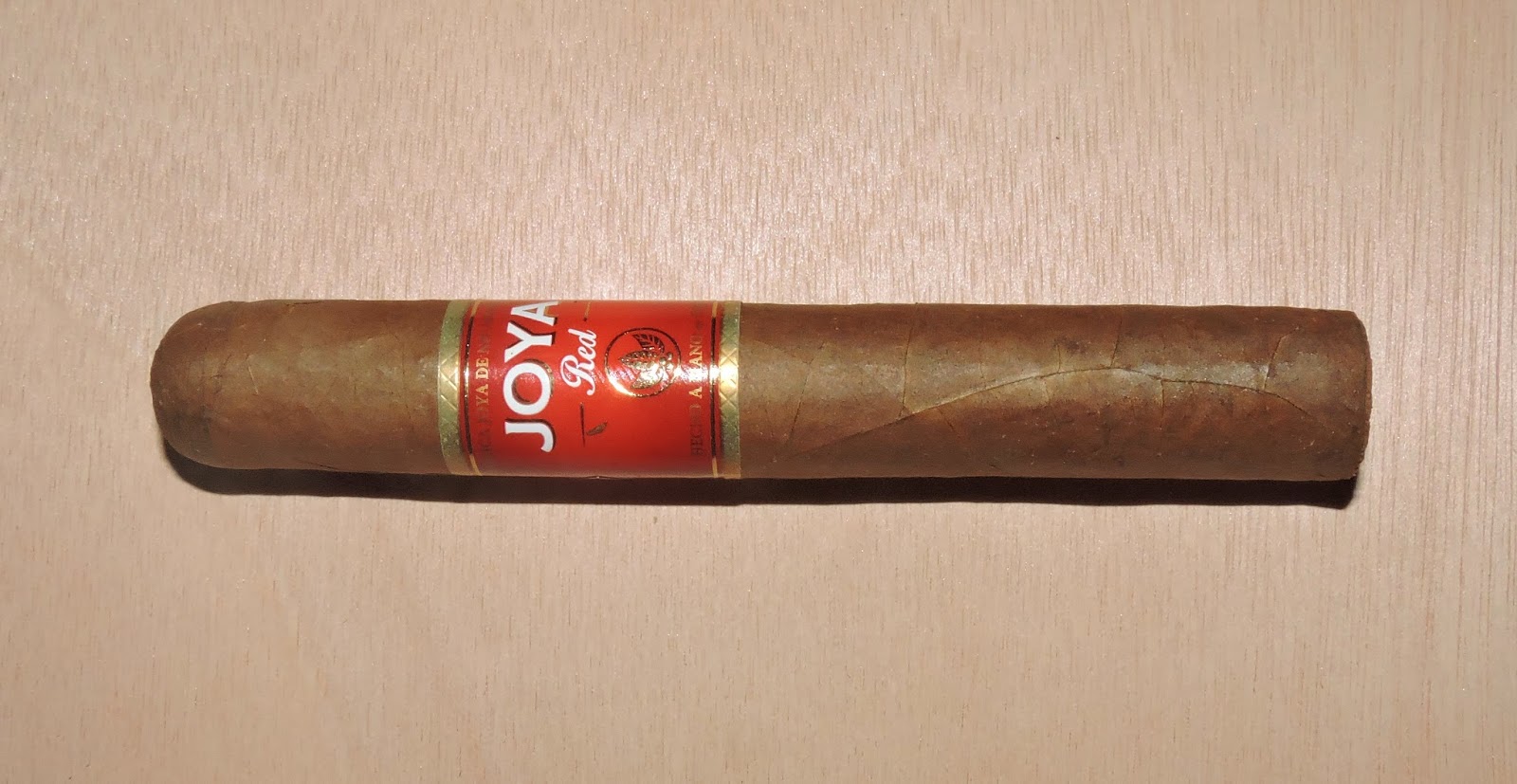 Wrapper: Nicaraguan Habano
Binder: Nicaraguan
Filler: Nicaraguan
Robusto: 5 1/4 x 50
Joya Red is a new offering that was launched at the 2014 IPCPR Trade Show by Joya de Nicaragua. This blend is described as a more dialed back cigar than most of the Joya de Nicaragua powerhouses. To accomplish this goal,the company said they moved away from their abundant use of ligeros and thick wrappers and made use of more viso leaves. The company also says the wrapper is a lower priming habano. The binder and filler come from Esteli, Jalapa, and Condega.
The flavor profile of the Joya Red remained very similar to when it was first smoked. The Joya Red is going to deliver a nice amount of sweetness. The sweetness will come from both natural tobacco and citrus flavors. The sweetness is more prominent up-front and then diminishes as the cigar goes on giving way to earth and grassy notes. Meanwhile I also detected some notes of nut, toast, and some black pepper.
The moving away from ligeros in the blend is quite clear. I assessed this as being a cigar more in the mild to medium range for strength. This time around, the cigar seemed to have a little more body – particularly during the point when the sweetness was prominent. I assessed the body as being in the medium range. Even with the slight increase in body, I found the milder strength and dialed back body worked very well with this blend. It's one of the better milder non-Ecuadorian Connecticut wrapped cigars out there. At under $6.00, this is a great cigar for the price and easily worth a box split.
Summary
Burn: Excellent
Draw: Excellent
Complexity: Medium
Strength: Mild to Medium
Body: Medium
Finish: Excellent
Assessment: 3.5 – Box Split
Score: 91
References
Original Assessment: Joya Red by Joya de Nicaragua
News: Joya Red by Joya de Nicaragua (Cigar Preview)
Price: $5.75
Source: Cigars Provided by Manufacturer
Stogie Geeks Episode: Episode 103
Stogie Feed: Joya Red Robusto by Joya de Nicaragua (Pre-Release)