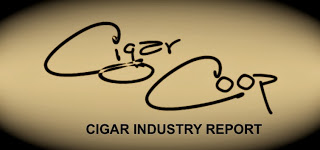 The Cigar Industry Report is a one stop place to catch up on the activity here at Cigar Coop and Stogie Geeks. It is a combination of our news reports, cigar reviews, and assessment updates we do throughout the week. We will also recap what happened on our Stogie Geeks show. Finally, each week we will look back at Cigar Coop history. Look for this report every Saturday morning at 8am Eastern time.


Aged Selects 2014 Cigar of the Year Countdown
In a Cigar Coop December tradition, we began a daily countdown of the Top 30 Cigars for the Yea for 2014. This is the fifth consecutive year for the countdown. We are proud to welcome Aged Selects as our official sponsor.
We outlined our vision and criteria in this month's Editor's Corner. Here were this week's selections #30 through #26:
#30: Viaje Cache
#29: E.P. Carrillo Medalla D'Platino
#28: La Colmena Unico Especial by Warped Cigars
#27: WCD 127 Tatuaje Limited Edition
#26: Pedro Martin Limited Edition
Feature of the Week: U.S. House Members Request Change in Grandfather Date in Proposed Deeming Regulations
This was a story we didn't see get the press it deserved. Word came out this week that three U.S. Congressman wrote to the Department of Health and Human Services requesting the grandfather date for tobacco products subject to the proposed Deeming Regulations be moved from February 15, 2007 to either April 25th, 2014 or a date the final rule was published. The representatives sending the letter include Speaker of the House John Boehner (R-Ohio), House Majority Leader Kevin McCarthy (R-California), and Energy and Commerce Committee Chairman Fred Upton (R-Michigan).


News and Previews
Legislative News
This month
, we previewed the 2014 Cigar of the Year Countdown and briefly recapped the Stogie Geeks 3 Year Anniversary Show.
On this date December 6th…