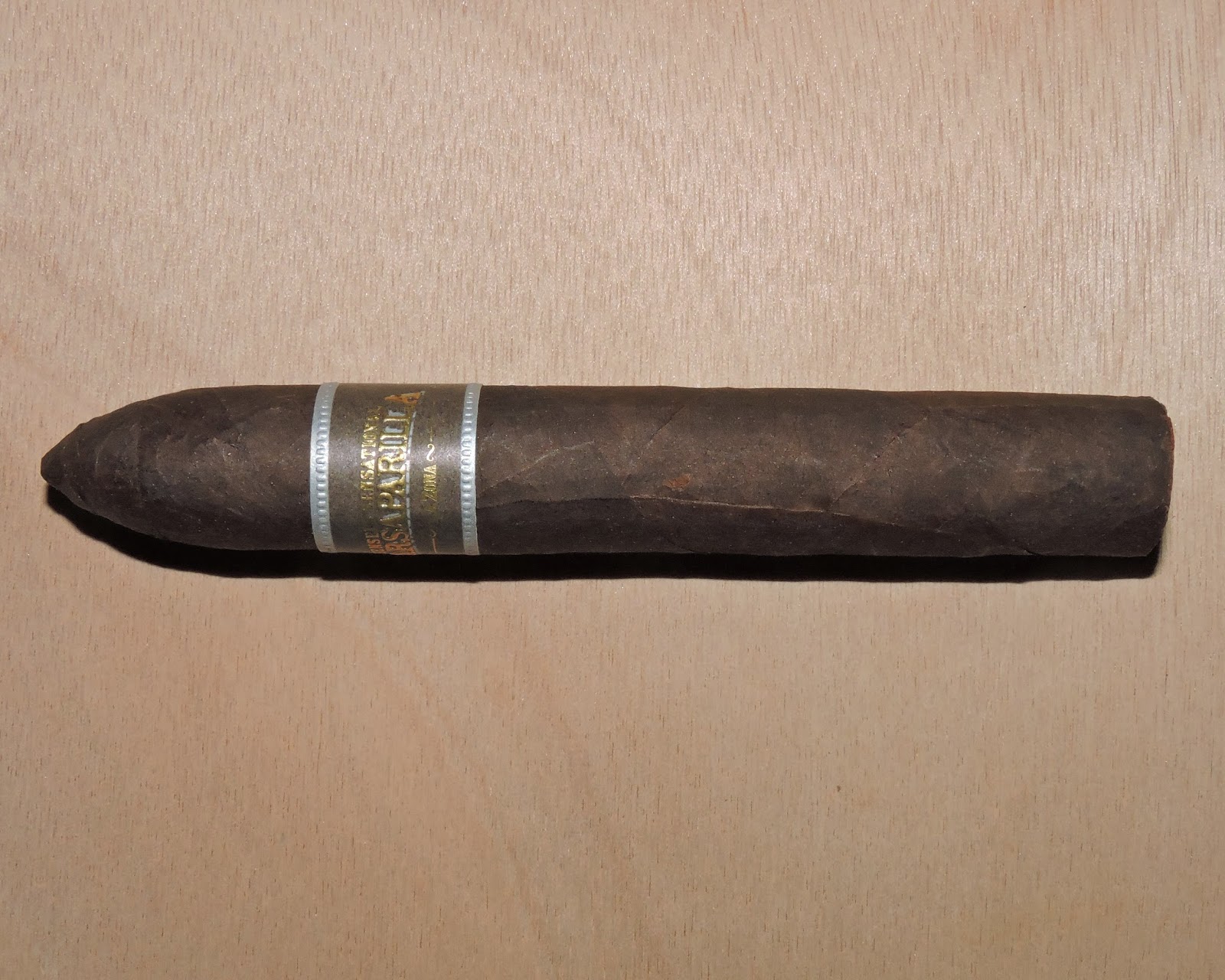 Sensei's Sensational Sarsaparilla by Espinosa Cigars
Sensei's Sensational Sarsaparilla is a limited production cigar that is a joint project between Espinosa Cigars and Cigar Dojo.  Cigar Dojo is run by Eric "Master Sensei" Guttormson and is probably the strongest online mobile social community out there.  Guttormson and his team's contributions to cigar media were recently recognized by the Cigar Media Association when Cigar Dojo was named the 2014 Media Brand of the Year. While succeeding in media, Cigar Dojo has also participated on several other cigar projects over the past year. The Undercrown Dogma by Drew Estate was a collaborative cigar that Cigar Dojo has done with Drew Estate.  In addition, the Moya Ruiz Nunchuck was released to pay homage to the growing Cigar Dojo community.  Recently I've had an opportunity to smoke Sensei's Sensational Sarsaparilla.  Overall I found this to be an excellent offering and a testament to the quality both Espinosa Cigars and Cigar Dojo have been committed to with their projects.

Sarsaparilla was a very popular beverage in the old west and was often believed to be a remedy of a number of health conditions. Sarsaparilla is a drink that is still popular today because of its distinct and complex flavor.  Guttormson sought to create a blend to pay homage to the complex flavor of this beverage.
As for production, the cigar is being made at Espinosa's La Zona factory in Esteli, Nicaragua.  In terms of distribution, Sensei's Sensational Sarsaparilla is being sold exclusively at Famous Smoke Shop based out of Pennsylvania.
Without further ado, let's take a closer look at Sensei's Sensational Sarsaparilla and see what this cigar brings to the table.
Blend Profile
Wrapper: San Andres Maduro
Binder: Not disclosed
Filler: Not disclosed
Country of Origin: Nicaragua (La Zona)
Vitolas Available
Sensei's Sensational Sarsaparilla is available in a 5 1/2 x 52 belicoso.  The cigars have been sold in ten pack bundles.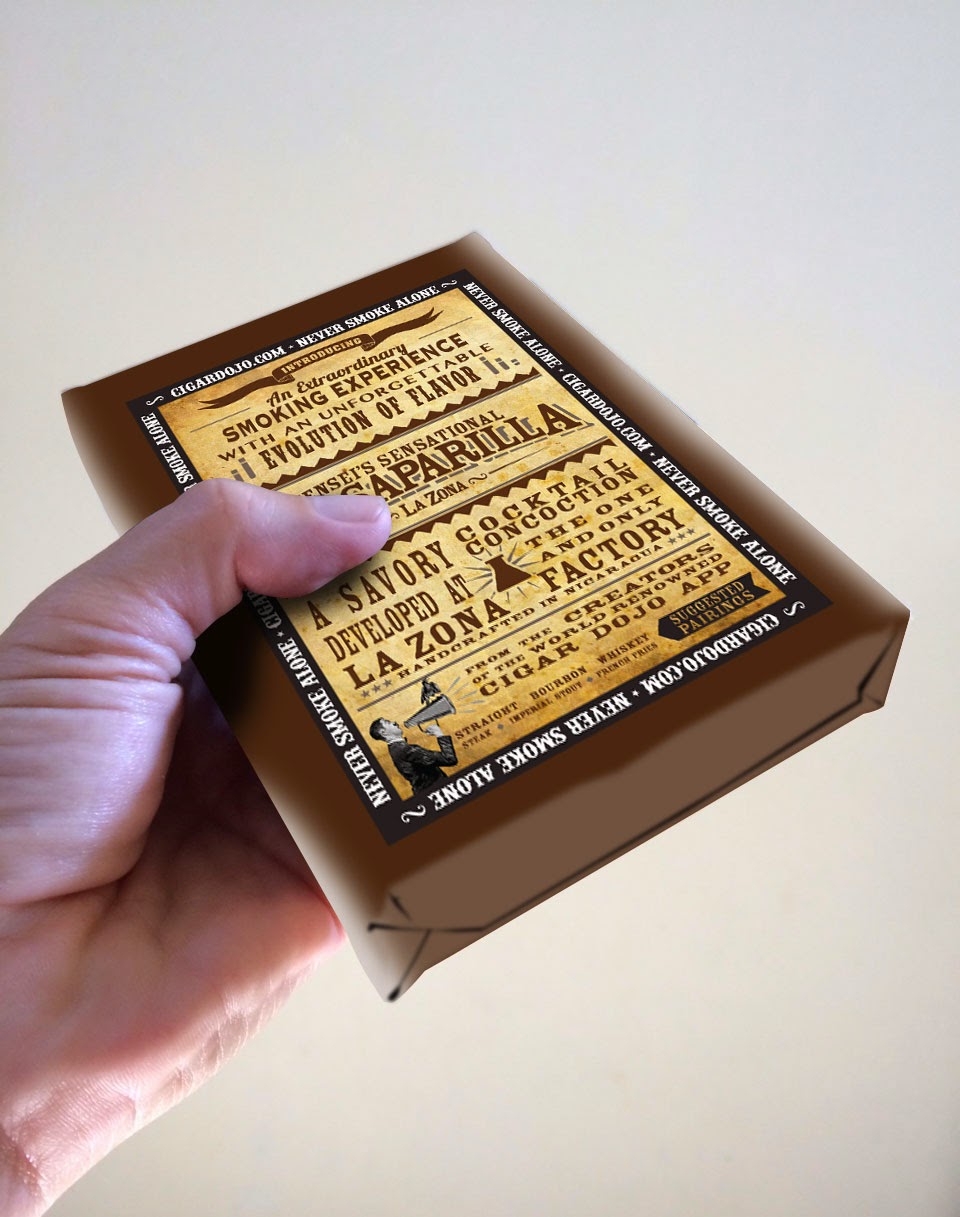 Bundle of Sensei's Sensational Sarsaparilla
Appearance
The San Andres wrapper to  Sensei's Sensational Sarsaparilla has a milk chocolate colored wrapper.  The wrapper itself has a light coating of oil on it.  There are some visible veins and visible wrapper seams, but overall I was pleased with how smooth this wrapper was.  In fact, it didn't have the ruggedness than many San Andres wrappers have.  The belicoso tip has a soft tapering.
The band has a nice rich brown color that contrasts the San Andres wrapper very nicely.  The text "SENSEI'S SENSATIONAL" is in a small curved font toward the top of the band.  Below that text is the text "SARSAPARILLA" arranged in a larger curved gold font with a silver shadow effect.  Below that text is the text "LA ZONA" in a small gold font flanked with some subtle gold adornments to the left and right.  The far right of the band has the Cigar Dojo logo in gold.  The top and bottom of the band has a silver, riveted style trim.
Preparation for the Cigar Experience
Prior to lighting Sensei's Sensational Sarsaparilla, I placed a straight cut about 1/3 of the way into the cigar.  Once the tip was removed I moved on to the pre-light draw.  The cold draw provided some notes of chocolate, leather, and cedar spice.  Overall I considered this to be a satisfactory pre-light draw.  At this point I was ready to light up Sensei's Sensational Sarsaparilla and see what the smoking phase would have in store.
Flavor Profile
The start to Sensei's Sensational Sarsaparilla provided a mix of white pepper, earth, and chocolate notes.  There was a interesting sweetness in the background – almost a combination of licorice and cedar.  The retro-hale produced a combination of black and red pepper.  No doubt, there was quite a bit going on early with this cigar.
As Sensei's Sensational Sarsaparilla progressed through the first third, I found the earth notes took center stage. The chocolate notes floated back and forth between the forefront and background. The pepper notes receded joining that unique cedar/licorice sweetness in the background.  Meanwhile, the lingering effect on the palate was most interesting. This is where I picked up a flavor that was in the root beer / sarsaparilla wheelhouse.
By the midpoint, some cedar notes joined the earth as a primary flavor.  The chocolate, white pepper, and that unique sweetness still remained as secondary notes.
Toward the last third, I found the primary flavors to get more woody and cedar overall. The chocolate notes diminished somewhat as well as some of that unique sweetness. There was still some white pepper at the end. This is the way Sensei's Sensational Sarsaparilla came to a close. The cigar was flavorful at the end – with a firm, cool nub.
Burn and Draw
La Zona has really been doing a great job at delivering quality cigars – and this is seen in the consistency of the cigars produced as well as their construction.  Sensei's Sensational Sarsaparilla is a well-constructed cigar – and this reflected very nicely in the burn and draw.  In fact, for a belicoso, this performed very well.
The burn line remained on a straight path throughout the smoking experience.  There was a slight curvature with the burn line from time to time, but some touch-ups straightened it out – and this didn't really prove to be a problemsome or high maintenance burn. The resulting ash was charcoal gray and was on the firmer side.  The ash came off the cigar in clean chunks. The burn rate and burn temperature were both ideal.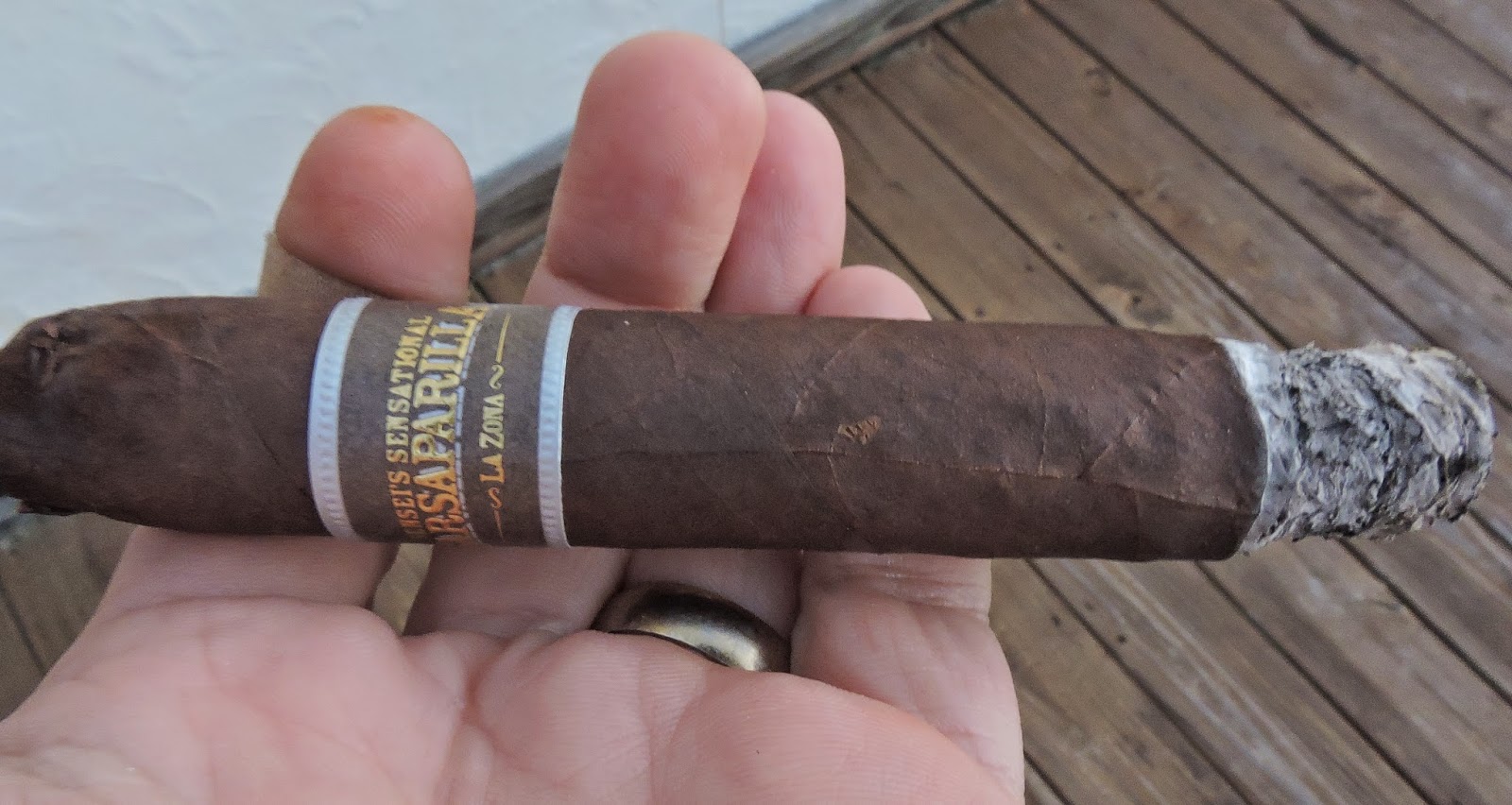 Burn of Sensei's Sensational Sarsaparilla
The draw was quite impressive.  It had a slight touch of resistance – which is something I like.  This was a low maintenance cigar to derive the flavors from.  I also got a nice abundant layer of smoke from this cigar.  The nice thing is each time I smoked this cigar, the area where I cut the belicoso never got soft.
Strength and Body
Overall I found this to be a cigar that falls into the "medium strength, medium-bodied" category. There was a slight increase in the intensity of both of these attributes, but right until the end I found this cigar stayed in the "medium" range. In terms of strength versus body, both attributes balanced each other nicely with neither overshadowing the other.
Final Thoughts
Sensei's Sensational Sarsaparilla was a very good cigar.  It offered a unique flavor profile, had some nice complexity, and had great construction.  While many know I tend to be critical of the San Andres Maduro wrapper, the team at La Zona really did a great job with this.  It didn't have the pungency and sharpness that sometimes I see a San Andres Maduro wrapped cigar produce.  Finally, I also found this particular blend to work very well in the belicoso size.  While this cigar may now be more difficult to track down, I'd still recommend doing so. This is a cigar that I'd recommend to either the novice or experienced cigar enthusiast.  As for myself, this is a cigar I would smoke again – and it's definitely worth a box (bundle) split.
Summary
Burn: Excellent
Draw: Excellent
Complexity: High
Strength: Medium
Body: Medium
Finish: Excellent
Assessment: 3.5 – Box Split
Score: 91
References
News: Sensei's Sensational Sarsaparilla by Espinosa Cigars Announced for Cigar Dojo
Price: $79.99 (10 Pack)
Source: Cigars Provided by Manufacturer
Stogie Geeks Podcast: n/a
Stogie Feed: n/a
Disclaimer: Cigar Coop is the exclusive news provider for the Cigar Dojo application.