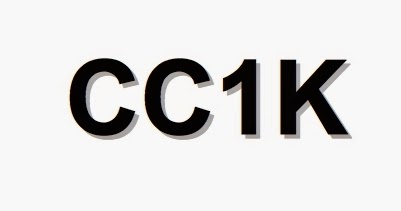 On July 3rd, 2012 we started our official daily publication cycle, and since then we never looked back. Today is March 29, 2015 and this marks the 1000th consecutive publication day by the Cigar Coop brand. It's an achievement we are really proud of. For lack of a better term, we will call it CC1K.

Some sites set monthly or annual post quotas. While we don't have a problem with that, we take a different approach. We strive to achieve fresh and original content every day – with no off days of publication.
It was back in June of 2012 when I contemplated with the idea of going to a daily publication cycle. I felt there was a wealth of information to report and plenty of cigars to assess. I soon wondered if it could actually be pulled off. That July 3rd date was the start and it was a soft start because it was the time period of the weeks leading up to the 2012 IPCPR Trade Show. By late August most of the IPCPR wrap-up was done and now it was time to see if this could actually be pulled off.
Many changes were added along the way. Cigar Coop merged with Stogie Geeks and we created what I term a "cigar media ecosystem" – namely leveraging the power of the written word (Cigar Coop) with an online broadcast (Stogie Geeks). Since then, we added a production studio, invested in equipment, and worked hard to make sure the two brands are integrated. We made an effort to steer away from "churnalism" and "cut and paste" journalism and focused more on our own content.
As we continued the momentum, the question I always had is how long could this go? 1000 days later, I still ask the same question. Whether there will be a CC2K story on December 23, 2017 is definitely premature.
Over these 1000 days, there have been a lot of changes in the cigar industry. The cigar industry is much different today than it was on July 3rd, 2012. So today we turn back to the clock and take a look at the Cigar Industry back 1000 days ago. A lot has changed since then. Regulation in the U.S. real. Many cigar companies have come and gone while others have moved around. While by no means a complete list, here are some highlights of those changes:
"Camacho was practically dormant": There were serious questions on where Camacho Cigars was heading. A year later the Bold Standard Campaign was launched, the brand was overhauled in terms of packaging and blends, and it soon proved to be one of the most successful makeovers in the history of the cigar business. Since then Davidoff has launched makeovers for its Winston Churchill and Avo brands.
"Compania Hondurena de Tabacos, and Maya Selva Cigars were European Brands": The American market had not heard of these brands, nor of Gabriel Alvarez who is a rising star in the cigar industry. Alvarez was brought in both cases to introduce these products to the U.S. market.
"CRA and IPCPR Headquarters were not in Washington DC": CRA was headquartered in Simi Valley, California while IPCPR was headquarters in Columbus, Georgia. Both organizations now have established headquarters in Washington RC and have helped keep both in the backyward of the legislative fights facing the industry.
"Crowned Heads Had One Line – and it wasn't Limited": Crowned Heads had one line called Four Kicks. They were getting ready to launch their second line called Headley Grange. Both were regular production lines and the company seemed to have no interest in limiteds. That clearly changed. While the company has gone to four regular production lines, it has transformed themselves into a company clearly with a heavy focus on many small batch, limited, and regional editions. Transformation or not, this company has had enormous success.
"Cuban Embargo: Stiil very much in place": There still was a Cuban Embargo with little hope in sight. We had no idea there if or when the Cuban Embargo would end. Today, we are getting closer to that point as President Obama has announced his intentions to lift the embargo – yet there still is a long road ahead.
"Cubanacan Cigars was an unknown": Cubanacan Cigars was a virtual unknown and for a while it was more known for its association with Tarazona Cigars. The company since ended its association with Tarazona and has beefed up its sales and marketing arm. Last year Cubanacan announced HR, a project with Hirochi Robaina. Today they are as hot a brand as any.
"FDA Regulation was a threat": The Obama Administration had already given the FDA power to regulate premium cigars. In 2014, the Deeming Document of Proposed Regulations was released and now the FDA is serious about carrying out the intent of regulation.
"Fire Cured Tobacco was not something talked about with premium cigars": Fire-Cured tobacco was not something we talked about in the cigar business, In 2013, this hit center stage with releases by Gran Habano, Leccia Tobacco, and Drew Estate. All three brands / companies still make Fire Cured cigars, but this the fad has run its course. At the same time, Fire Cured Tobacco is still something that now seems to have found some sort of place
"Foundry Tobacco Company was not Announced": Nobody knew of Foundry Tobacco Company. It would be announced later that month as a subsidiary brand of General Cigar. Initially launched in one line at the 2012 IPCPR Trade Show, it has since released a plethora of blends exceeding two dozen blends. Whether a success or not, the jury is out – but no doubt, it has been a creative think-tank for General Cigar.
"House for Emilio was not in place": However it was a work in progress. It was the same week as we started our publication streak that word came out that Emilio had entered into its first distribution agreement with Rodrigo Cigars. House of Emilio would grow to nine brands at its peak about a year ago before some splitting ties with brands like Rodrigo and Bodega Premium Blends.
"Indian Tabac": Rocky Patel Premium Cigars still owned the Indian Tabac name. Today Phil Zanghi (Patel's former partner) of Debonaire has the rights to the name back. Rocky Patel has discontinued the Indian Tabac name. Meanwhile plans are in place by Zanghi to use the name to launch a new line of cigar revolving around Indian motorcycle.
"Jose Blanco was still in Nicaragua": Jose Blanco was less than a year in his tenure with Joya de Nicaragua as a Senior Vice President. At this time, his first blend CyB (Cuenca y Blanco) was getting ready to hit the shelves. Today he now is back in the Dominican Republic at the helm of his own Las Cumbres Tabaco.
"L'Atelier Imports: What would it be?": Shortly before July 3rd, 2012, L'Atelier Imports was announced, but had not released a cigar as of yet. It was known as a spinoff venture from Tatuaje Cigars' Pete Johnson. Today its a solid company with its own identity and delivering some very popular releases. Most importantly it probably is the company that put the Sancti Spiritus wrapper on the map.
"New New Media Emerges": We weren't talking about Blind Man's Puff, Cigar Dojo, or Cigar Federation. Today they have clearly become go to media outlets by many cigar enthusiasts.
"Nomad Cigar Company was an unknown": Nomad Cigar Company had not hit the brick and mortar stores yet and only had one line. Since then, owner Fred Rewey has built his brand through a combination of integrating social media with grass roots marketing. He also has released some very good cigars. Later Nomad would join House of Emilio and built a portfolio of four core lines and one limited edition. The result – today Nomad is one of the shining stars in House of Emilio
"OSOK wasn't a part of CLE": Edgar Hoill had just completed the Room 101 OSOK cigar with Matt Booth. Many thought this would be a one time project, but Hoill would have other ideas. Later that year he would join up with Christian Eiroa and become a part of Eiroa's CLE Cigar Company umbrella with Edgar Hoill Cigars. The OSOK name would soon follow.
"Robert Caldwell was still an unknown": The name Robert Caldwell had just surfaced Just prior to July 3, 2012, Wynwood Cigars was announced as a project between Christian Eiroa and Caldwell under the Fabricas Unidas umbrella. Since then, the partnership was dissolved, and it appeared we might near from Caldwell again. How wrong many were. A few months later, Caldwell went on to found Caldwell Cigar Company. Through a mix of creative marketing and releasing creative blends, Robert Caldwell is one of the hottest cigar brand owners out there.
"Sam Leccia was still in exile": Sam Leccia was still in exile in the cigar industry due to his non-compete with Oliva Cigar Company. Since then Leccia has launched his own company called Leccia Tobacco and would grow to three lines. In 2014, he sold his lines to General Cigar and joined the Richmond-based company.
"Saka and Melillo were still at Drew Estate": Steve Saka and Nicholas Melillo were still a part of Drew Estate. In fact, Saka's promotion to CEO of Drew Estate had yet to be officially announced. By the time Drew Estate was sold to Swisher International, both would be gone from the company for several months.
"Swisher International was not making premium handmade cigars": For all practical purposes, on July 3, 2012 Swisher International had no presence in the premium cigar market. A few months later, Swisher International would return to the premium cigar world with Royal Gold Cigars. Less than two years later, they would acquire Drew Estate – lock stock and barrel.
"There was a Torano – a Family Cigar Company": And this remained the case until the announcements on September 11th, 2014 when we learned that General Cigar Company acquired the brands.
Thank you to our readers, audience, sponsors, and supporters over the long haul!