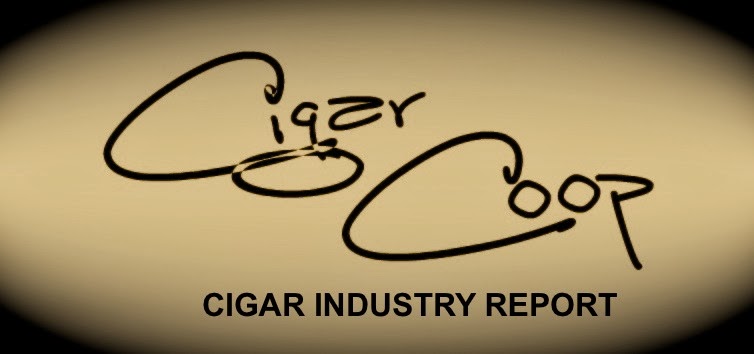 The Cigar Industry Report is a one stop place to catch up on the activity here at Cigar Coop and Stogie Geeks. It is a combination of our news reports, cigar reviews, and assessment updates we do throughout the week. We will also recap what happened on our Stogie Geeks show. Finally, each week we will look back at Cigar Coop history. Look for this report every Saturday morning at 8am Eastern time.

Cigar Industry Report: Volume 4, Number 22 (Edition 119 4/25/15)
Feature of the Week: A.J. Fernandez New World Connecticut Officially Announced
A.J. Fernandez's New World was one of the runaway hit cigars of 2014. It earned a spot on our 2014 Cigar of the Year countdown. In addition to critical acclaim, it has been a huge commercial success. Back in November the company broke news on Stogie Geeks of a second blend being added to the line called the A.J. Fernandez New World Connecticut – A very limited batch was released at an event at Cigar Inn in New York City in December. This week came word of the launch of this regular production line.
Southern Cigar Festival
Cigar Coop and Stogie Geeks are proud to partner with the Southern Cigar Festival. The event is being held on June 6 at the Verizon Wireless Ampitheatre at Encore Park in Alpharetta, Georgia. This past week, we took a look at the VIP Experience available at the festi. Tickets are available through Ticketmaster via the event website.


News and Previews
Davidoff: The company announced its plans to release a Brazilian-based blend at the 2015 IPCPR Trade Show.
Gran Habano: The company made a number of announcements this week including the Gran Habano Corojo #5 Grandioso, the Gran Habano Gran Reserva #5 2011, changes to its G.A.R. Red Line and for its Limited Release Lancero.
Nat Sherman: The company announced details of the Nat Sherman 85th Anniversary Cigar.
Oliva Cigar Company: We had details on the Inferno 3rd Degree – a shop exclusive to Famous Smoke Shop
Rocky Patel Premium Cigars: The company will provide an exclusive sampler to attendees of 2nd Annual Rocky Patel Luxury Sunset Cigar Yacht Cruise. This includes the Decade, Fifteenth Anniversary, Platinum, Royale, Super Ligero, and Vintage 1990.
Room 101 Cigars: After a very limited run, the Room 101 Uncle Lee is heading to a national release.
Viaje Cigars: We recapped our discussion with company founder Andre Farkas on Viaje's 2015 plans. The company also announced it will ship the Viaje Zombie Super Shot 2015, Viaje Zombie Antidote 2015, Viaje WLP Exclusivo Churchill, and regular production Viaje Exclusivo.
Legislative News
Federal: No new sponsors were added to Senate Bill (S. 441) as the total sponsors remains at 15. Four new co-sponsors have also been added to House Bill (HR 662): Rep. Michael Conaway [R-Texas], Rep Stevan Pearce [R-New Mexico], Rep. Randy Forbes [R-Virginia], and Rep Dan Newhouse[R-Washington] – the total sponsors is now at 98.
Hawaii: Senate Bill 1030, a bill to raise the smoking age to 21 has cleared the State Legislature. Governor David Ige has not said whether he will sign or veto the bill which is the final step to it becoming law. If signed, Hawaii will be the first state to raise the smoking age to 21.
Iowa: Iowa Tobacco Prevention Alliance on Thursday called on State to ban smoking in Iowa's 19 licensed casinos.
Assessments