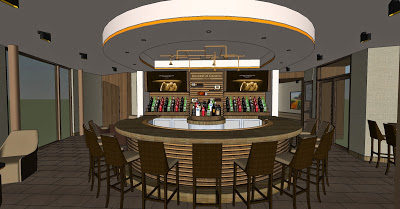 While Davidoff has had a retail presence throughout the Las Vegas strip, the one piece that have not had was a full service destination for cigar enthusiasts. Plans have now been announced to open the "Davidoff of Geneva – since 1911" Licensed Boutique and Cigar Bar later this year. This new store will feature a combination indoor / outdoor set-up consisting of a walk in humidor and full service premium bar.

Location-wise, the Fashion Show Mall will be the home to the new Davidoff Cigar Bar. This is surrounded by hotel properties such as Venetian, Palazzo, Wynn, Encoure, and Treasure Island. Plans are for the new store to open later in 2015.
A highlight of this location is the bar area will open up with breakaway style doors to a 50 seat outdoor patio with a view of the Las Vegas strip.
Davidoff will team up with the Arcella family for this new location. The Davidoff Cigar Bar will be the seventh location in partnership with the Arcellas, who also own and operate locations in The Gran Canal Shoppes, Venetian, Palazzo, Mandalay Bay Hotel &Casino, MGM Grand Hotel & Casino, and Paris Resort.
The new Davidoff location is part of a larger expansion effort going on at the Fashion Center Mall which is adding 30 new stores to its nearly 2 million square foot space.
In a press release Jim Young, President of Davidoff of Geneva USA, commented: "We are delighted to announce the opening of a new "Davidoff of Geneva – since 1911" store in Las Vegas. We are particularly excited to do this in partnership with Matt and Frank Arcella who have been outstanding Davidoff partners for many years. They have a proven track record in providing consumers with a premium retail experience in the casino and hotel environment and this will be a natural extension of that experience through the inclusion of a premium bar within the premises in a terrific location on the Las Vegas strip."
"The "Davidoff of Geneva – since 1911" Cigar Bar will carry a full line of premium cigars for the traveling connoisseur and specialize in limited edition cigars to pair with the unique liquor selection," commented Matt Arcella, Managing Partner of Calabrini, LLC in the press release. "The ambiance and setting will be sophisticated yet unpretentious. In addition to bringing the pleasure of Davidoff to the dedicated cigar aficionado, we will also introduce Davidoff to a wider audience. Las Vegas is attracting a growing number of young and affluent consumers who come here for the phenomenal clubs, restaurants and shopping; not just to gamble. With our state of the art ventilation, lighting and music, we anticipate catering to this large demographic."
Las Vegas will be destination to several cigar-industry related events over the next 14 months. This November 13-15, Cigar Aficionado's Big Smoke will once again be held in Las Vegas. In March, 2016 the Tobacco Plus Convenience Expo returns to Las Vegas. The International Premium Cigar and Pipe Retailers (IPCPR) are expected to announce a multi-year deal where they return to Las Vegas starting in 2016. Cigar Aficionado is reporting that plans are to have the Davidoff location completed prior to this year's Big Smoke.
The new Davidoff of Las Vegas Cigar Bar is part of an aggressive retail strategy for 2015 that include locations in New York, Atlanta, Houston, and Tampa.