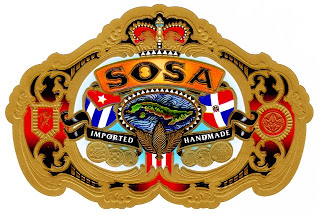 As a kid, Arby Sosa,  when he played hide and go seek, his hiding place was bales of tobacco.  Sosa has grown up in this industry and without a doubt has a great passion for what he does.  He is fourth generation from a cigar family, and since 2010 has been at the helm of the Sosa Cigars family operation.  At the Southern Cigar Festival, we got a chance to sit down Arby and discuss his family's history as well as the projects going on.
From 1998 to 2010, Sosa Cigars worked with Ashton to handle its distribution.  With the brand having the family name, they decided to take back distribution and Arby began running the company.  He began focusing on projects with to bring back some energy and lure some newer smokers.  Around 2013, Arby started hitting the road during events.  For 2015, Arby has hit the road even more visiting accounts and doing events.  In fact for events such as the 2015 Southern Cigar Festival, and the recent MicroFest at the Pipe and Pint, in Greensboro he has brought a cigar roller with him.
Today Sosa Cigars is a multi-faceted operation as they are producing cigars in the Dominican Republic, Nicaragua, and the United States.  The past year has been a big year for the Sosa family as they celebrate 50 years in the cigar business.  Sosa discussed the a series of projects being rolled out to commemorate this occasion.  The first was the Sosa Classic Piramide No. 50.  This is a cigar made at the Fuente factory where Arby's father, Juan Sosa works as a manager.  The blend features an Ecuadorian Sumatra wrapper in a 5 3/4 x 50 piramide, a size the Sosas are known for.  The second is the recently announced return of the Imperio Cubano line.  The cigar was re-blended in collaboration with master blender Santiago Cabana and is being done in Miami, Florida.  This cigar will be re-launched at the 2015 IPCPR Trade Show.
There is a third project called the Sosa Half Century.  This is a unique project in that it features a Mexican grown Cameroon seed wrapper.  The wrapper was uncovered by the Fuente family, and Arby's father had a chance to work with it. It will be available in one size, a 6 x 50 Toro in 20 count boxes.  The Half Century is being made at Tabacalera Fuente y Cia and will be launched at the 2015 IPCPR Trade Show.