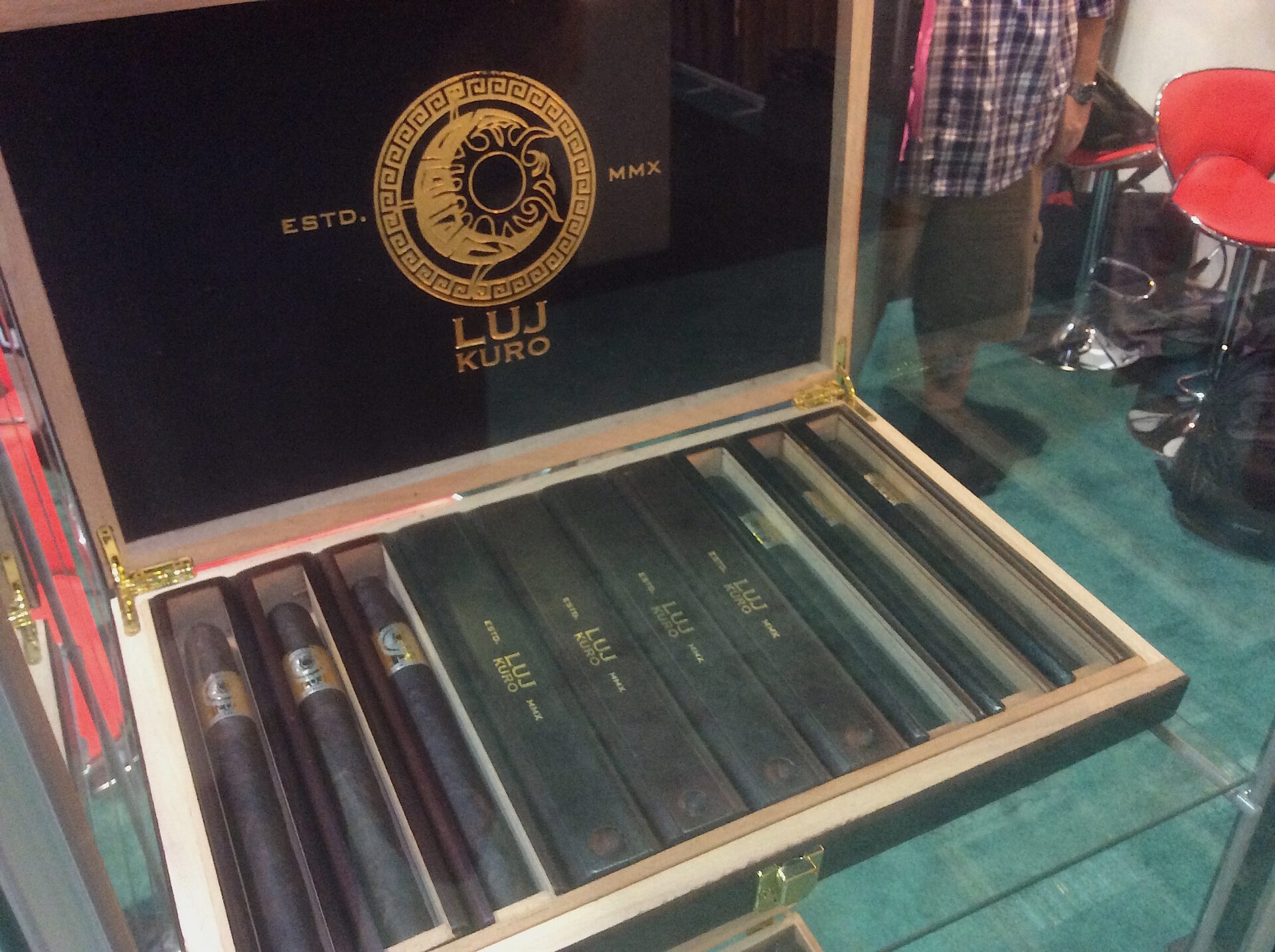 LUJ Cigars went into its first IPCPR Trade Show and had plenty of new product to showcase. The company's new offerings were anchored by the ultra-premium LUJ Kuro. The company also had on display the LUJ Serengeti, LUJ Classic, and the LUJ Morpheus offerings.
LUJ Cigars takes its name from its founder Luj Oluyeba. LUJ Cigars are made in the Dominican Republic. For the most part, LUJ Cigars has established its foothold in the midwest – especially the Chicago, Illinois area.The portfolio of LUJ Cigars is based on small batch releases. The company's blends are built on finite supplies of tobacco. Once tobacco supplies become exhausted, the company makes not only adjustments to its blends, but to its branding.
The final packaging for the LUJ Kuro was showed off.The Kuro is a project that has been two years in the making. The Kuro originally started out as a private blend that was used for some corporate gifts in Japan. After the cigar was well received in Japan, some test marketing was done by LUJ Cigars and the feedback was overwhelmingly positive. A decision was then made to put the cigar into production. Each Kuro comes packaged in a luxurious individual coffin with boxes consisting of ten coffins. The cigar comes in three sizes: Toro, Perfecto, and the "00" (pronounced double ohh and measuring at 7 x 48).  Last month we took a look at a pre-release of the LUJ Kuro.
The LUJ Classic was also unveiled. The LUJ Classic comes in two offerings LUJ Classic Light and LUJ Classic Dark. The LUJ Classic Light uses a Connecticut wrapper (the only current LUJ offering whee the wrapper is disclosed). Both the LUJ Classic Light and LUJ Classic Dark come in four vitolas –  Toro, Robusto, Petit Corona, and Gigante.
Also on display was the LUJ Serengeti. This is another new offering for 2015 by LUJ Cigars.
Finally, the recently released LUJ Morpheus Anniversary #4 Natural and LUJ Morpheus Anniversary #4 Maduro were on display.