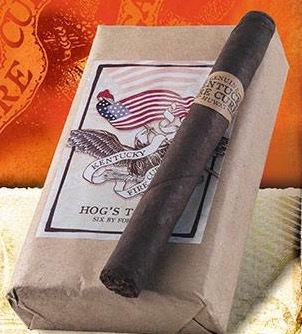 Drew Estate has announced a new line extension to its Kentucky Fire Cured line slated to become a shop exclusive to Famous Smoke Shop in Easton, Pennsylvania. The new Kentucky Fire Cured Hog's Tooth introduces a 6 x 46 Corona Gorda-sized vitola into the Kentucky Fire Cured line. The cigar will be launched at a release party on October 29, 2015 at Famous Smoke Shop's retail location.
The blend is based on the original Kentucky Fire Cured blend and features a San Andres Wrapper and features Kentucky fire cured tobacco cured in Hopkinsville. The blend also incorporates Nicaraguan and Brazilian fillers. The cigar will be packaged in ten count packs featuring the Kentucky Fire Cured line's signature craft paper packaging.
In a press release announcing the Hog's Tooth, Drew Estate co-founder Jonathan Drew commented: "Friends, consumers, and retail operators all over the world have been sending me emails and texts asking how we make the KENTUCKY FIRE CURED cigars taste so good. My response, 'It's All About The Smoke'… For many decades, people have been smoking all sorts of luxury smoked consumables, including Scotch, steak, fish, and damn near anything consumable. The demand for that smoky burnt taste has only gotten stronger due to the long finish and thick layers of textured, southern delight. Today, we are proud to bring the newest size into the Fire Cured Family with our dear friends at Famous Smoke Shop. Wisely called 'Hog's Tooth', this long corona size is perfect for the Kentucky Fire Cured line, and is going to make you scream out, right from your porch at home – 'It's All About The Smoke'!!!"
Famous Smoke Shop Owner Arthur Zaretsky also commented, "Drew Estate has been a long-time partner of Famous Smoke Shop for many years and, over that time period, we've worked on numerous projects together. The Hog's Tooth is our newest and one of our most exciting. The Kentucky Fire Cured cigars sell extremely well for us and we look forward to seeing how the new size fits into the already stellar lineup."
Hog's Tooth brings the total number of frontmarks under the Kentucky Fire Cured line to ten. This includes six regular production sizes, the limited Kentucky Fire Cured Flying Pig, the event only Kentucky Fire Cured Yard Bird, and Alliance Cigar's Kentucky Fire Cured Fightin' 69th.
Photo Credit: Drew Estate