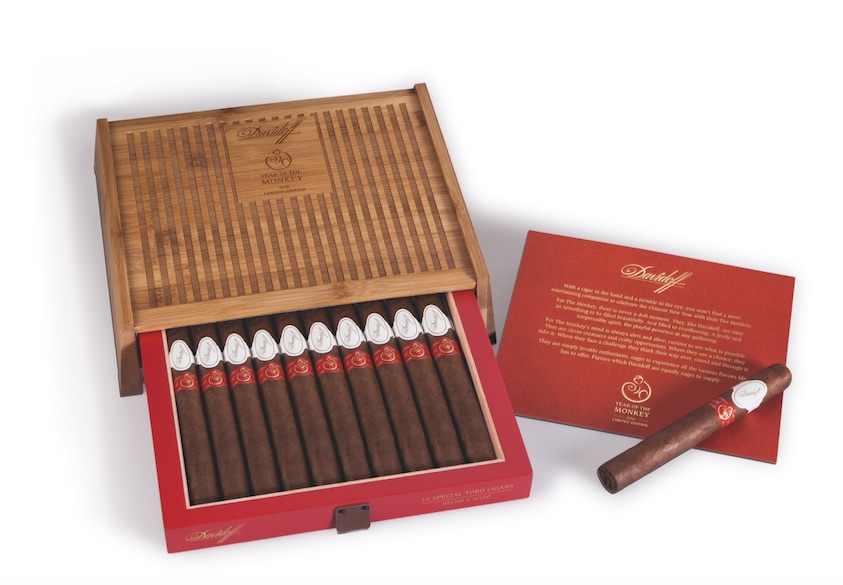 The Davidoff Year of the Monkey 2016 marks the latest cigar by Davidoff to pay tribute to the Chinese New Year. As with previous years, the cigar will be a limited production of a new blend in a single size. This year the Year of the Sheep introduces a 6 1/2 x 50 Toro size.  The cigars are expected to arrive at Davidoff Appointed Merchants in November 2015.
The Davidoff "Zodiac" series pays homage to a year in the Chinese calendar. The series had a soft-launch in Asia with 2012's Davidoff Year of the Dragon. The series had its official kickoff in 2013 with the Davidoff Year of the Snake. This was followed in 2014 by the Davidoff Year of the Horse and in 2015 with the Davidoff Year of the Sheep.
In a press release announcing Year of the Monkey. Charles Awad, Senior Vice President of Marketing and Innovation at Davidoff commented, "Davidoff found its inspiration for this new 2016 Limited Edition in the character traits of the Chinese zodiac sign of the Monkey and in the noble material associated with the cultures of South and East Asia — bamboo. There is no better way to celebrate the Monkey's charisma, appreciation for refinement, originality and luxury than with this beautifully crafted and original Special Toro cigar".
In the packaging of the Davidoff Year of the Monkey, Davidoff describes the monkey creature as follows:
With a cigar in the hand and a twinkle in the eye, you won't find a more entertaining companion to celebrate the Chinese New Year with than the monkey.

For the monkey, there is never a dull moment. They, like Davidoff, see time as something to be filled beautifully. And filled to overflowing. A Lively and irrepressible spirit, the playful presence at any gathering.

For the monkey's mind is always alert and alive, curious to see what is possible. They are clever creatures and crafty opportunists. Where they see a chance, they take it. Where they face a challenge, they think their way over, round and through it.

They are simply lovable enthusiasts, eager to experience all the various flavors life has to offer. Flavors which Davidoff are equally eager to supply.
The  cigars will come packaged in a hand-crafted premium bamboo wooden ten-count box with a laser engraving shaped and designed to reflect the aesthetic origins of Chinese culture. In Chinese Art, Bamboo is one of the "Four Gentlemen" (bamboo, orchid, plum blossom and chrysanthemum). Bamboo is symbolic for being a model for gentlemanly behavior.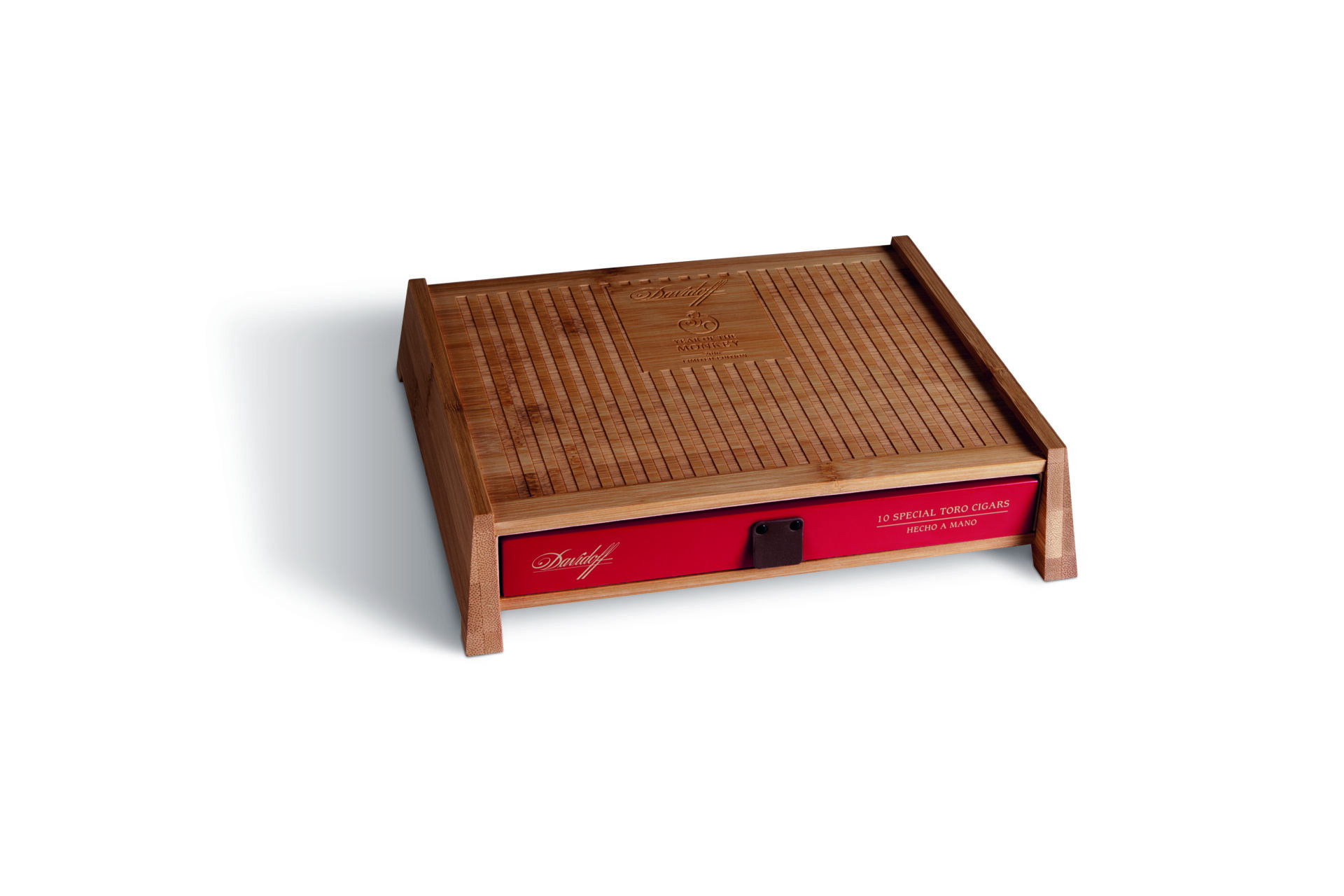 Each cigar will have a suggested retail price of $35.00. A total of 3,000 boxes have been produced.  The cigar features an Ecuadorian Rojiza wrapper – something that is now a staple in the Davidoff portfolio.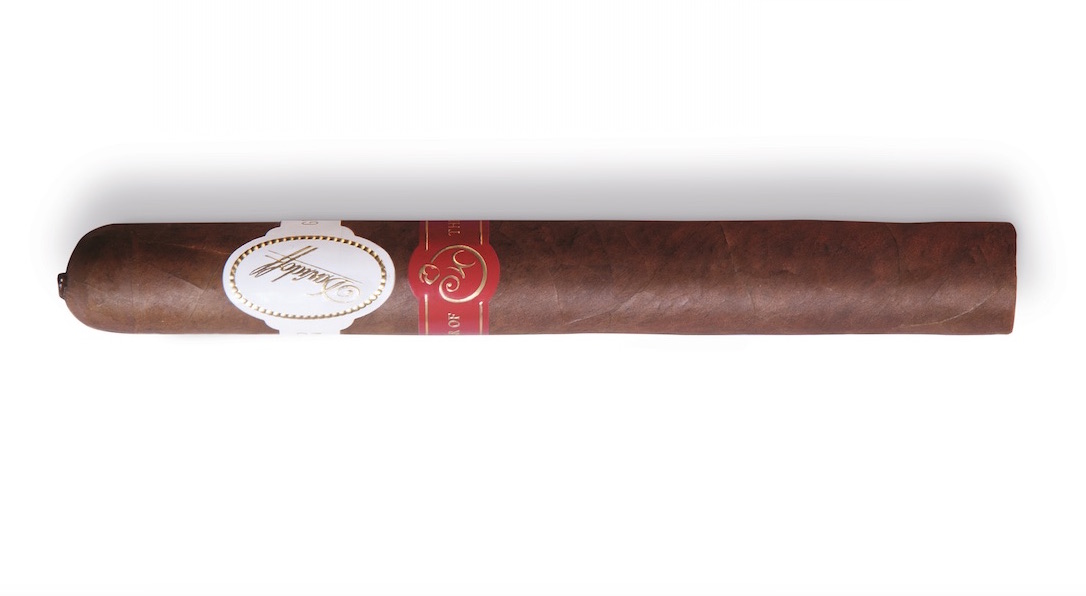 In addition, Davidoff will be launching two limited edition ashtrays commemorating the Year of the Monkey.
At a glance, here is a look at the Davidoff Year of the Monkey Limited Edition 2016:
Blend Profile and Vitolas Available
Davidoff Year of the Monkey (2016)
Wrapper: Ecuadorian Rojiza Corte 3
Binder: San Andres Mexico
Filler: Nicaraguan Ometepe Visus, Dominican Piloto Cubano Visus, Dominican San Vincente Ligero, Dominican Hybrid Corojo/Olor Ligero, and Peruvian Seco
Country of Origin: Dominican Republic
Toro: 6 1/2 x 50
Previous Installments of the Davidoff Zodiac Series include:
Davidoff Year of the Snake (2013)
Wrapper: Ecuador 702
Binder: San Vicente Seco (Dominican)
Filler: Piloto Seco, San Vicente Ligero, Piloto Viso, Hybrid 192 Seco/Yamasa (All Dominican)
Churchill: 7 x 48
Davidoff Year of the Horse (2014)
Wrapper : Dominican Yamasa
Binder: Dominican San Vicente
Filler: Dominican: Olor Seco, San Vicente Ligero, Piloto Viso, Hybrid Seco.
Country of Origin: Dominican Republic
Gordo: 6 x 60
Davidoff Year of the Sheep (2015)
Wrapper: Ecuadorian Habano
Binder: Yamasa (Dominican)
Filler: Dominican (Hybrid Corojo/Olor Visus, San Vicente Visus, Piloto Visus, San Vicente Mejorado Visus)
Country of Origin:: Dominican Republic (Davidoff)
Belicoso: 6 1/4 x 54
* Back in 2012, there also was a very limited Davidoff Year of the Dragon distributed in the Asian market
Photo Credits: Oettinger Davidoff AG