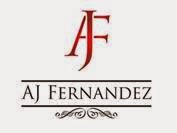 Kris Kachaturan, who served as managing partner for A.J. Fernandez Cigars will retire from the company.  The plan will be for Kachaturian to continue in day to day operating for the time being before shifting to an advisory role.  Kachaturian's planned retirement was announced by the company in a press release.
Commenting on his retirement, Kachaturian said, "I recognized A.J. as a tobacco prodigy, when I first met him in Nicaragua 10 years ago. I am proud to have worked alongside him, to create the A.J. Fernandez Cigar brand. I now wish to retire from the company, and focus my energy on my family. "
Going forward A.J. Fernandez and his family will now assume responsibility for the company.  Plans are for the company to move into a new U.S. distribution center located at 2695 West 81st Street Hialeah, FL 33016.
A.J. Fernandez, who Kachaturian would often refer to as "Kid" commented, "I am truly grateful for Kris' business partnership, and everything he has contributed to the success of the A.J. Fernandez Cigar brand. While Kris is no longer my business partner, he will continue to be my family and confidant."
A.J. Fernandez has had a huge fourteen months releasing three commercially successful and critically acclaimed value-priced lines – including New World, New World Connecticut, and Enclave.