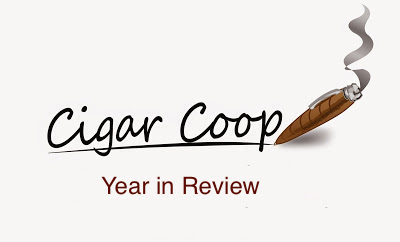 This year we introduce a new performance category – Country of Origin.
The Performance Rankings were introduced in 2012 as a statistical analysis based on the average numerical score of all cigars assessed on Cigar Coop. This has been broken down by brand for the past four years. Today we slice this data by Country of Origin.
For 2015, a total of 247 (down from 257 in 2014) cigars were considered for this analysis. This is not meant to be necessarily an award, but a look at how scoring went, and what can we learn from it.
We used the following criteria to implement this:
The cigar must have its scored published during the 2015 Cigar Coop Cigar Year that ran from November 28, 2014 to November 26, 2015.
All cigars scored were eligible regardless of release date. The goal here is to see how the brand performed during the Cigar Coop Cigar Year.
The majority of the cigars smoked are from the Dominican Republic, Honduras, and Nicaragua. As a result these three countries have a significantly larger sample set than other cigar producing countries. As a result, the sampling data has been divided into two groups – small and large.
Countries where there was not a country of origin specified are not included.
Large Sampling Data > 25 Cigars
| | | |
| --- | --- | --- |
| Rank | Country | Average Score |
| 1 | Dominican Republic (93) | 91.27 |
| 2 | Nicaragua (100) | 90.73 |
| 3 | Honduras (28) | 90.29 |
Small Sampling Data <= 25 Cigars
| | | |
| --- | --- | --- |
| Rank | Country | Average Score |
| 1 | United States (8) | 91.75 |
| 2 | Costa Rica (7) | 91.43 |
| 3 | Peru (1) | 90.00 |
| 4 | Brazil (1) | 87.00 |
Assessing the Results
Over the past few years, it's been noted how Nicaragua has closed in on the Dominican Republic for being the top country in producing non-Cuban cigars. However, there has been some very good cigars coming out of the Dominican Republic and this year it shows. Therefore, to me it was no surprise the DR had the edge over Nicaragua in terms of average score. This trend was somewhat reflected in the 2015 Cigar of the Year Countdown, where the Dominican Republic had the most Top 30 cigars.
Honduras could be worth watching over the next few years. Davidoff and Altadis have both been making investments there. Honduras was only 0.44 points behind Nicaragua in average cigar score.
While average score-wise, the United States and Costa Rica led all countries, ultimately the sampling set was way too small to do a fair comparison with the Big 3.
Peru and Brazil are included for completeness, but only one cigar from each of these countries was assessed.
One can argue with only 28 cigars reviewed from Honduras compared to 100 from Nicaragua, that Honduras didn't have enough sampling data for an apples to apples comparison. At the same time, the sample set was significantly more than the U.S. and Costa Rica.  Ultimately rather than create a middle category, I chose to put it with the Larger Sampler.
As mentioned with the Brand Performance Rankings, we failed in our attempt to bring scoring down.