Agile Cigar Reviews replace what we termed "Assessment Updates". The concept is the same, but the name is different. Agile Cigar Reviews use a lightweight, shorter format. These will never take the place of our comprehensive reviews. They are only used on blends we have previously assessed. This might be a blend we are re-scoring or providing a score for a first time. It might be a blend we are looking at in a different size. Today we look at the Freyja by Las Cumbres Tabaco in the Thor's Toro size. This is a cigar we previously did an assessment in the Valhalla Robusto size back in October, 2015.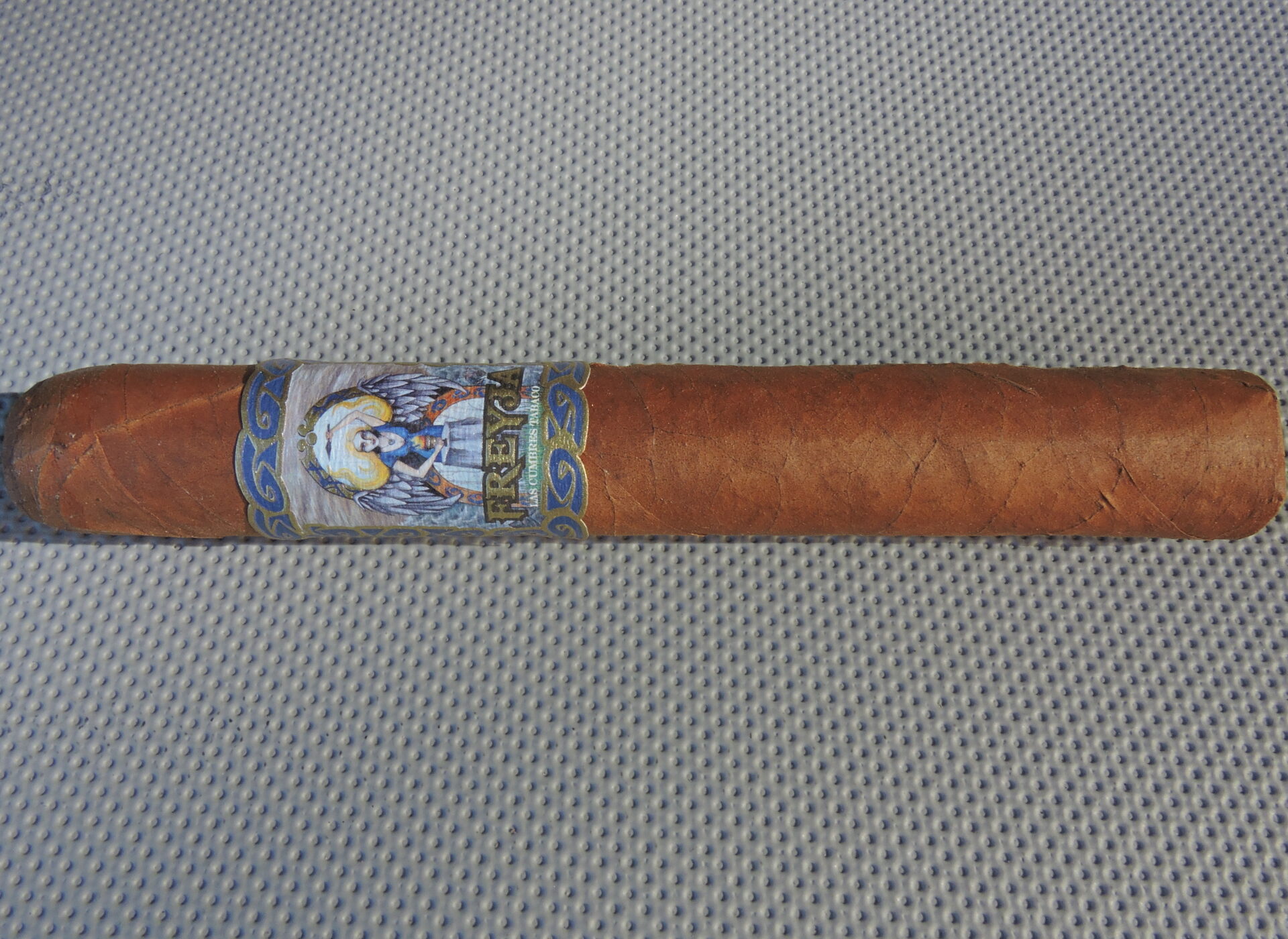 Wrapper: Dominican Criollo ´98
Binder: Mexican San Andres
Filler: Dominican Criollo ´98, Dominican Piloto Cubano, Nicaraguan Esteli.
Country of Origin: Dominican Republic (Tabacalera Palma)
Thor's Toro: 6 x 54
In 2015, Las Cumbres Tabaco launched its second brand called Freyja. Las Cumbres Tabaco is the company started by industry veteran Jose Blanco and his wife Emma Viktorsson. What was significant about this project is that it was spearheaded solely by Viktorsson.  name Frejya refers to a Viking goddess of beauty and fertility who was the chief of the Valkyrie. For Viktorsson, this project allowed her to connect her Swedish roots with the cigar world.  Last year we took a look at the Valhalla Robusto vitola.  Today we take a look the 6 x 54 Thor's Toro – the largest vitola in the line.  This is a cigar with about 5 months of age in the Cigar Coop humidor.
The blend features a Dominican Criollo '98 wrapper and a filler consisting of Nicaraguan Esteli, Dominican Piloto Cubano, and Dominican Criollo. However it was the Mexican San Andres binder that intrigued Viktorsson, While this is a common wrapper, Viktorrson wanted to see how it worked as a binder in her blend.
The Frejya Thor's Toro delivers a cigar experience with a mix black pepper, fruit, nut caramel, earth and cinnamon. The first half saw the caramel and fruit as the dominant flavors. There also was very much a "tobacco taste" to these flavors. During the second half, I found the sweetness dialed back, and there was more in the way of earth and black pepper. The end of Thor's Toro did have a spicy kick.
I found Thor's Toro to have more in the way of strength and body than the Valhalla Robusto. The Toro started out medium strength, but progressed to medium to full in the second half. Meanwhile the flavors were medium to full-bodied to start and by the second half, this was a full-bodied smoke.
Overall I found two observations about this blend.  First, this performs quite well in the 6 x 54 format. Second, this is a cigar that seems to be aging nicely. As a result the Freyja Thor's Toro get s box worthy recommendation.
Summary
Burn: Excellent
Draw: Excellent
Complexity: Medium
Strength:  Medium (1st Half), Medium to Full (2nd Half)
Body: Medium to Full (1st Half), Full (2nd Half)
Finish: Excellent
Assessment: 4.0-Box Worthy
Score: 92
References
Original Assessment: Freyja Valhalla Robusto by Las Cumbres Tabaco
News: Las Cumbres Tabaco Showcases Freyja and Senorial Offerings at 2015 IPCPR Trade Show
Price: $9.00
Source: Cigars Provided by Manufacturer
Stogie Geeks Podcast: Episode 151 Episode 161,Episode 176
Stogie Feed: Freyja Thor's Toro by Las Cumbres Tabaco