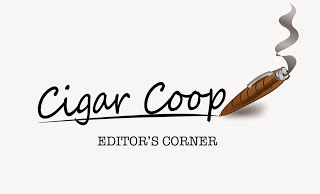 IMPORTANT ANNOUCEMENT: DAY/TIME CHANGE FOR STOGIE GEEKS

The Stogie Geeks Show is moving to Mondays at 6:30 Eastern Time beginning on Monday May 9th. This change will allow us to have a greater focus on production and allow us to work on some other projects that we will announce in the future. As always, our shows are available on-demand utilizing the biggest selection of distribution options in cigar media.
THIS MONTH'S EDITORIAL
One question that is commonly asked of us is "How do you determine what will be reviewed on Cigar Coop and Stogie Geeks?"  Today, we explore this question in greater detail.
What we will cover is how cigar is reviewed from a logistical standpoint – and the processes that surround it. We aren't covering how we score the cigar as that would be a separate topic.
The answer is different for Cigar Coop and Stogie Geeks. On Stogie Geeks, we cover our "Smokes of the Week". These are lightweight, agile reviews that serve as discussion points on our show. With Cigar Coop, the reviews are more technical and in-depth.  As a result, a set of processes have been setup to plan, prioritize, execute, and ultimately publish a cigar review. This also factors into how we are able to be the only true 365 day a year cigar publication in the industry. Given there is a more complex model on the Cigar Coop end, this will be the focus of what we talk about today.
One important note. Every media outlet has a different way of doing this. There is no right or wrong answer here. This simply is meant to describe how we do it and why we do it.
Tortoise and the Hare
If we are to map Cigar Coop to the characters of Aesop's fable, "Tortoise and the Hare", we are the tortoise. Very simply, we are not concerned about being first with a review. While there are times it just happens to work out we have a first review; in general, it is not something that keeps us up at night. Our goal is to provide readers with the information and perspectives and not race to be first.
As I stated, the goal of Cigar Coop is to bring you an accurate and technical review. It is also meant to educate you on the cigar, line and/or brand. To accomplish this, we are not setup on the Cigar Coop end to obtain a cigar and crank out a review that same day. On Stogie Geeks (where reviews are less technical), while we don't advocate a speed model, it is a little more possible to turn things around quicker, but not on Cigar Coop.
In the end, we feel this approach ultimately leads to a more accurate assessment.
Cigar Procurement
We procure cigars two ways – purchases and samples provided. Purchases may be done at a local retail shop or online. Samples reviewed are those provided by a manufacturer.
Regardless of the source, we usually will not review cigars on Cigar Coop right away. Typically we want to rest them under our optimum conditions of humidity and temperature. While many times humidification packs are shipped with cigars, there are times they are not. Even more-so temperature is something that is not controlled during shipping. By putting them in our humidors, this allows for stabilization of both of these attributes.
Even if purchased from a retail store, we typically do the same thing.  This is especially important for new cigars, which is the focus of Cigar Coop. Just because it is unpacked from a box and put in the retail humidor doesn't necessarily mean its stabilized.
Typically the period for this stabilization is two weeks. Sometimes its shorter, sometimes its longer, but this number isn't far off base.
Gifted cigars from consumers and friends are typically no longer used for review on Cigar Coop. We use this more for Stogie Geeks. As for samples, we want to ensure the brand's marketing group or owner is in the loop on this.  While we will accept cigar samples from a sales representative, we do it with the understanding the marketing group or brand owner is in the loop.
The cigars are then logged into an inventory, so we have a better idea of what needs to be reviewed.
The Schedule
From the log, the reviews are scheduled.  Typically the schedule is done four to six weeks out. There is some flexibility to reschedule reviews based on priority (which we will talk about). Sometimes a review will be fast-tracked, so we do have a couple of open days. It doesn't mean we cut corners when it comes to stabilizing them, it just means it is given a higher priority.
The schedule involves the date(s) the cigar will be smoked, the day the review will be written, and the day the review will be published.  None of which can be done in a single day.
Only one cigar per day is now published for review. While this facilitates daily publication, it allows us to showcase a cigar review without it competing with another cigar review.
Prioritization
This is not an exact science, but this is a rule of thumb for what is done. One thing not factored into prioritization is if the cigar is procured via sample or purchase. Instead, we use other factors. These are in no order:
Release Date – we usually try to schedule a review as close to a release date as possible. This is typical if production samples are provided prior to release. (Pre production / prototype samples are reviewed but not scored). The focus is cigars on the market 12 months or less. Cigars falling outside that window are considered on a case by case basis.
Is the Brand proactively providing formal or informal press information?  Given we are a news-driven outlet, this is very important to us. If the press information is not available, it makes it harder to cover the brand. Our goal with the reviews is not just to assess, but educate as well. While some companies don't provide press information, we will look at the responsiveness and level of communication we get from the company. If a company is excluding us from press information, it is unlikely they will get priority in the review schedule (exception is Cigar Aficionado as we recognize some companies have used this publication for years as a sole means to disseminate press information). If we are constantly chasing the information from the same brand, we have to look at the other priortization factors and see if the return on investment is there to cover the brand.
Sponsors: Sponsors are not guaranteed high scores.  However, when it comes to scheduling, we do want to make sure they are in the schedule.
Impact to the Market: Typically if we see a high profile / high demand release, it will get priority.
Timing with the Podcast: Sometimes we will use the Stogie Geeks Podcast and review or showcase the cigar on the show first.
Repeat Brands: Typically, we try to avoid reviewing the same brand within seven calendar days.
On a side note, we typically will not review a large number IPCPR (trade show samples). We do use them to get "an idea" of what the cigar will be like. Some will be considered for review, but these are on a case by case basis.
What Happens Next?
We outlined these steps in our article "Economics of a Cigar Media Brand". Below are the activities we go through and the approximate time it takes to complete them.
| | | | |
| --- | --- | --- | --- |
| Activity | Qty | Hours | Total |
| Preparation / Research on the Cigar | 1.00 | 1.00 | 1.00 |
| Photography (Includes Editing) | 1.00 | 0.50 | 0.50 |
| Smoking Time (and associated note taking) – We list this for 2 cigars here. | 2.00 | 1.50 | 3.00 |
| Authoring Content | 1.00 | 2.00 | 2.00 |
| Editing Content | 1.00 | 1.00 | 1.00 |
| Total |   |   | 7.50 |
In that article we identified the average cost per cigar review (assuming a $7.25/hour labor rate to review two $7.00 cigars) at $68.38. That costing model does not take into consideration overhead costs such as server hosting, etc.
---
Ultimately, you the reader need to decide if the processes put in place are worth it. We thank every reader who takes the time to view our work and those who take the time to acknowledge it on social media. It means the world to us.