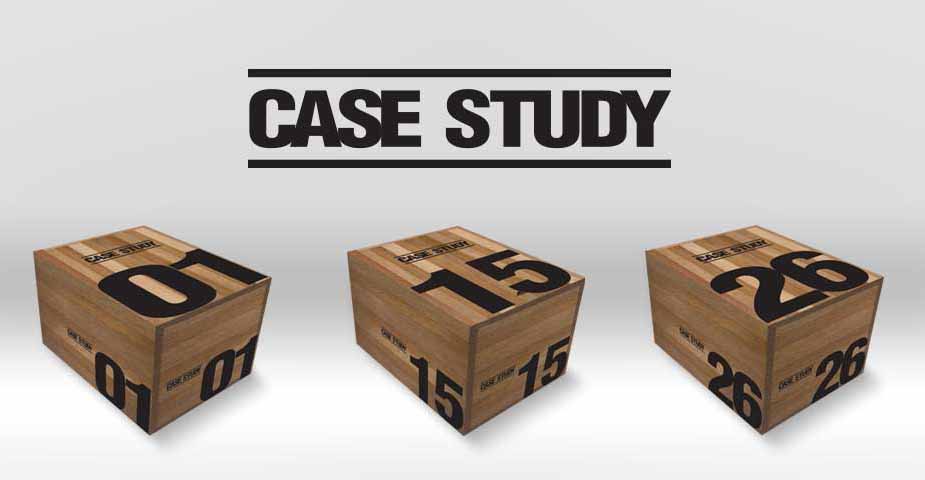 When it came to companies that released a lot of product at this year's IPCPR Trade Show, Ventura Cigar Company was certainly among the leaders. At this year's IPCPR Trade Show, Ventura Cigar Company showcased a new 26 blend, 66 facing line known as Case Study. The line is meant to pay homage to the architecture found in Southern California – the area where Ventura Cigar Company is based out of.
The concept from Case Design goes back to project done by Arts & Architecture magazine from 1945 to 1966. During this time, the magazine commissioned rising starts in the architecture world to build a series of cost-effective model homes in the Baby Boomer generation. The majority of these homes were in the Greater Los Angeles area. Some of the artists who participated include Richard Neutra, Pierre Koening, Eero Saarinen, and Charles and Ray Eames. Many of these homes have been featured in Hollywood films, advertising campaigns, and photo essays.
The Case Design series follows an analogous path. Ventura Cigar commissioned somme leading factories to develop a series of blends. Each of the blends is numbered from 1 to 26.
"We can't reveal the names of the master cigar blenders that we worked with, but the signature of their craft will be recognizable to cigar fans that pay close attention," saids Chief Marketing Officer Jason Carignan in a press release.
Of the 26 blends, there are five that have been dubbed limited editions. While the regular production offerings feature a white bland with black font, the limited edition bands are reversed.
The box design pays homage to the mid 20th century-aesthetics upcycles leftover wooden box material creating a plywood-style design.
Ventura Cigar Company is the premium boutique cigar division of Philips and King. In addition to Case Study, at this year's trade show Ventura launched the Archetype brand featuring blends from Davidoff and Drew Estate. Archetype consists of 5 blends and 17 facings. Between Case Study and Archetype, Ventura unveiled a total of 31 blends and 83 facings.
At a glance, we look at the sizes of the Case Study line:
Case Study No. 1    5 x 50 (Robusto)
Case Study No. 1    6 1/2 x 46
Case Study No. 1    7 1/4 x 50
Case Study No. 2    5 1/2 x 42
Case Study No. 2    5 x 50
Case Study No. 2    6 1/2 x 52 (Belicoso)
Case Study No. 2    7 x 50
Case Study No. 3    5 5/8 x 54
Case Study No. 3    6 x 50
Case Study No. 3    6 7/8 x 57 (Salomon)
Case Study No. 4    5 1/2 x 52 (Torpedo) (LIMITED EDITION)
Case Study No. 5    4 7/8 x 60 (LIMITED EDITION)
Case Study No. 5    5 3/4 x 54 (LIMITED EDITION)
Case Study No. 5    6 3/4 x 52 (LIMITED EDITION)
Case Study No. 6    5 1/2 x 50
Case Study No. 6    6 x 52
Case Study No. 6    7 1/2 x 50
Case Study No. 7    7 1/2 x 52/60 (Salomon) (LIMITED EDITION)
Case Study No. 8    5 1/2 x 50
Case Study No. 8    6 1/2 x 52
Case Study No. 8    6 x 60
Case Study No. 9    5 x 43
Case Study No. 9    6×46
Case Study No. 9    6×52 (Belicoso)
Case Study No. 10    5 7/8 x 50 (Perfecto)
Case Study No. 10    6 x 54
Case Study No. 11    6 x 52
Case Study No. 11    6 x 52 (Torpedo)
Case Study No. 12    5 1/2 x 42 (LIMITED EDITION)
Case Study No. 12    5 x 50 (LIMITED EDITION)
Case Study No. 12    6 1/2 x 52 (Belicoso) (LIMITED EDITION)
Case Study No. 12    7 x 50 (LIMITED EDITION)
Case Study No. 13    5 x 50 (LIMITED EDITION)
Case Study No. 14    5 X 50
Case Study No. 14    6 1/2 X 58
Case Study No. 14    6 1/4 X 52 (Torpedo)
Case Study No. 15    5 1/2 x 50
Case Study No. 15    6 x 54
Case Study No. 15    4 3/4 x 52 (Perfecto)
Case Study No. 16    5 1/2 x 54
Case Study No. 16    6 1/2 x 52
Case Study No. 16    6 x 54 (Torpedo)
Case Study No. 17    4 3/4 X 52
Case Study No. 17    6 X 50
Case Study No. 17    6 3/16 X 52 (Pyramid)
Case Study No. 18    5 x 50
Case Study No. 19    5 1/2 x 52 (LIMITED EDITION)
Case Study No. 20    5 1/2 x 46
Case Study No. 20    5 1/4 x 52
Case Study No. 20    6 x 50
Case Study No. 21    5 x 50
Case Study No. 21    6 x 47
Case Study No. 21    6 1/4 x 52 (Belicoso)
Case Study No. 21    6 x 58
Case Study No. 22    5 1/2 x 50
Case Study No. 22    6 1/2 x 52
Case Study No. 22    6 x 60
Case Study No. 23    4 3/4 X 50
Case Study No. 23    6 1/4 X 54
Case Study No. 24    5 1/2 x 52
Case Study No. 25    6 X 50
Case Study No. 25    7 1/2 X 50
Case Study No. 25    6 1/4 X 54 (Belicoso)
Case Study No. 26    5×54
Case Study No. 26    5.5×56
Case Study No. 26    6 x 52
Photo Credits: Ventura Cigar Company