Agile Cigar Reviews replace what we termed "Assessment Updates". The concept is the same, but the name is different. Agile Cigar Reviews use a lightweight, shorter format. These will never take the place of our comprehensive reviews. They are only used on blends we have previously assessed. This might be a blend we are re-scoring or providing a score for a first time. It might be a blend we are looking at in a different size. Today we look at the Camacho Powerband in the Robusto size. This is a cigar line we have previously assessed in the Toro size back in July, 2016.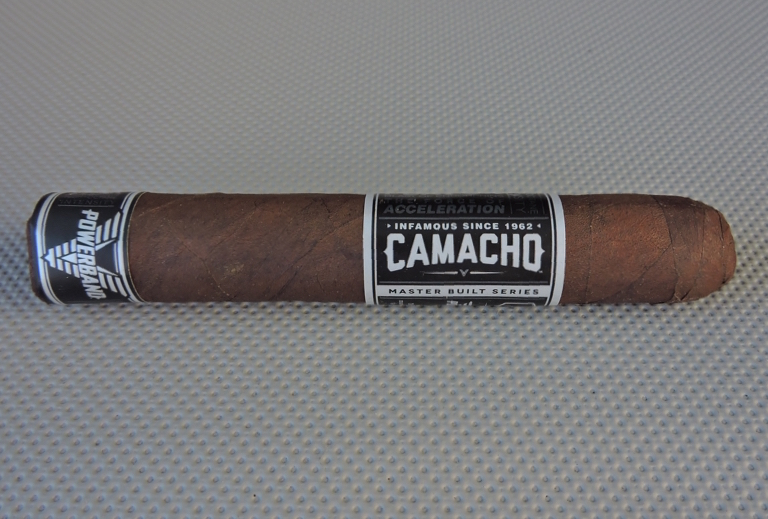 Wrapper: Ecuadorian Habano 2000
Binder: Mexican San Andres Negrito
Filler: Esteli Nicaragua Corojo Ligero, Honduran Corojo Ligero, Dominican San Vincente Ligero, Dominican San Vincente, Viso, Dominican Piloto Cubano
Country of Origin: Dominican Republic (Occidental Cigar)
Robusto: 5 x 50
The Camacho Powerband is a regular production cigar introduced by Camacho in 2016. In 2013, the Camacho portfolio was revamped and rebranded with the slogan "the bold standard". The Powerband is a logical extension of this slogan. It draws its inspiration from the "power, performance, and acceleration associated with the classic V-twin engine". The name "power band" refers to the rpm range of an engine makes the most power. It is the point where one can feel the engine pulling the vehicle the strongest. Today, we take a look at the Robusto (5 x 50) offering of the Powerband.
Camacho is a brand that traces its roots back to Honduras, but with the Powerband it becomes the second Camacho release to come out of the Dominican Republic (joining the Camacho American Barrel Aged). The Powerband uses a blend consisting of a Habano 2000 wrapper from Ecuador, a Mexican San Andres binder, and fillers from "the big three countries (Honduras, Nicaragua, and the Dominican Republic). The filler also features Corojo – a staple of the Camacho brand.
It is worth noting that at the 2016 IPCPR Trade Show, the Powerband Robusto was also showcased with a new Tubo offering. Robusto Tubos are quite common in the Camacho portfolio. The Powerband Robusto for this assessment did not come from a tubo.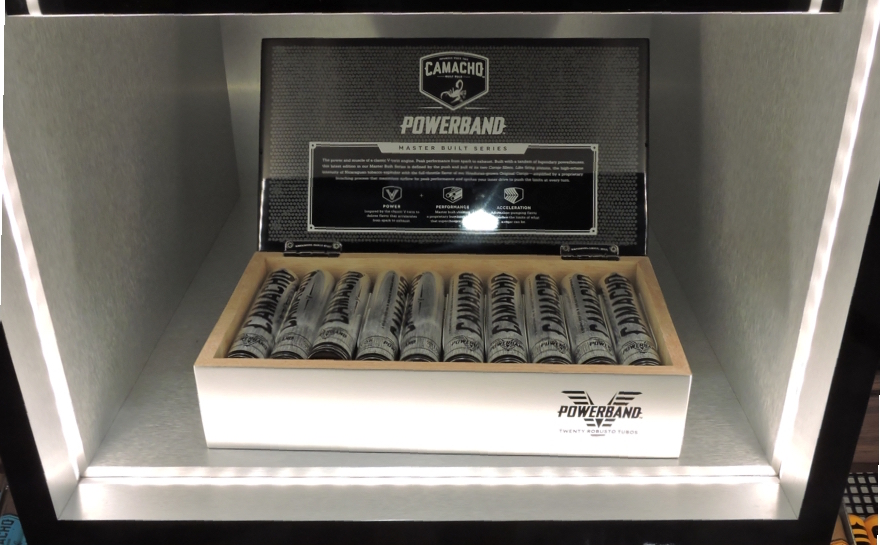 The Camacho Powerband Robusto is going to deliver notes of earth, cocoa, cedar, white pepper, and a lemon citrus note. The retro-hale is has some real firepower with a combination of white and red pepper. The Powerband Robusto started out medium to full for both strength and body. By the second half, this cigar is going to be full throttle – namely full strength and full-bodied. I did find the strength had a slight edge over the body.
Overall, this is a cigar that delivers on its promise and keeps to Camacho's mantra of "the bold standard". It's a cigar I would recommend to a more seasoned cigar enthusiast. As for myself, it's a cigar I would definitely smoke again – and it's worthy of a box split.
References
Key Flavors: Earth, Cocoa, Pepper, Lemon-Citrus
Burn: Excellent
Draw: Excellent
Complexity: Medium
Strength: Medium to Full (1st Half), Full (2nd Half)
Body: Medium to Full (1st Half), Full (Last Third)
Finish: Very Good
Assessment: 3.5-Box Split
Score: 90
References
Original Assessment: Camacho Powerband Toro
News: Camacho Powerband Coming in June
Price: $11.00
Source: Cigars Provided by Manufacturer (Prior to August 8, 2016)
Stogie Geeks Podcast: Episode 193
Stogie Feed: Camacho Powerband Toro
Brand Reference: Camacho
Photo Credits: Cigar Coop