Agile Cigar Reviews replace what we termed "Assessment Updates". The concept is the same, but the name is different. Agile Cigar Reviews use a lightweight, shorter format. These will never take the place of our comprehensive reviews. They are only used on blends we have previously assessed. This might be a blend we are re-scoring or providing a score for a first time. It might be a blend we are looking at in a different size. Today we take another look at the Espada by Montecristo Guard (Toro). This is a cigar we previously assessed back in October, 2014.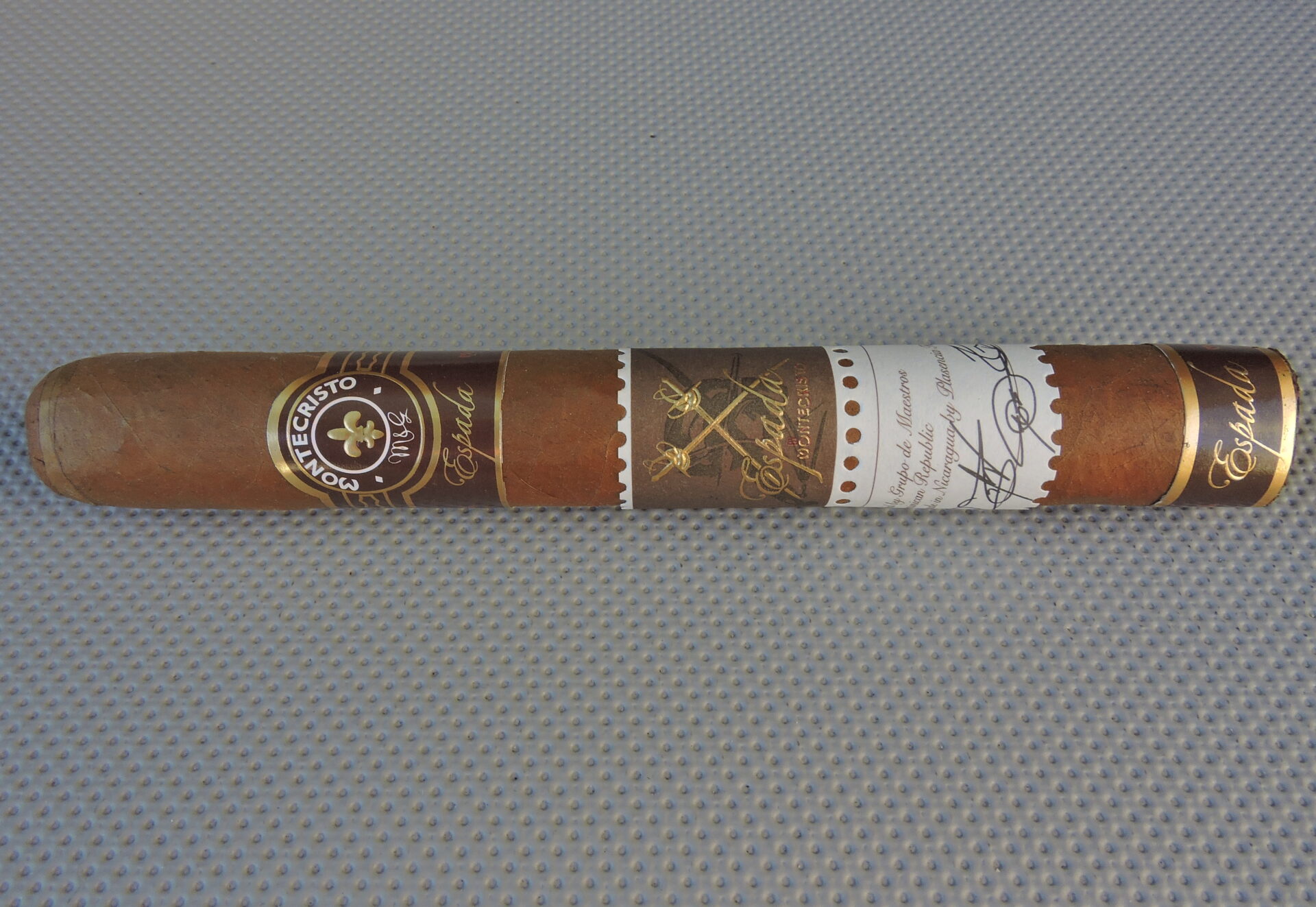 Wrapper: Habano Jalapa Vintage 2010
Binder: Habano Jalapa Vintage 2009
Filler: Habano Jalapa Seco Vintage 2008, Habano Jalapa Viso ,Ometepe Vintage 2008, Habano Condega Ligero Vintage 2008
Country of Origin: Nicaragua (Plasecnia SA)
Guard: 6 x 50
In 2014 Altadis USA launched a new line under the Montecristo brand called Espada by Montecristo. The project was unique for Altadis in that it was a collaborative effort between Altadis' all-star cigar-makers, the Grupo de Maestros and the Plasenica factory. Espada was a significant project because it would mark the beginning of a series of collaborations that would follow – including:  Romeo by Romeo y Julieta Aging Room Small Batch F25 (with Boutique Blends), Henry Clay Tattoo (with Tatuaje's Pete Johnson), and most recently Montecristo Crafted by A.J. Fernandez. Today we take another look at the Espada by Montecristo in the Guard vitola – a classic 6 x 50 Toro.  This is a cigar that has nearly two years of age in the Cigar Coop humidor.
In addition to being the first collaboration by Altadis' Montecristo brand, it also is the first Montecristo to feature 100% Nicaragua tobacco and made in Nicaragua. The blend incorporates different vintages of Nicaraguan Habano tobacco from Jalapa for the wrapper, binder, and filler. In addition the filler adds in some tobaccos from Ometepe and Condega.
The cigar produced notes of natural tobacco, white pepper, cedar, and citrus. Like when I previously smoked the Espada Guard, the citrus and pepper fused together to create a "twang" – and around the midway point there also was a slight (but not overpowering) jalapeno note. As for the "twang" was a little more prominent in the last third.
Two years of age smoothed and mellowed the Espada by Montecristo Guard.  There was a creamy undertone to this cigar from start to finish that created a much smoother smoke than two years ago. The strength and body of this cigar was also medium, down from medium to full a couple of years ago.
While this cigar scored a 90 which is down from the 92 from 2014, this is more of a reflection on our tighter scoring and less on the performance of this cigar. Overall, this is an excellent offering for the novice or experienced cigar enthusiast. It's one definitely worthy of a box split.
Summary
Burn: Excellent
Draw: Excellent
Complexity: Medium+
Strength: Medium
Body: Medium
Finish: Good
Assessment: 3.5-Box Split
Score: 90
References
Original Assessment: Espada by Montecristo Guard (Altadis USA)
News: Espada by Montecristo by Altadis USA
Price: $11.75
Source: Cigars provided by Manufacturer (Prior to August 8th, 2016)
Stogie Geeks Episode: Episode 133
Stogie Feed: Espada by Montecristo Ricasso
Brand Reference: Montecristo
Photo Credit: Cigar Coop