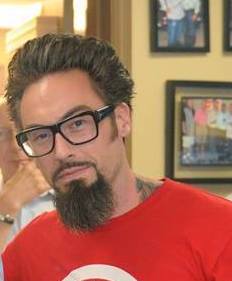 The Matt Booth era at Davidoff has come to an end – and so has his tenure in the cigar industry. Today, Booth told Cigar Aficonado that he has not renewed his contract with Davidoff and for all practical purposes is leaving the cigar industry for now.
Booth also told Cigar Aficionado that he is taking some time off from the cigar industry to focus on his jewelry business.
While Booth is the owner of the Room 101 brand, he partnered with Davidoff to handle production and distribution of his cigars. Room 101 was a lifestyle brand founded by Booth. Booth gained fame for making jewelry, accessories, and clothing for the Hollywood scene. The Room 101 name refers to the torture chamber in the Ministry of Love as a part of George Orwell's "1984" novel. It also pays homage to Highway 101 – which runs through the Los Angeles metropolitan area. It was in 2009 whee the brand was extended to include cigars. In 2009, he started working with Camacho Cigars to handle the production and distribution. When Camacho was acquired by Davidoff, Booth moved over to Davidoff – but Room 101 still had a relationship with the Camacho brand under its "Board of the Bold". Booth spent time as a brand ambassador for Room 101 – extensively traveling to support the brand
The Cigar Aficionado article stated that Booth struck an agreement with Davidoff to sell the remaining inventory of his products.
Booth was non-committal in terms of whether at some point he will return to the cigar industry.
Whether the newly instituted FDA regulations played a role on this decision was not stated.  Since Room 101 did not debut until 2009, it is assumed the portfolio would not be eligible to be grandfathered.