Agile Cigar Reviews replace what we termed "Assessment Updates". The concept is the same, but the name is different. Agile Cigar Reviews use a lightweight, shorter format. These will never take the place of our comprehensive reviews. They are only used on blends we have previously assessed. This might be a blend we are re-scoring or providing a score for a first time. It might be a blend we are looking at in a different size. Today we take another look at the MoyaRuiz Pickle Juice. This is a cigar we have previously assessed back in March 2016.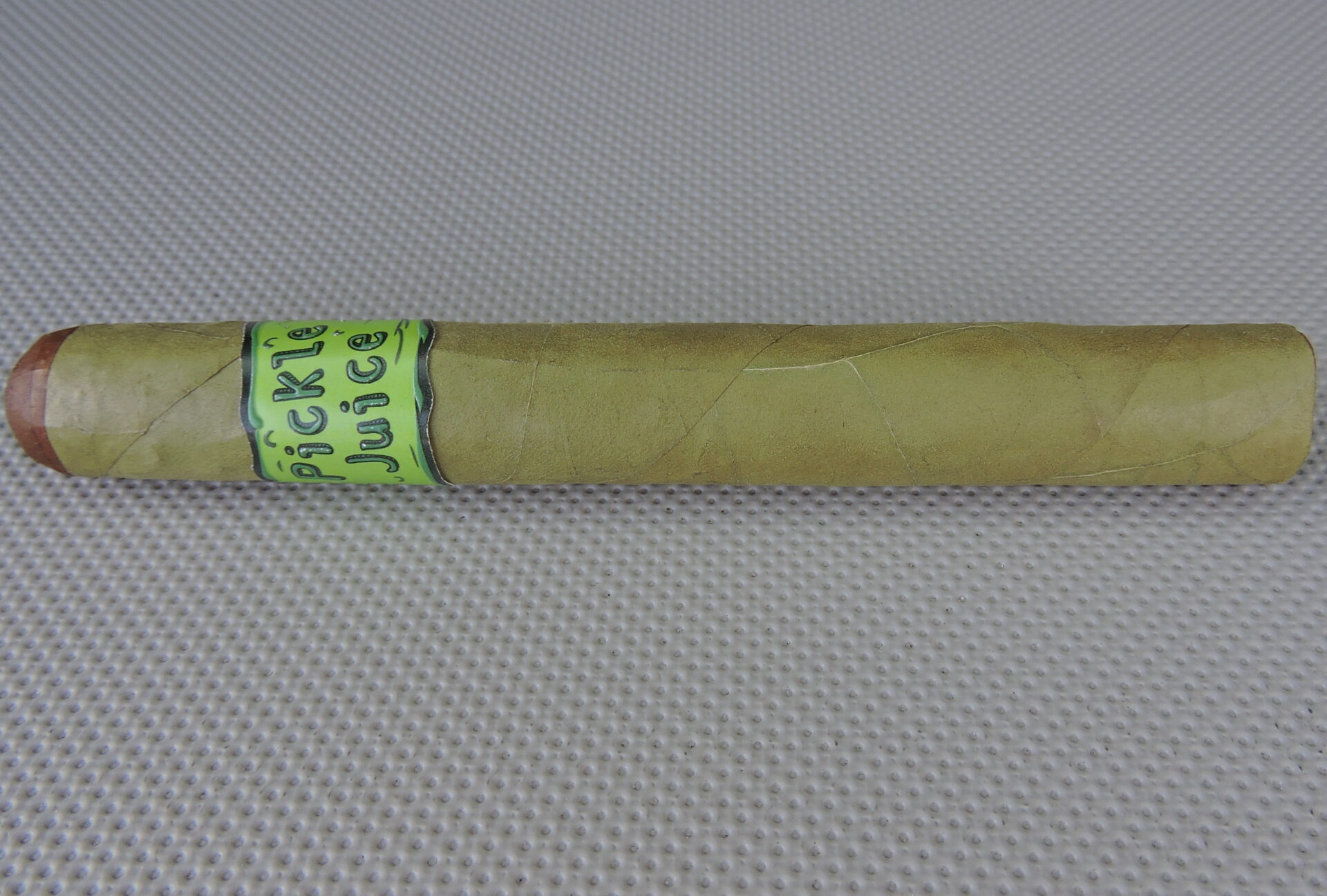 Wrapper: Candela
Binder: Nicaraguan
Filler:Nicaraguan
Country of Origin: Nicaragua (La Zona SA)
Toro: 6 x 50
In 2016 MoyaRuiz Cigars introduced its third limited edition cigar called Pickle Juice. Pickle Juice is not only MoyaRuiz's first candela release, but it is also the first candela to come out of the La Zona factory (the factory that handles production for MoyaRuiz). As with most limited edition candelas, they tend to be produced in time for St. Patrick's Day – and last year this cigar was released to coincide with the 2016 celebration. Pickle Juice would land on the 2016 Ciga#r Coop Cigar of the Year Countdown. With a year of age in the Cigar Coop humidor, today I take another look at the Pickle Juice.
Back when we reported on the announcement of Pickle Juice, we gave a little background for how this project came about:
The project started when MoyaRuiz co-owner Danny Moya was reading an article about the strange drinks and pickle juice was one of them. The name stuck with Moya. A little over a month later, Moya learned that La Zona Director of Factory Operations Hector Alfonso, Sr. had developed some blends with a candela wrapper. Moya saw an opportunity to do a cigar project with this theme. The blends were then sampled and the wheels for the Pickle Juice project were put in motion.
In addition to a candela wrapper, the MoyaRuiz Pickle Juice features a Nicaraguan binder and filler. The cap of the Pickle Juice does not have a candela leaf. Instead, a darker oscuro-like tobacco leaf is used on the cap. Not only does it give this cigar a unique look, but it serves a purpose. MoyaRuiz co-owner Danny Moya informed us that it was put on there to offset some of the heavy grassiness associated with candela wrapper.
The cigar was available in one size – a 6 x 50 Toro. Keeping with the theme, MoyaRuiz designed a green-colored plastic jar resembling a pickle jar. There were thirteen cigars packaged in each jar. The total production was 500 jars with each jar hand-numbered. The 500 jars were distributed to 50 select retailers with each retailer receiving 10 jars. MoyaRuiz sold out of their production of the cigar, so any remaining on the shelves come from the retailers who obtained them.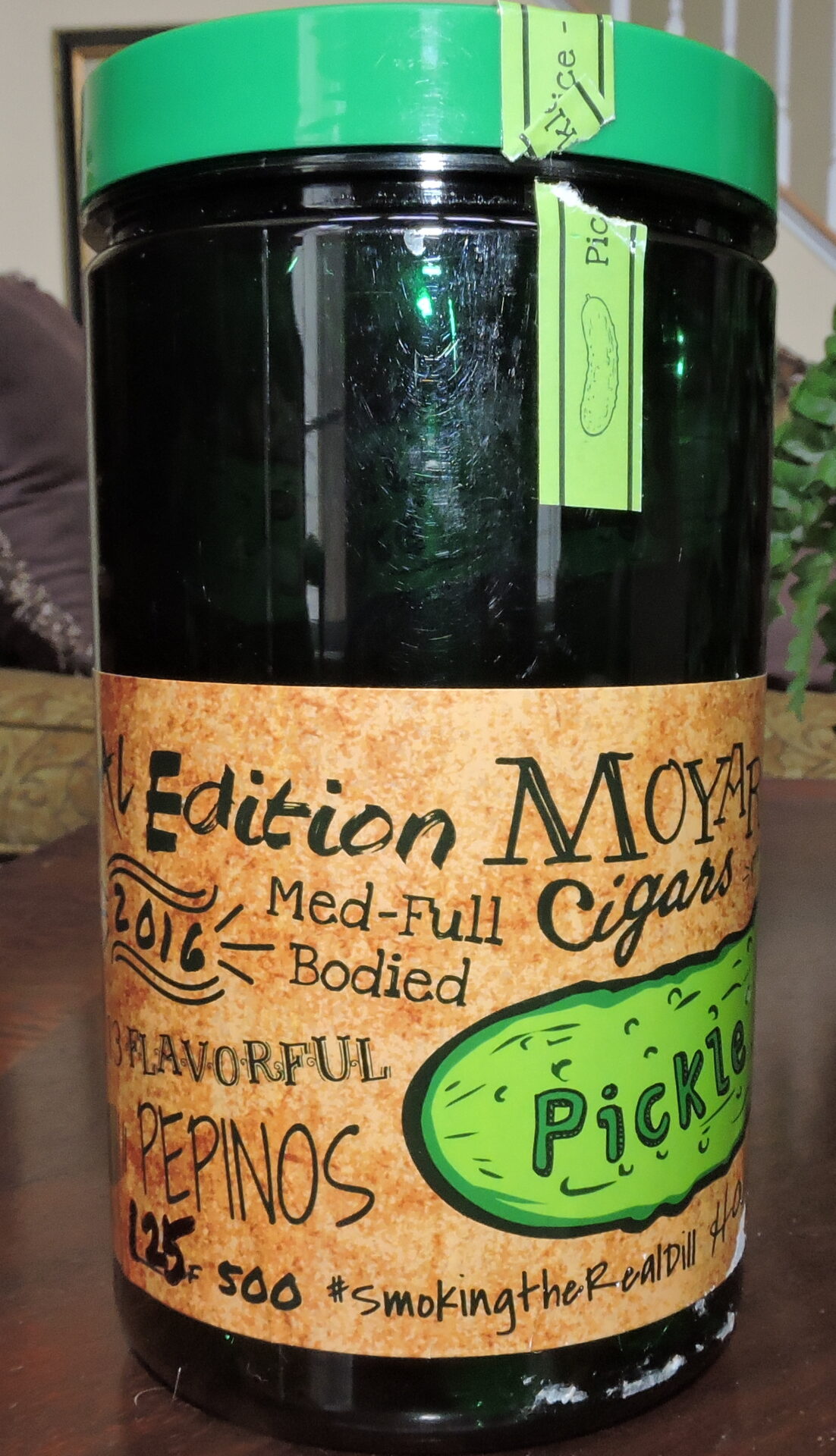 The MoyaRuiz Pickle Juice stayed pretty consistent with a year of age on it. The cigar delivered notes of black tea, white pepper, and an herbal / grass note. There is also an underlying creamy texture that provided some level of smoothness. When I first smoked the Pickle Juice last year, one thing I noticed is how the grassy notes were definitely subdued compared to most candelas. One year later that is still the case. There was an increase in spice during the last third that led to a little pungency (which was something I mentioned last year),  but by that point it was time to put down the cigar.
If you are used your candela cigars being on the milder side, you might be in for a surprise with the Pickle Juice. This cigar is firmly in the medium strength, medium-bodied range – and with a year of age, it didn't lose any steam with the intensity level.
This is a "one and done" cigar that I would love to see make a comeback. Looking at how this cigar performed with a year of age cemented my feelings that the Pickle Juice ranks as an upper echelon candela release. This is a cigar I can recommend to a novice or experienced cigar enthusiast. It is also a cigar I could recommend to someone who might not normally smoke candela. If you can find them, this is definitely a box (jar) worthy cigar.
Summary
Key Flavors: Black Tea, Herbal Notes, Grass, White Pepper
Burn: Excellent
Draw: Excellent
Complexity: Medium+
Strength: Medium
Body: Medium
Finish: Good
Rating
Assessment: 4.0-Box Worthy
Score: 92
References
News: MoyaRuiz Pickle Juice Coming for St. Patrick's Day
Price: $7.69
Source: Purchased
Brand Reference: MoyaRuiz
Photo Credits: Cigar Coop