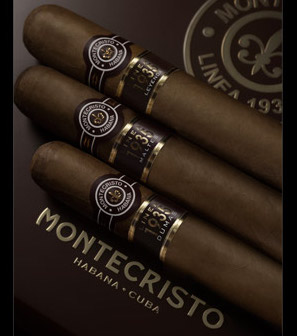 One of the highlights of the recent XIX Habano Festival held in Cuba was the unveiling of what Habanos S.A. describes as its most premium Montecristo brand, the new Montecristo Linea 1935.
The name Montecristo Linea 1935 translates to "1935 line" and it pays homage to the year the Montecristo brand was formed. There will be three sizes: Maltes (6 x 53), Dumas (5 1/8 x 49), and Leyenda (6 1/2 x 55). The Maltes and Dumas vitolas introduce new sizes to the Habanos portfolio while the Leyenda was the size that was used on the limited edition Montecristo 80 Aniversario that was unveiled back in 2015.
In a press release announcing the Montecristo Linea 1935 Inocente Nunez Blanco, Co-President of Habanos, S.A. commented, "Among the proposals for this year, we will like to stand out the new Linea 1935 of Montecristo launch. This is the reference brand of the Habanos, and the launch of the new Linea 1935 is both a pride and a responsibility. This is the most premium Montecristo proposal, with an innovative and exclusive presentation and three new vitolas in the brand's portfolio that, for the first time, will have a full strength flavour. We are really excited with this new release."
The XIX Habano Festival took place February 27 – March 3, 2017 in Cuba.
Photo Credit: Habanos SA