Agile Cigar Reviews replace what we termed "Assessment Updates". The concept is the same, but the name is different. Agile Cigar Reviews use a lightweight, shorter format. These will never take the place of our comprehensive reviews. They are only used on blends we have previously assessed. This might be a blend we are re-scoring or providing a score for a first time. It might be a blend we are looking at in a different size. Today we take another look at the Señorial 65th Anniversary Perfecto Elégance by Las Cumbres Tabaco. This is a cigar we have previously assessed back in December 2014.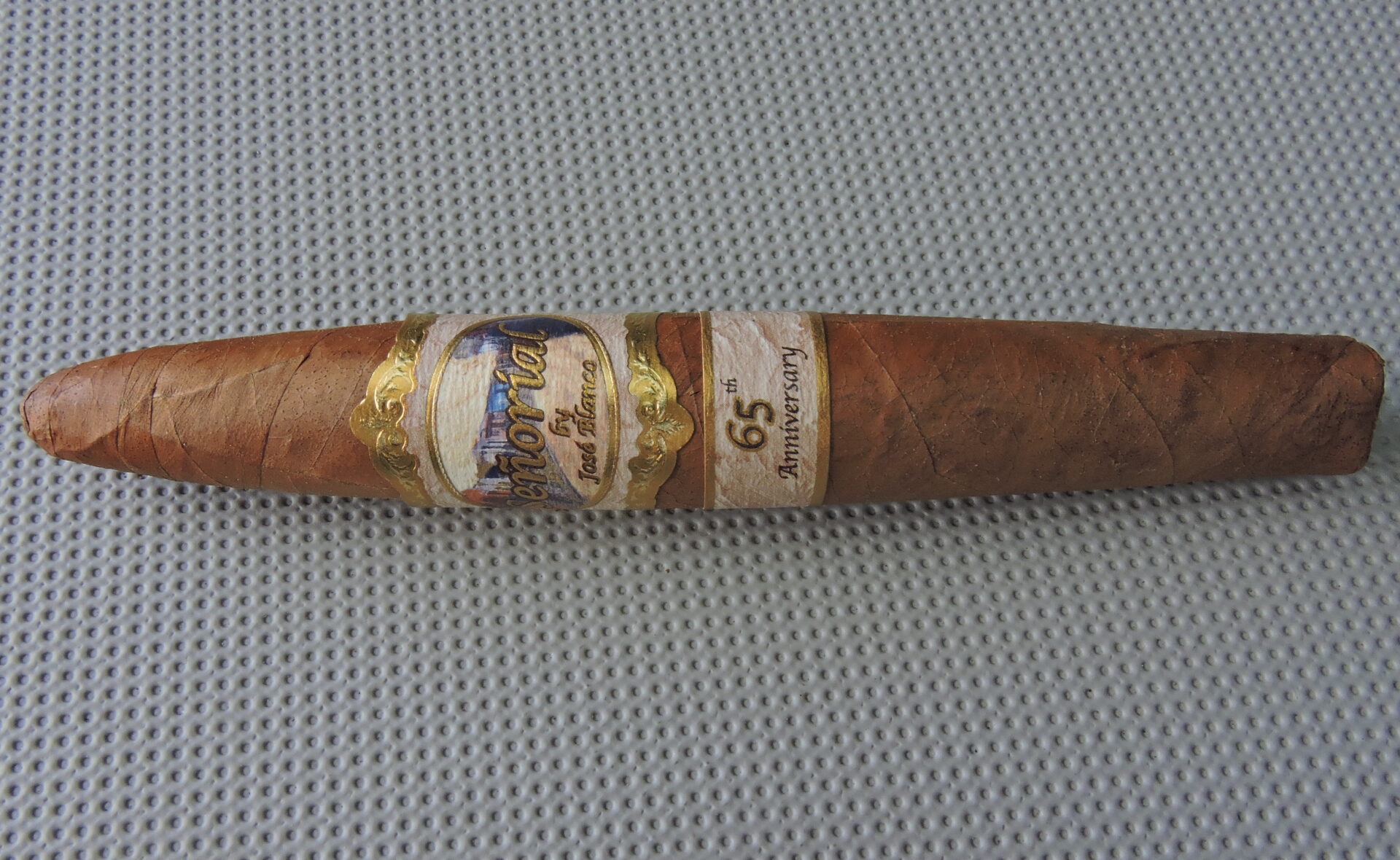 Wrapper: 6 year-old Dominican Piloto Cubano from La Canela farm
Binder: Dominican Corojo from La Canela farm
Filler: (Each with 5 years of age) Dominican Piloto Cubano, Ligero, from La Canela farm; Dominican Corojo, Viso, from Jacagua farm; Dominican Corojo, Seco, from Gurabo farm
Country of Origin: Dominican Republic (Tabacalera La Palma)
Perfecto Elégance: 5 3/4 x 55
The Señorial 65th Anniversary was the second blend to be released by Las Cumbres Tabaco, the company founded by José Blanco and his wife Emma Viktorsson. Released in December 2014, the cigar was a limited edition cigar to commemorate Blanco's 65th birthday which he celebrated on October 27.
There was only one size released of the  Señorial 65th Anniversary – a 5 3/4 x 55 perfecto known as the Perfecto Elegance. The cigar itself is a Dominican puro featuring tobaccos that are 5 to 6 years old coming from the La Canela, Jacagua,  and Gurabo farms located in the Dominican Republic. Total production for this limited release was 20,000. Each of the cigars was rolled by some of the most experienced rollers at the Tabacalera Palma factory (where Las Cumbres cigars are made).
In terms of the flavors delivered , I did not find that it had changed all that much. I still got notes of earth, grain, baker's spice, black pepper and a unique plum flavor. I found this was a cigar that delivered more in the way of sweetness early on, and one that has more in the way of spices during the last third.
The Señorial 65th Anniversary is also a cigar that builds in intensity. Tthe strength stars out medium and by the end of the cigar is operating at full strength. Meanwhile, the lavors start out medium to full-bodied and progress to full-bodied by the last third.
While on the surface the Señorial 65th Anniversary seemed to have kept its same profile as when it was first released in late 2014, there still were some differences. The nearly 2 1/2 years of age on this cigar seemed to make the flavors more robust. There was also a much better balance. Both the sweetness early on and the spice during the last third never got to be "too much".
This is not a regular production cigar, so it is becoming a true "diamond in the rough" However it's well worth seeking as this clearly is José Blanco's masterpiece. It's a cigar I would still gear more toward to an experienced cigar enthusiast. As for myself, this has become a truly special cigar – and it's one that I would fight Chuck Norris for.
Summary
Previous Assessment: Señorial 65th Anniversary Perfecto Elégance by Las Cumbres Tabaco
Key Flavors: Earth, Grain, Baker's Spice, Black Pepper, Plum
Burn: Excellent
Draw: Excellent
Complexity: Medium to High
Strength: Medium (First Third), Medium to Full (2nd Third), Full (Last Third)
Body: Medium to Full (First 2/3), Full (Last Third)
Finish: Very Good
Rating
Assessment: 4.5 – Fight Chuck Norris for Them 
Score: 94
References
News: Senorial 65th Anniversary Perfecto Elegance by Las Cumbres Tabaco
Price: $14.00
Source: Purchased
Brand Reference: Las Cumbres Tabaco
Photo Credits: Cigar Coop, except where noted.