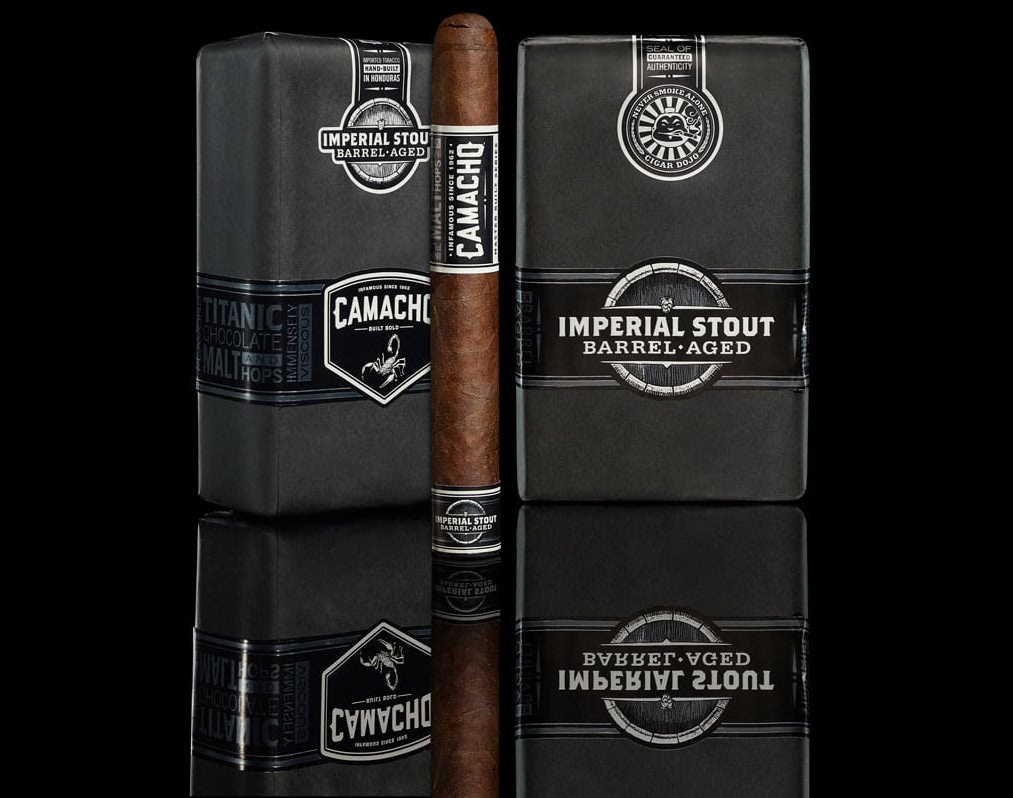 Cigar Dojo, the first and largest social cigar application/community has announced its seventh limited edition collaboration. This time Cigar Dojo is teaming up with Camacho Cigars for the Camacho Imperial Stout Barrel-Aged. The cigar will be sold exclusively through Smoke Inn Cigars beginning June 30th, 2017.
In 2015, Camacho released its American Barrel-Aged line, which features a Corojo filler leaf aged in bourbon whiskey barrels. Earlier this month Camacho announced the Nicaraguan Barrel-Aged line, which features a Corojo filler leaf aged in Flor de Cana rum barrels. With Cigar Dojo based in Denver Colorado – which is one of the top craft beer areas in the country, the two decided to see how beer can be incorporated into a similar project.
Eric Guttormson, owner of Cigar Dojo wanted to work with Ten FIDY by Oskar Blues, brewed out of Longmont Colorado. The problem was that Ten FIDY lacked the barrel-aged requirement for the project. However, Guttormson learned the Oskar Blues brewery had just finished an effort involving barrel aging the Ten FIDY recipe. The company had used 30 barrels for the project. Guttormson managed to secure four of the barrels that had been used to age the beer. The four barrels selected for this project were actually whiskey barrels from Heaven Hill Distilleries, located in Bardstown, Kentucky and the producer of other Dojo favorites—such as Larceny, Elijah Craig, and Parker's Heritage. The barrels were shipped to Camacho in Danlí, Honduras.
From there Camacho placed original Corojo tobaccos into the beer and whiskey-soaked barrels for a minimum of six months. One difference with this project as opposed to other beer barrel-aged projects is that the tobaccos were allowed to ferment inside the barrels. Many other projects have rolled the cigars prior to placing them in the barrels.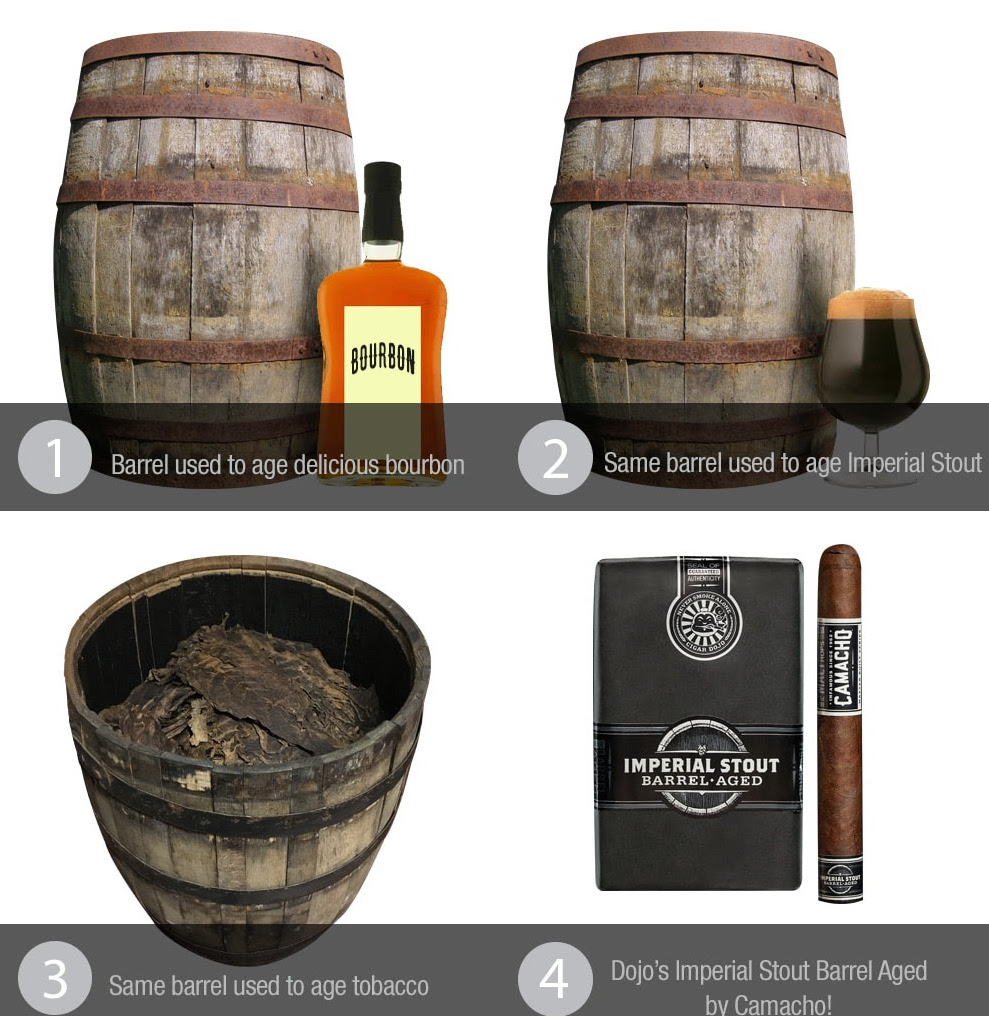 The Imperial Stout Barrel-Aged blend is based on the Camacho Triple Maduro blend. The barrel-aged Original Corojo leaves were blended with Brazilian and Dominican maduro leaves. The cigar is finished with an Original Corojo maduro binder, and a San Andrés maduro wrapper. The Camacho Imperial Stout Barrel-Aged is offered in one size – a 6 x 50, with a total of 400 bundles produced. A total of 400 bundles (4,000 cigars) were produced for the project. Pricing is set at $9.95 per cigar.
"Without question the Cigar Dojo/Camacho Imperial Stout Barrel-Aged is the most complex project we have ever been involved with," commented Guttormson, owner of Cigar Dojo. "For our seventh special cigar release, we wanted to stretch the boundaries of what could be done with a small-batch, craft cigar. The flavor that the tobacco has developed from the barrel that was once used for bourbon and then Ten FIDY Imperial Stout is truly a work of art."
"We could not be more excited to share the results of this project with everyone. Imperial Stout Barrel-Aged is something we've been working on for more than a year and the result is so unique. We took our Triple Maduro blend as the base, and aged the Original Corojo Maduro fillers in spent bourbon barrels, which then held Ten FIDY Imperial Stout. The taste experience is one of a kind," said Dylan Austin, Vice President of Marketing for Davidoff of Geneva USA.
The launch of the Camacho Imperial Stout Barrel-Aged will occur the evening of June 30th, 2017 creating a Friday night party atmosphere that is often associated with the Cigar Dojo online herf.
"Bourbon, Beer, and Cigars, what's not to love about the new Dojo Imperial Stout Barrel-Aged made by Camacho Cigars?! Smoke Inn couldn't be more excited to be a part of this unique project that will never be replicated," commented Abe Dababneh, proprietor of Smoke Inn Cigars.
This is also the third Cigar Dojo collaboration to be distributed through Smoke Inn. In 2014, the Undercrown Dogma was also sold through the South Florida retailer. Earlier this year, the Quesada Dojo De Luxe was offered through Smoke Inn.
At a glance, here is a look at the Camacho Imperial Stout Barrel-Aged:
Blend Profile
Wrapper: San Andrés Maduro (Mexico)
Binder: Original Corojo Maduro (Honduras)
Filler: Barrel-Aged Original Corojo Maduro (Honduras), Brazilian Maduro, Dominican Maduro
Factory: Diadema Cigars de Honduras, S.A. (Honduras)
Vitolas Available
The Camacho Imperial Stout Barrel-Aged is being offered in one size – a 6 x 50 Toro.
Photo Credits: Supplied by Cigar Dojo