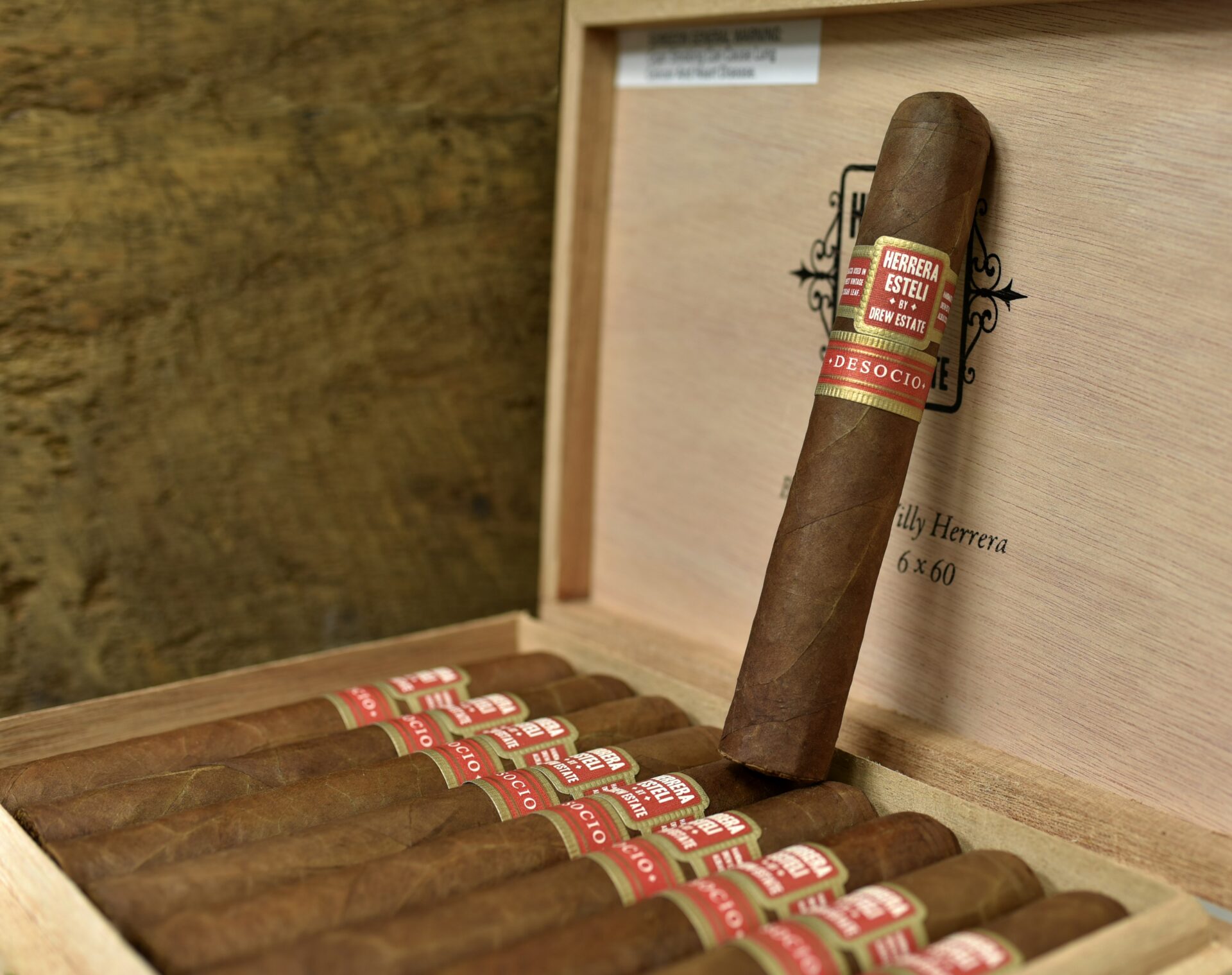 Drew Estate's Herrera Estelí line now has a 6 x 60 offering – and it will become the latest installment in Alliance Cigar's DeSocio series. The DeSocio series is a set of exclusive sizes of popular cigar blends that are only available through Alliance Cigar.
The DeSocio series was the brainchild of Tom Sullivan, President of Alliance Cigar. Sullivan introduced the new series as a way to pay tribute to his maternal grandfather, who had an affinity for cigars.
The Herrera Estelí DeSocio features the same blend as the core Herrera Estelí line. This consists of an Ecuadorian Habano wrapper, Honduran binder and Nicaraguan filler.
In a press release announcing the Herrera Estelí DeSocio, Willy Herrera, Master Blender of Drew Estate, stated, "I've been asked consistently over the years at events across the nation to blend a larger ring gauge Herrera Estelí. The opportunity and challenge of bringing out the unique set of flavors in a large format cigar took many trials and this DeSocio takes the Herrera Esteli blend and unparalleled smoking experience to a whole new level."
"The DeSocio collection of exclusive sizes of my favorite brands is something I've always wanted to do, and now with the addition of the Herrera Estelí DeSocio, I am excited to finally add a vitola from my favorite Drew Estate brand. My working relationship with Drew Estate began in 1997 and the addition of the Herrera Esteli 'DeSocio' helps us mark and celebrate our 20-year anniversary of friendship and mutual business success," commented Alliance Cigar Owner Tom Sullivan.
Drew Estate President and co-founder Jonathan Drew added, "The Sullivan family and Alliance Cigar are true friends and for 20 years have been a strategic partner of DE at every level.  The Herrera Estelí 'De Socio' is a special cigar and beautiful concept which honors family and heritage. Tommy is a tobacco man, who has helped many in the premium cigar manufacturing community grow and better themselves. It's great to give something of value back to our Brother Sully. I know you are reading this my brother, and I want to personally thank you for 20 years of solidarity and partnership."
In the past Drew Estate has also made available the MUWAT Kemosabe, MUWAT W.O.P.R., and MUWAT Kentucky Fire Cured Fightin' 69th cigars to Alliance.
The Herrera Estelí DeSocio becomes the seventh installment in the DeSocio series.The other cigars of the series include the: