Agile Cigar Reviews are cigar assessments where we use a lightweight, shorter format. These will never take the place of our comprehensive reviews. They are only used on blends we have previously assessed. This might be a blend we are re-scoring or giving a score for the first time. It might be a blend we are looking at in a different size. Today we look at the QuickDraw Connecticut Corona Gorda by Southern Draw Cigars. This is a cigar we last assessed back in the Short Panatela size back in April 2016.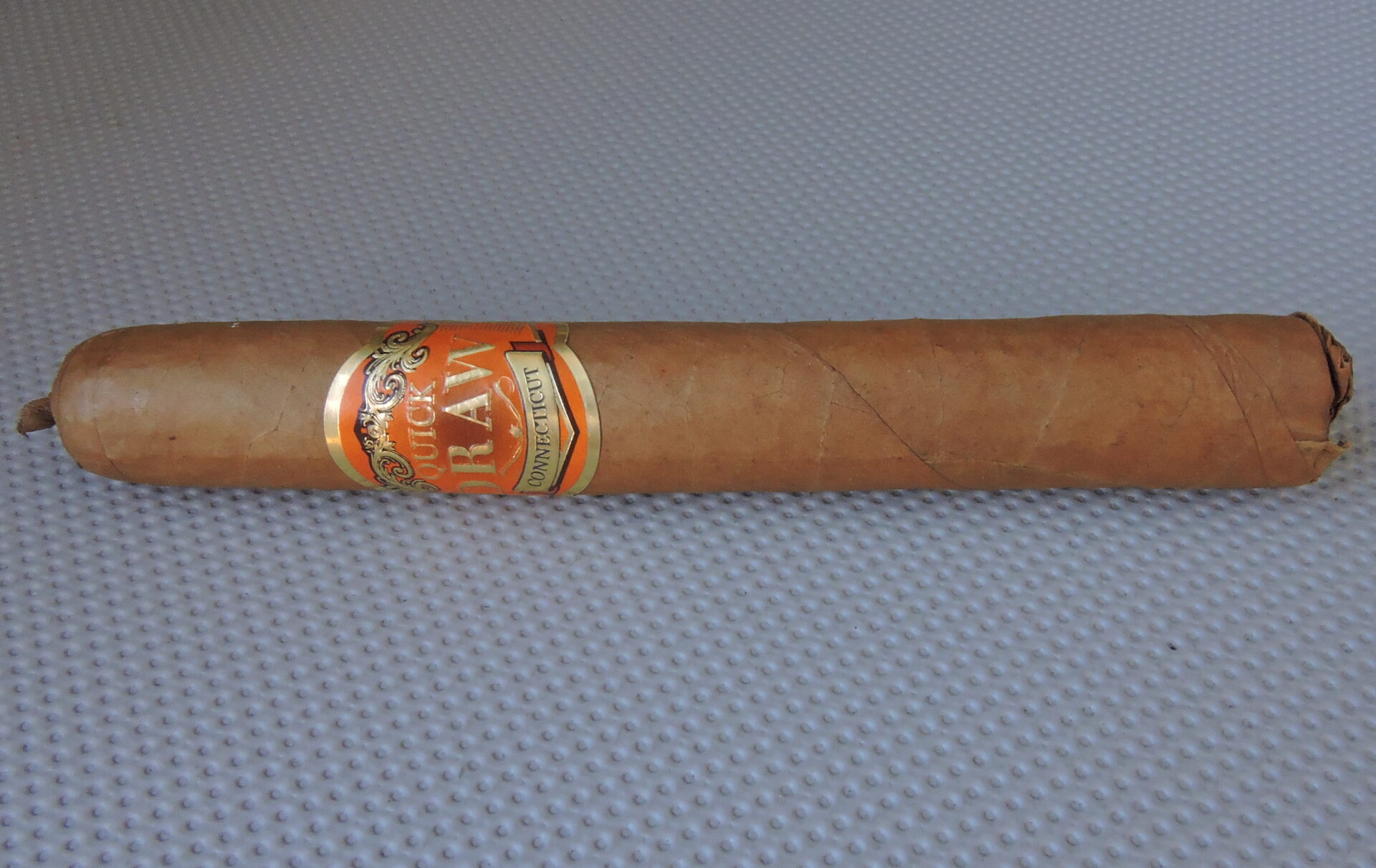 Wrapper: Ecuadorian Connecticut
Binder: Ometepe (Nicaraguan)
Filler: Esteli, Condega (Nicaraguan)
Country of Origin: Nicaragua
Corona Gorda: 5 1/2 x 46
Last month, Southern Draw Cigars released its first major batch of Corona Gorda line extensions to the three blends of its QuickDraw line of cigars. The QuickDraw line of cigars is a line of "connoisseur-size" cigars available in three blends – Connecticut, PA (Pennsylvania) Broadleaf, and Habano. As the name indicates, the QuickDraw is meant to provide a cigar geared for a short, quick cigar experience. At the same time, the QuickDraw line is offered to consumers as a value price point. Today we take a look at the Corona Gorda size of the QuickDraw Connecticut.
Word of the new Corona Gorda line extensions were first announced prior to the August 8th, 2016 deadline for pre-market approval put in place by the U.S. Food and Drug Administration. The initial batch of the QuickDraw Corona Gorda were released to Famous Smoke Shop as an exclusive with plans to move this as a regular offering to Southern Draw retailers.
While 2017's Rose of Sharon garnered significant acclaim as a Connecticut Shade offering by Southern Draw Cigars, the QuickDraw Connecticut was the company's first Connecticut Shade cigar. The QuickDraw Connecticut was released in 2016 in a petit corona and short panatela size and would join the QuickDraw Habano and QuickDraw Broadleaf lines. It would feature an Ecuadorian Connecticut Shade wrapper over an Ometepe binder and fillers from Estelí and Condega. The Corona Gorda line extensions measure 5 1/2 x 46 and feature a covered footer and pig-tail cap.
Flavor-wise, the QuickDraw Connecticut Corona Gorda delivers notes of classic wood, cream, cedar, and black pepper. There are some background citrus notes that surface during the first third. During the first half of the smoking experience, I found the creamy notes to be dominant. During the second half, the cedar and classic wood notes became more prominent. By the last third, much of the creaminess dissipated and there was an increase in the black pepper. During the smoking experience the QuickDraw Connecticut Corona Gorda starts out mild to medium in strength and body before progressing into medium territory in the second third.
I found the Corona Gorda line extension to be an excellent representation of the QuickDraw Connecticut blend.  I had enjoyed the 5 1/2 x 40 Short Panatela size in the QuickDraw Connecticut, but I liked what the extra thickness of the Corona Gorda size did for this blend. This is a cigar I could recommend to any cigar enthusiast any time of the day. As for myself, it's a cigar I would smoke again – and it's one of which I would certainly buy multiples to keep in my humidor.
Summary
Key Flavors: Cream, Classic Wood, Cedar, Black Pepper, Citrus
Burn: Excellent
Draw: Excellent
Complexity: Medium Plus
Strength: Mild to Medium (1st 2/3), Medium (Remainder)
Body: Mild to Medium (1st 2/3), Medium (Remainder)
Finish: Good
Rating
Value: Buy Multiples
Score: 90
References
Previous Assessment: QuickDraw Connecticut Short Panatela by Southern Draw Cigars
News: Southern Draw Announces QuickDraw Corona Gorda Initially Heading to Famous Smoke Shop
Price: $6.31
Source: Southern Draw Cigars
Brand Reference: Southern Draw
Photo Credits: Cigar Coop