---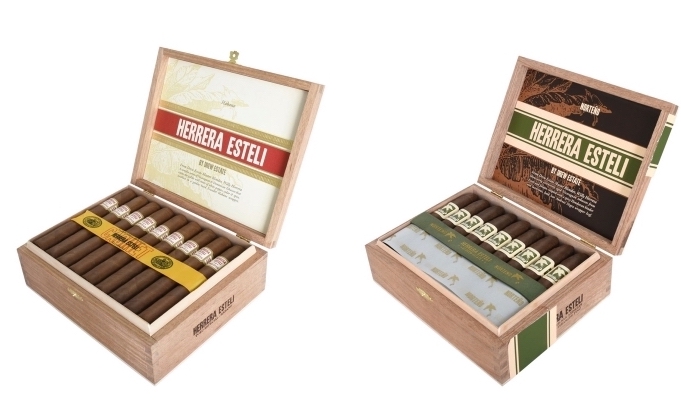 Drew Estate's Herrera Esteli brand is undergoing a major overhaul. At the 2018 IPCPR Trade Show, the Herrera Esteli brand will have a new look, some new names, and some new additions.
The original Herrera Esteli cigar, the first brand released by Drew Estate from its Master Blender Willy Herrera, will now be renamed the Herrera Esteli Habano. Meanwhile Norteño, the second blend done by Herrera for Drew Estate, will now officially become a part of the Herrera Esteli family and as a result, it will be renamed the Herrera Esteli Norteño.
Meanwhile, the Herrera Esteli Miami, a small batch limited production line made at El Titan de Bronze, will be expanded to five sizes and a new maduro line known as Herrera Esteli Brazilian Maduro will also be introduced.
As a part of the rebranding, all four blends will now have consistent packaging and will be available in 25-count boxes. Drew Estate says packaging will be updated for the Herrera Esteli Tienda (Shop Exclusives)
"The uniform packaging for the Herrera Esteli line has elements of classic Cuban inspired branding mixed with modern simplicity. I loved the classic cabinet boxes, but it was time to partner with our retail tobacconists and create a more cohesive space for Herrera fans to find my blends on the shelf," commented Willy Herrera in a press release.
Finally, Drew Estate will no longer support the 28 and 75-count refillable trays or the 25-count refill bundles for retailers.
At a glance here is a look at the Herrera Esteli Habano and Herrera Esteli Norteño:
Herrera Esteli Habano
Wrapper: Ecuadorian Habano
Binder: Honduran
Filler: Nicaraguan
Country of Origin: Nicaragua (La Gran Fabrica Drew Estate)
Herrera Esteli Habano Robusto Grande: 5 1/4 x 52 (SRP $227.94/ Box of 25)
Herrera Esteli Habano Toro Especial: 6 x 52 (SRP $241.94/ Box of 25)
Herrera Esteli Habano Lonsdale 6 x 44: (SRP $231.94/Box of 25)
Herrera Esteli Habano Piramide Fino: 6 x 52 (SRP $269.94/ Box of 25)
Herrera Esteli Habano Short Corona Gorda: 5 7/8 x 46 (SRP $203.94/ Box of 25)
Herrera Esteli Norteño
Wrapper: Mexican San Andrés
Binder: Honduran
Filler: Nicaraguan (Estelí and Jalapa)
Country of Origin: Nicaragua (La Gran Fabrica Drew Estate)
Herrera Esteli Norteño Robusto Grande: 5 1/4 x 54 (SRP $227.94/ Box of 25)
Herrera Esteli Norteño Toro Especial: 6 x 52 (SRP $241.94/ Box of 25)
Herrera Esteli Norteño Lonsdale: 6 x 44 (SRP $231.94/Box of 25)
Herrera Esteli Norteño Piramide Fino: 5 x 50 (SRP $269.94/ Box of 25)
Herrera Esteli Norteño Short Corona Gorda: 5 7/8 x 46 (SRP $203.94/ Box of 25)
Photo Credits: Drew Estate