Agile Cigar Reviews are cigar assessments where we use a lightweight, shorter format. These will never take the place of our comprehensive reviews. They are only used on blends we have previously assessed. This might be a blend we are re-scoring or giving a score for the first time. It might be a blend we are looking at in a different size. Today we look at the Undercrown Dogma by Drew Estate. This is a cigar line we previously assessed back in April 2014.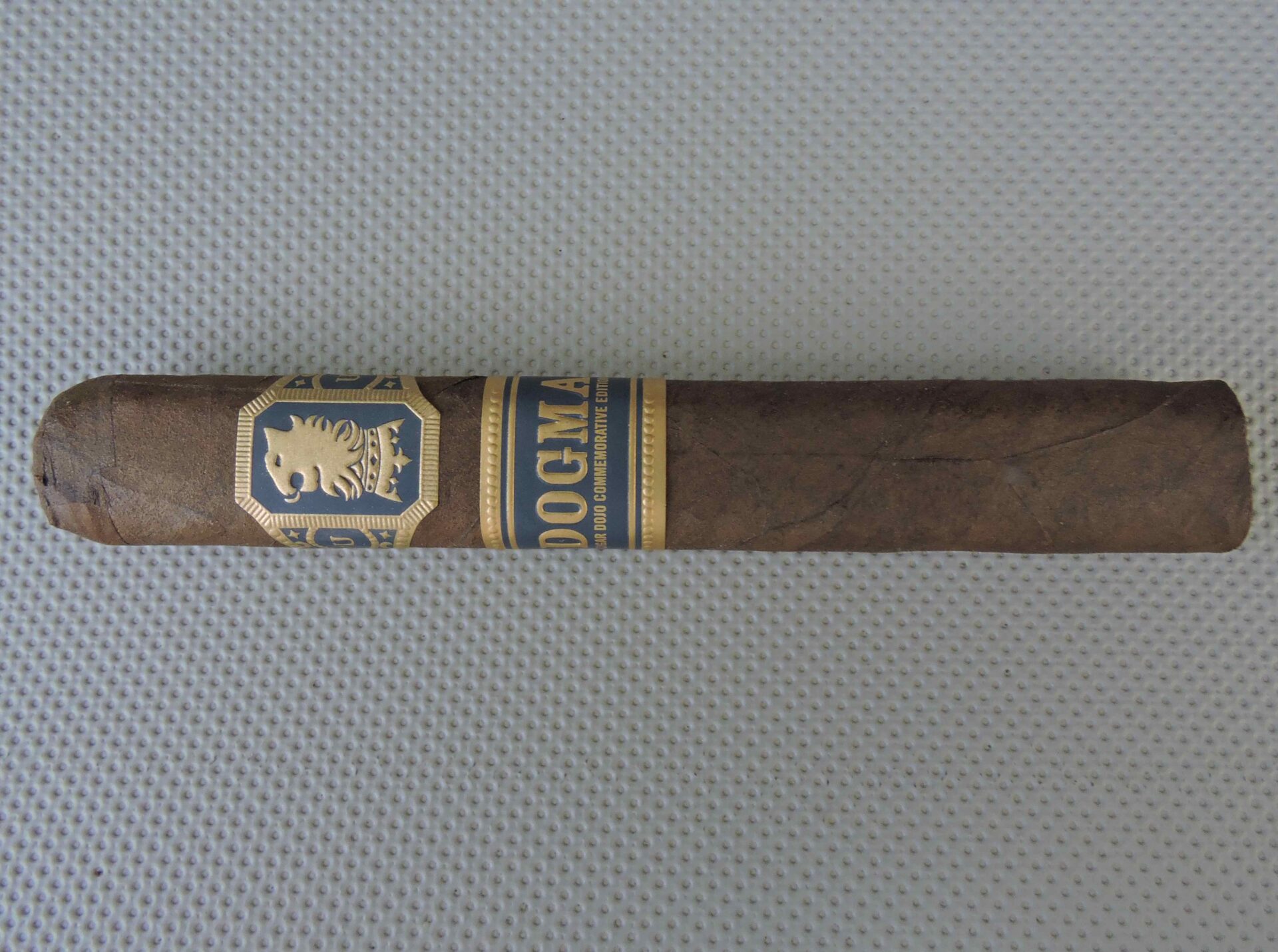 Wrapper: San Andres Mexican
Binder: Connecticut Stalk Cut Habano
Filler: Nicaraguan and Brazilian Mata Fina
Country of Origin: Nicaragua
Factory: La Gran Fabrica Drew Estate
Dogma: 6 x 56 (Box Pressed)
Cigar Dojo is a social media community that has become known for collaborating with leading cigar manufacturers to release exclusive cigars.  The first such project was one by Drew Estate and was an extension to the original Undercrown line known as the Undercrown Dogma. What was unique about the Dogma is that it was the first Undercrown cigar to be released in a box-pressed format. The cigar was first released in 2014 and was distributed through Florida retail chain Smoke Inn.  The cigar quickly sold out. Earlier this year, a batch of aged Undercrown Dogmas were released as part of a sampler through Smoke Inn. This summer, Drew Estate announced that the Undercrown Dogma would be made available on a more widespread basis to its Drew Diplomat retailers. Today, we take a look at the Undercrown Dogma from the recent widespread release.
The Undercrown Dogma consists of a San Andres Mexican wrapper, Connecticut Stalk Cut Habano binder, and a combination of Nicaraguan and Brazilian Mata Fina fillers. The blend for the Dogma is actually based on the Undercrown Corona ¡Viva!, which is a tweaked version of the original Undercrown blend designed to be more amped up. The vitola is a 6 x 56 box-press vitola featuring a trunk-press style that Drew Estate is known for. The cigars come packaged in ten-count paper bundles.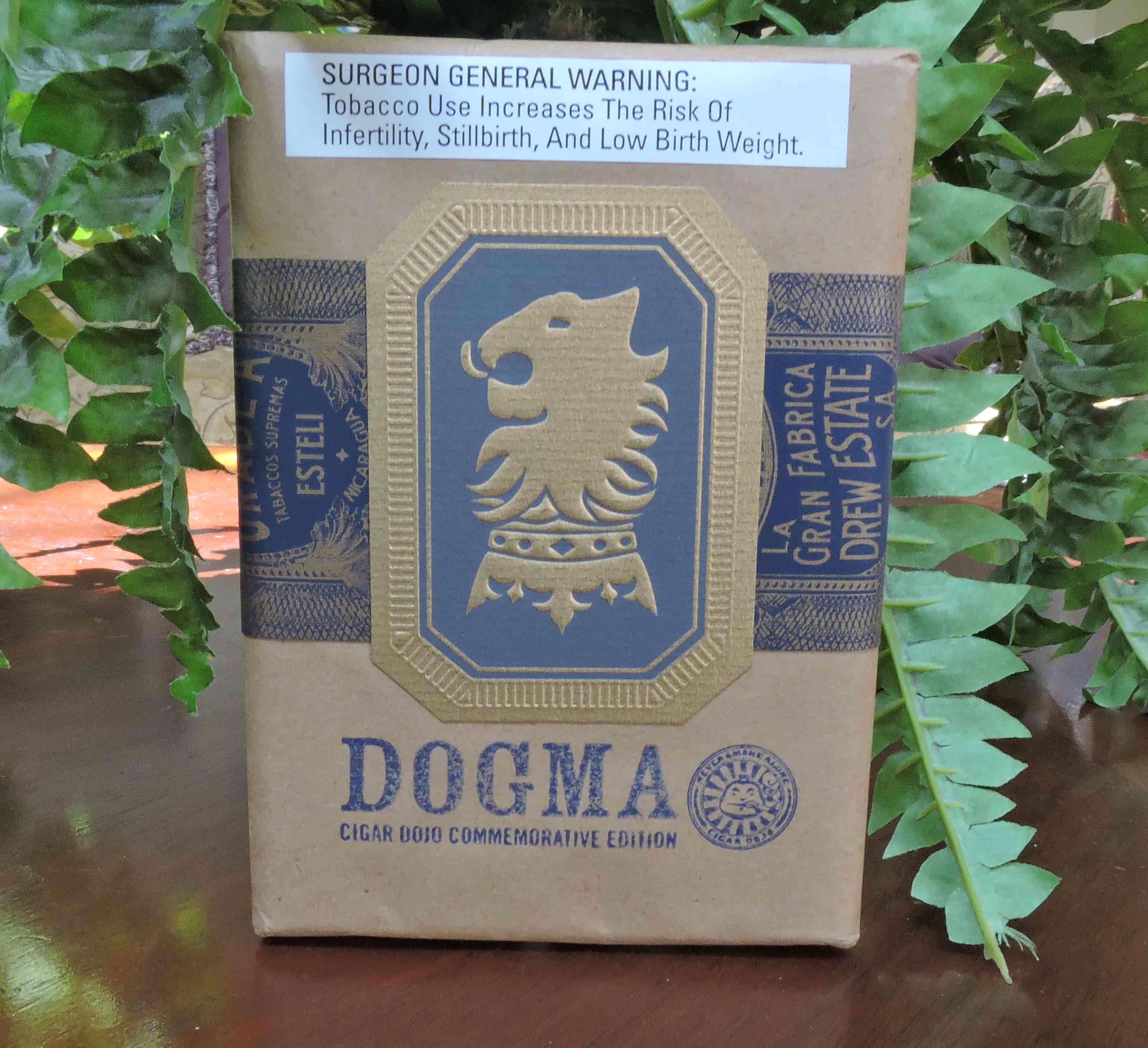 The Undercrown Dogma started out with a mix of rich coffee, dark cherry, exotic pepper, and cedar notes. Early on the coffee and dark cherry notes are more prominent. As the cigar experienced progressed, the coffee notes lost some of the richness and became more earthy. Concurrently the cherry sweetness diminished and there was a slight increase in the pepper notes. While there was more in the way of spice during the last third, the spice never became overwhelming.
In terms of strength, I found the Dogma started out medium strength before progressing to medium to full in the second half. The flavors delivered were medium to full-bodied. The body also increased along the way, but fell just a touch short of full-bodied.
OVERALL ASSESSMENT
Final Thoughts
Overall, I liked the combination of bringing the Corona ¡Viva! together with a trunk-pressed shape. The 2018 edition seemed a little less bold than when I smoked this cigar in 2014, but a variety of factors could play into that (age, vintage of tobacco, etc).  In 2014, the Dogma wowed me, but the 2018 edition didn't quite reach the same plateau. At the same time, this still is an above average cigar. One final note, this is a cigar that I found simply does not age well long-term. I found the flavors to be best when smoked sooner rather than later. Still, this is a cigar I'd recommend to an experienced cigar enthusiast, and it's certainly a nice cigar for a novice to try something in the medium/medium plus range. As for myself, this is a cigar I'd smoke again and buy multiples for the humidor.
Summary
Key Flavors: Coffee,  Earth, Dark Cherry, Pepper, Cedar
Burn: Excellent
Draw: Excellent
Complexity: Medium
Strength: Medium (1st Half), Medium to Full (2nd Half)
Body: Medium
Finish: Good
Rating
Value: Buy Multiples
Score: 91
References
Previous Assessment: Undercrown Dogma by Drew Estate
News: Drew Estate Takes Undercrown Dogma National
Price: $9.99
Source: Drew Estate
Brand Reference: Undercrown
Photo Credits: Cigar Coop