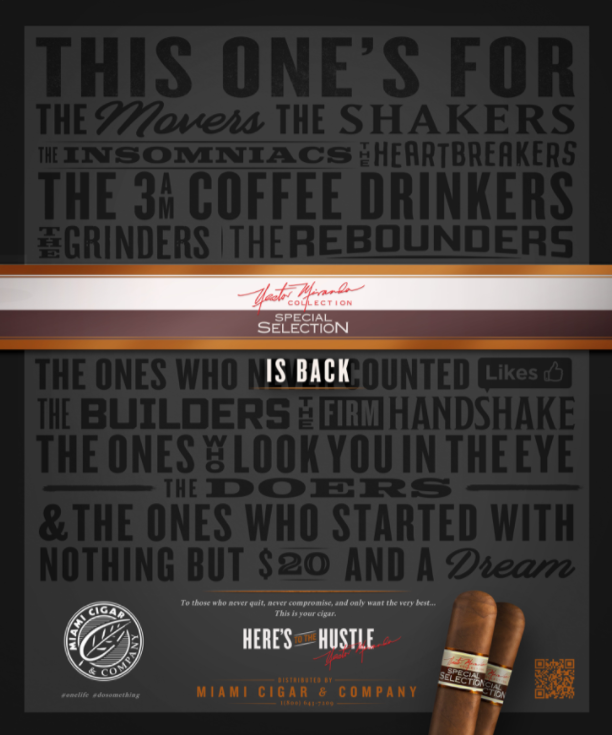 Miami Cigar & Company will be celebrating its 30th anniversary in 2019. To commemorate the occasion, the company announced the original line named for its founder Nestor Miranda will be making a return this spring – the Nestor Miranda Special Selection.
According to Miami Cigar & Company, the Habano Rosado wrapper blend will be the one returning. Production will once again be handled out of the My Father Cigars factory Estelí, Nicaragua. While specific sizes haven't been announced, the line will be offered in "traditional formats" priced in the $7.00 range.
"2019 is going to be an exciting year", said Jason Wood, Miami Cigar & Company Vice-President in a press release. "We try as much as possible not just to hear customer feedback but to act on it, and one common request was to bring Special Selection back to retail. Customers will know it the moment they see it as well because of our choice to enact very minimal adjustments to packaging and presentation. We can't wait to share the enthusiasm with cigar enthusiasts again around this line. For now, we're only bringing back the Habano Rosado, with much more to come this year in celebration of our 30th anniversary at MCC."
In 2014, when Miami Cigar & Company celebrated its 25th anniversary, the company released the Nestor Miranda Collection. At that time, the line replaced the Nestor Miranda Special Selection line.
"Special Selection is going to be a celebration of Nestor's work ethic and grind", added Nate McIntyre, Marketing Coordinator. "'Here's to the Hustle' means something to us. We work every day to reflect that work ethic seen in Nestor even to this day, so we wanted to offer a cigar for the every-day, hardworking people out there who simply love cigars, with a price point allowing anyone to enjoy it."
Image Credit: Miami Cigar and Company