Dr. Scott Gottlieb appeared on a videocast with The Hill where he addressed his resignation as FDA Commissioner. Dr. Gottlieb confirmed the reasons he was leaving were due to the toll the job was taking on his family. Each week, he was commuting to Washington, DC from his home in Westport, Connecticut, leaving only weekends with his family. "Two years of that got hard. It got hard on the family."  Gottlieb also denied he was leaving due to any policy differences with the Trump Administration.
Dr. Gottlieb addressed the tweet he made in January where he denied he was leaving the job as FDA Commissioner. In the interview, Gottlieb backed off that denial and acknowledged he was considering leaving, but timing became an issue.
"Timing wise. That tweet you alluded to was out during the shutdown. I certainly wasn't going to be leaving during the shutdown. Just looking at the calendar, it became too hard to find a week that made sense. I knew I wasn't going to stay much longer. Every week either I was testifying or the Secretary was testifying and this was a week where we had a break between testimony and it just seemed like the right time to do it,"  commented Dr. Gottlieb in the interview.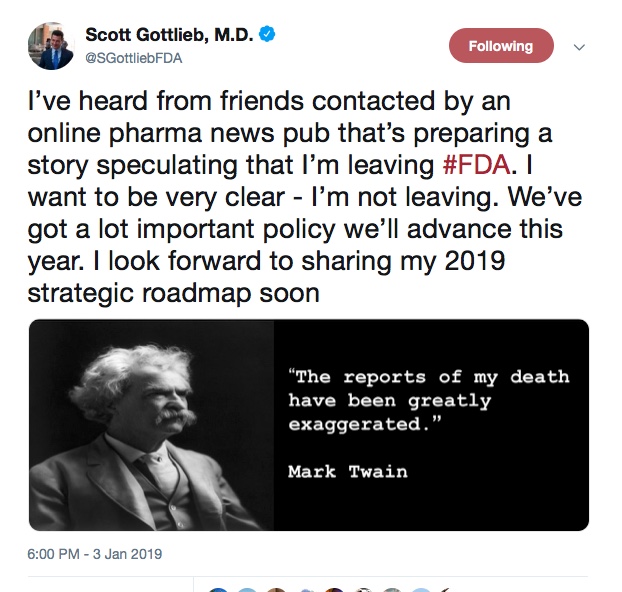 Most of the discussion regarding tobacco revolved around vaping and e-cigarettes. While there was no mention of premium cigars, Dr. Gottlieb did say he supported raising the national age to purchase tobacco products to 21.
When asked if he would ever come back Dr. Gottlieb replied, "I'd certainly consider coming back. I need some time home with my family."
The full video interview appears below:
Our story on Dr. Gottlieb's resignation is below:
Video Credit: The Hill, Facebook