---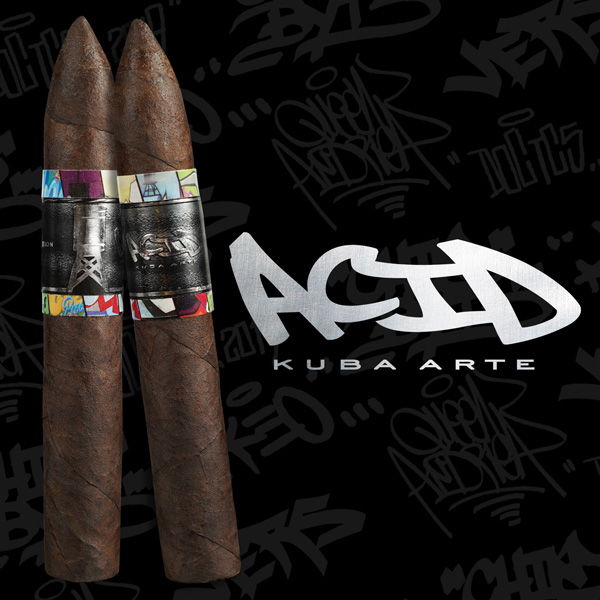 Drew Estate has announced another signature release commemorating the 20th anniversary of its ACID line. The ACID Kuba Arte will be a limited edition cigar that is packaged in a series of seven collectible water towers. The water towers feature art by five Brooklyn, NY based graffiti artists. The ACID Kuba Arte will be showcased at the 2019 IPCPR Trade Show.
In a press release, Jonathan Drew President and Founder of Drew Estate commented, "KUBA ARTE is a groundbreaking project that has never been seen in the cigar industry. For inspiration, we returned to our roots in DUMBO, the origins of Drew Estate and ACID, and meditated from the Brooklyn rooftops finding our Chi. We witnessed a skyline to behold, decorated with water towers, graffiti and of course the illustrious Manhattan Bridge. It was on those rooftops that we spent many of our nights dreaming of what Drew Estate would become, that "KUBA ARTE" was born."
ACID Kuba Arte features a Broadleaf maduro wrapper, Indonesian binder, and all-Nicaraguan fillers. The cigar comes in one size – a 5 13/16 x 54 torpedo. Each water tower humidor contains 20 cigars. A total of 1,750 sets of 7 humidors were created. Pricing is set at $238.00 per humidor and the products are set to ship in September.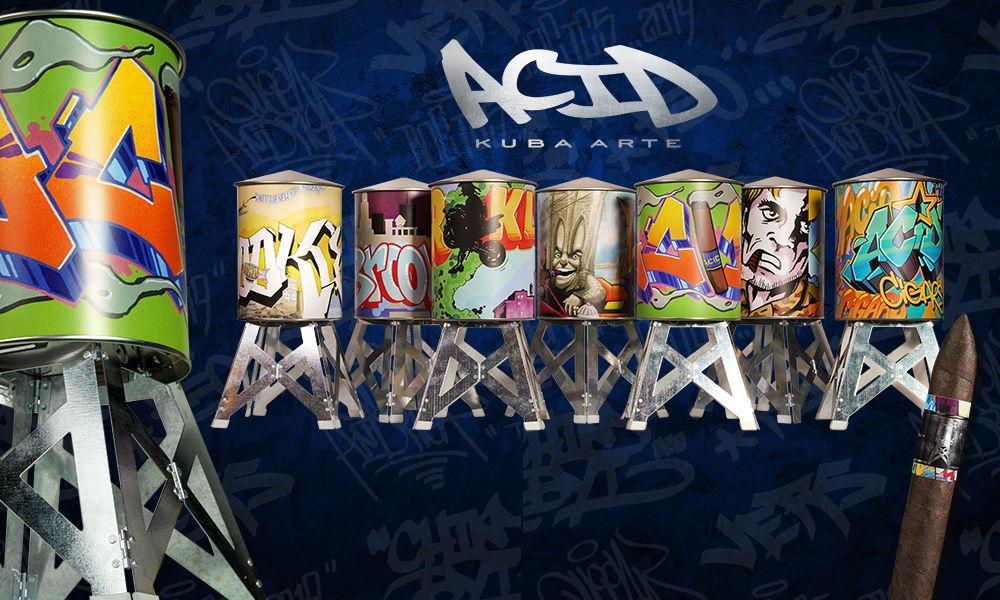 The following are information on the artists who provide the artwork for Kuba Arte:
CHINO; one of the foremost practitioners and ambassadors of graffiti culture in the world, David "Chino" Villorente spent eleven-years as editor of the "Graf Flix" feature in The Source magazine which cemented his position as an important arbiter within the global graffiti community. He has coauthored numerous books on graffiti culture, most recently with The ABC's of Style (Testify Books, 2018) as well as being an artistic collaborator with brands including, NIKE, REDBULL, ADIDAS, MASS APPEAL, Vh1 as well as co-curating the groundbreaking Beyond the Streets exhibitions in Los Angeles and New York. Villorente currently resides in his native borough, beautiful Brooklyn, New York. IG: @chinobyi.
DOC; A living, breathing legend and the very personification of Brooklyn. DOC worked the Moving Art Galleries (a.k.a. the NYC Transit System) at the dawn of street writing culture where his mission to ask "Who is Doc?" catapulted him to global recognition. IG:@DOCTC5.
KEO; TOP TC-5 X-MEN a.k.a SCOTCH70 is a bona-fide Brooklyn legend in the realm of NYC graffiti & hip hop. Weaving his charismatic "old school" aesthetic into the tapestry of urban art & pop culture, while redefining classic graffiti styles into fresh new work in fine art & design outlets. IG:@KEO_XMEN.
QUEEN ANDREA; a NYC-based fine artist, graffiti artist, typographer and graphic designer & is a leader in the newer generation of early 1990's graffiti writers. Queen Andrea finds her creative inspiration in the diversity & crazy energy of city life and especially graffiti. Out in the streets Queen Andrea has developed a reputation for her oversized typography murals, influenced by an endless appreciation of typography, as well as themes of urban life, hip hop lyrics & empowerment. @queenandreaone
VERS; Born and still based in Brooklyn, where for over 30 years with a spray-can in his hand, Vers has created unforgettable murals in his signature technical style full of energy and movement. His work is known around the globe from Iceland, Europe, Japan & even Mongolia! But NYC will always be home. IG:@VERS71
The ACID Kuba Arte joins the ACID 20 as the company's signature releases for 2019. The 2019 IPCPR Trade Show opens June 29th in Las Vegas, Nevada.
At a glance, here is a look at the ACID Kuba Arte:
Blend and Origin
Wrapper: Broadleaf
Binder: Indonesian
Filler: Nicaraguan
Country of Origin: Nicaragua
Factory: La Gran Fabrica Drew Estate
Vitolas Offered
Torpedo: 5 13/16 x 54
Image Credits: Drew Estate