Agile Cigar Reviews are cigar assessments where we use a lightweight, shorter format. These will never take the place of our comprehensive reviews. They are only used on blends we have previously assessed. This might be a blend we are rescoring or giving a score for the first time. It might be a blend we are looking at in a different size. In this case, we are looking at a cigar which has not been released for sale known as the Boston Jimmie Private Stock. The cigar is a personal blend for Stogie Press founder, "Boston Jimmie" Vita.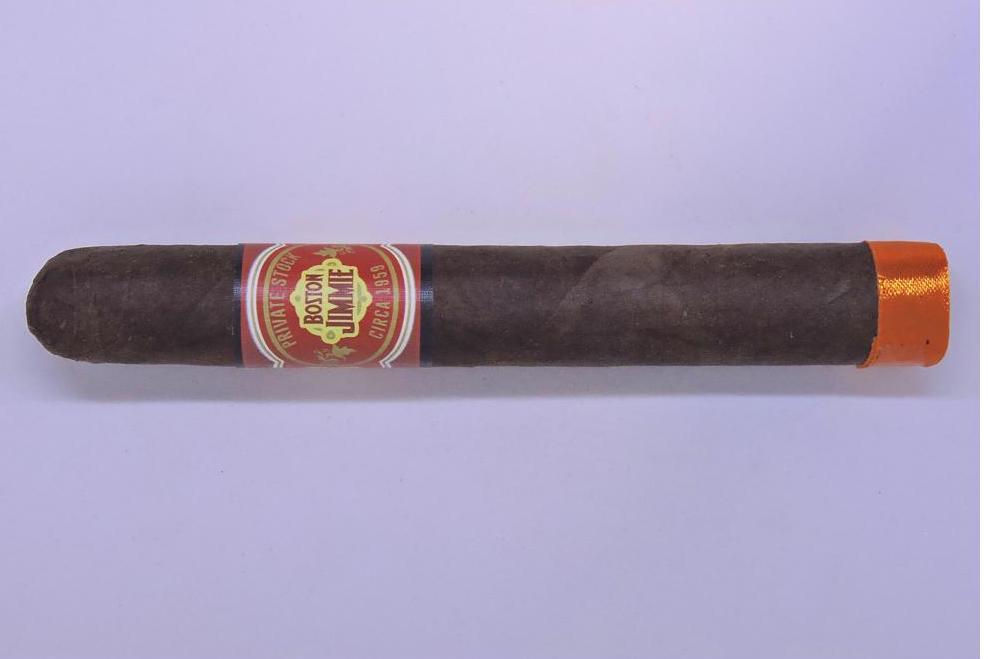 Wrapper: San Andres Maduro
Binder Sumatra
Filler: Nicaraguan (Ometepe/Jalapa)
Country of Origin: Honduras
Factory: La Pequena Vega
Toro: 6 x 52
Boston Jimmie is the founder and Editor-in-Chief of Stogie Press. Stogie Press is a brand focused on cigar reviews and cigar lifestyle. Over the years, the brand has become known for its coverage of smaller/boutique cigar companies, cigar lounges and events. When Stogie Press is covering cigar lounges and events, Boston Jimmie has been known to make appearances. This past November, Boston Jimmie had the Boston Jimmie Private Stock cigar created for his 60th birthday. While he is not currently selling the cigar, he has plans to use the cigar to support his appearances. Today we take a closer look at this cigar.
The cigar was done in collaboration with Providencia Cigars, a small cigar company that has been gaining some traction in the boutique cigar community. Providencia works with the La Pequena Vega factory in Danlí, Honduras. Boston Jimmie created the blend by looking at available leaf and then had the factory decide the formula used based on what he was looking for. The blend ended up being a San Andres Mexican Maduro wrapper over a Sumatra binder and fillers from Ometepe and Jalapa. Currently, the Boston Jimmie Private Stock is produced in one size – a 6 x 52 Toro.
The Boston Jimmie Private Stock started out with a nice mix of chocolate, black cherry, leather, natural tobacco, and white pepper. Early on, the chocolate notes (and to a lesser extent the cherry notes, were more dominant. The second third saw the cherry and natural tobacco develop a nice fusion becoming what I coin "macro sweetness." Concurrently, a mineral component emerged in the forefront. It was also during the second third when the chocolate notes diminished and the pepper notes increased. By the last third, the pepper closed in on the maduro sweetness and mineral notes were still the primary flavors.
Construction-wise, the Boston Jimmie Private Stock had an excellent burn and draw. This is a cigar that had some kick. The flavors started out medium to full-bodied in the first half and progressed to full-bodied in the second half. This was countered by medium strength.
OVERALL ASSESSMENT
Final Thoughts
One question our readers may have is why are we assessing the Boston Jimmie Private Stock. This question is a fair one considering we do not review unreleased cigars. In the end, Stogie Press is media, and part of Cigar Coop's mission is to cover the cigar media. We have done assessments for Cigar Dojo releases, but since the Boston Jimmie Private Stock is unreleased, we defaulted to our lightweight Agile Cigar Review framework. The other reason is because Providencia Cigars has been gaining traction, and we will have more reviews of their cigars in the upcoming weeks, so why not start here.
In the end, I found the Boston Jimmie Private Stock to be a bold cigar with some "meaty, chewy" qualities to it. The construction was excellent. In terms of the flavors, I found they performed much better in the first half than the second half. Given this cigar is not for sale, we won't do a value rating on it, but if you see Boston Jimmie around, try to get your hands on one of them.
Summary
Key Flavors: Chocolate, Maduro Sweetness (Cherry, Natural Tobacco), Mineral, Leather, White Pepper
Burn:  Excellent
Draw: Excellent
Complexity: Medium Plus
Strength: Medium to Full
Body: Medium to Full (1st Half), Full (2nd Half)
Finish: Good
Rating
Value: n/a
Score: 87
References
News: n/a
Price: n/a
Source: Stogie Press/Boston Jimmie
Brand Reference: n/a
Photo Credit: Cigar Coop