Agile Cigar Reviews are cigar assessments where we use a lightweight, shorter format. These will never take the place of our comprehensive reviews. They are only used on blends we have previously assessed. This might be a blend we are rescoring or giving a score for the first time. It might be a blend we are looking at in a different size. Today we look at the HVC 500 Years Anniversary in the Shorts (Short Robusto) size. The HVC 500 Years Anniversary is a cigar line we previously assessed in the Teseros size back in February 2020.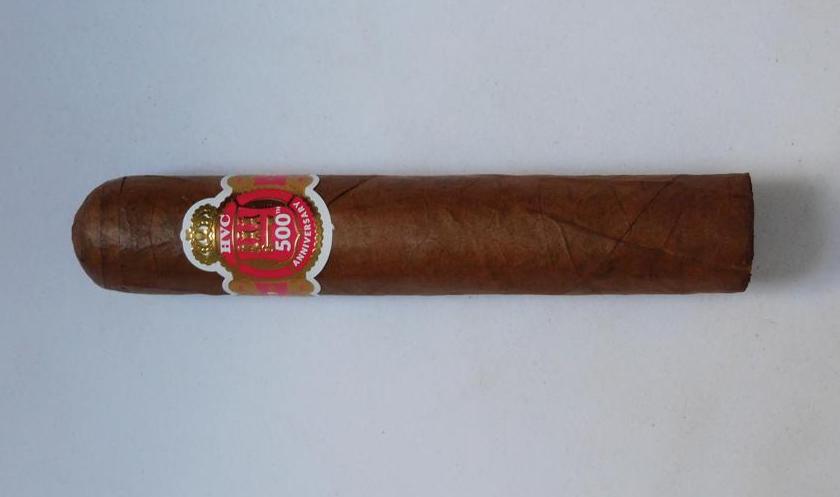 Wrapper: Nicaraguan Corojo '99
Binder: Nicaraguan (Jalapa)
Filler: Nicaraguan Criollo '98 and Nicaraguan Corojo '99 (Jalapa and Estelí)
Country of Origin: Nicaragua
Factory: Tabacos de Valle Jalapa S.A. (TABSA)
Shorts: 4 1/2 x 52
In 2019, HVC Cigars would release a cigar commemorating the 500th anniversary of the city of Havana Cuba, the HVC 500 Years Anniversary. HVC stands for Havana City and owner Reinier Lorenzo founded the company to pay homage to Havana, so it was appropriate for the company to do a 500th anniversary cigar. The cigar was originally released in a 5 7/8 x 52 Teseros size, but in 2020 Lorenzo made two additional sizes. One was a Corona Gorda and the other was a Short Robusto known as "Shorts." Today we take a close look at the HVC 500 Years Anniversary Shorts.
The Shorts was originally announced as an online-only version, but it turned out the cigar would also be sold by Privada Cigar Club. Privada has been building a multi-channel approach to its brand including direct sales, subscription services, and wholesaling to retailers. The company does a lot of exclusive cigars – some under their own brand and some as line extensions such as the Shorts.
Like the Teseros, the Shorts is a 100% Nicaraguan puro highlighted by a Nicaraguan Corojo '99 wrapper. Production is handled by HVC's longtime manufacturing partner, Aganorsa Leaf's TABSA factory.
The HVC 500 Years Anniversary Shorts starts out with notes of cedar, fruit, natural tobacco, earth, and black pepper. This is soon joined by notes of baker's spice. For a good chunk of the first third, there was no dominant note. Later in the first third the fruit and natural tobacco notes moved into the forefront. The second third saw the earth notes start to increase in intensity and eventually move toward the forefront. There was a slight increase in the pepper and baker's spice in the second half.
The profile of Shorts seemed bolder than that of the Teseros. This was a cigar that was medium to full in both strength and body. The  Shorts had an excellent draw, as it had a touch of resistance which is something I consider ideal. The burn did require frequent touch-ups to maintain a straight burn path.
OVERALL ASSESSMENT
Final Thoughts
One point unrelated to this review. HVC 500 Years Anniversary has been a cigar that has gotten a lot of attention. While I was aware of the Shorts, just about everyone I talked to had not heard of this vitolar. I'm not sure why this is the case. Privada Cigar Club releases have certainly gotten a lot of attention and I'm wondering if the Shorts has flown under the radar because Privada does so many limited releases.
That being said, the Shorts is a good cigar. I wouldn't put it in the category of the Teseros, but it still was good from a flavor standpoint. I would have preferred a better burn, but it was not substandard either. I'd recommend the cigar to a more seasoned cigar enthusiast, but would certainly not discourage a novice from trying one. As for myself, the Shorts is a cigar I would smoke and buy again, but if I had a choice I'd go for the Teseros.
Summary
Key Flavors: Natural Tobacco, Earth, Fruit, Baker's Spice, Black Pepper
Burn: Good
Draw: Excellent
Complexity: Medium
Strength: Medium to Full
Body: Medium to Full
Finish: Very Good
Rating
Value: Buy One
Score: 90
References
Previous Assessment: HVC 500 Years Anniversary Teseros
News: HVC Cigars Adds 500 Years Anniversary Selectos and Shorts Sizes
Price: $9.00
Source: Purchased
Brand Reference: HVC
Photo Credits: Cigar Coop