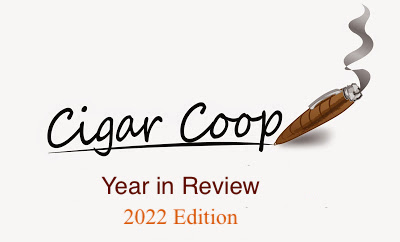 In 2020, we started tracking a simple metric on Cigar Coop – how do cigar companies rate in terms of the readership on Cigar Coop. This year, we rank the 25 "most-read" companies on Cigar Coop.
This is a very important data-gathering exercise for Cigar Coop. It shows what companies our readers are most interested in, and what type of coverage they are looking for.  In 2020, I decided to start to share the results of this exercise with our audience.
To determine this, a report was run on the 500 most-read articles on Cigar Coop. These articles are not 2022 specific, but are the 500 most-read articles regardless of publication year. Articles considered included news, reviews, feature stories, podcast articles, and events. Articles that were not specific to a company were removed from the dataset. Then each article was sorted by company. The Smoking Syndicate's content published on Cigar Coop was included in this data set.
The total page views related to a specific company were tabulated. Once the tabulations were completed, the results were sorted by which company had the most page views.
For this exercise, we considered only the top 25 companies ranked on page views.
NOTE: This reflects ARTICLES and does not include banner advertising.
2022 Rank
Company
2021
Rank
1
Scandinavian Tobacco Group (STG) (x)
1
2
Drew Estate
2
3
Altadis USA
3
4
Davidoff
4
5
Rocky Patel Premium Cigars
5
6
Arturo Fuente
8
7
Alec Bradley Cigar Company
6
8
Tatuaje Cigars
7
9
Perdomo Cigars
13
10
Dunbarton Tobacco & Trust
10
11
AJ Fernandez Cigar Company
14
12
My Father Cigars
15
13
JC Newman Cigar Company
12
14
Padron Cigars
25
15
CLE Cigar Company
9
16
Foundation Cigar Company
18
17
Espinosa Cigars
26
18
Gurkha Cigars
29
19
Oliva Cigar Company
50
20
Leaf by Oscar
32
21
Crowned Heads
19
22
Plasencia Cigars
36
23
Joya de Nicaragua
23
24
La Aurora Cigars
33
25
Quesada Cigars
72
x – Includes General and Forged
General Findings
A total of 85 companies had Top 500 cigar articles read in 2022.
The Top Ten consists of nine companies that have been in business for ten years or more.
For the second year in a row, the "Big Four" (Drew Estate, General, Davidoff, and Altadis) occupied the top four spots. Of the Top 500, a total of 34.4% of overall traffic came from these companies.
STG and Drew Estate continue to have a very close battle for the top spot. STG edged out Drew Estate by 1,161 impressions. STG's strength was partially fueled by an estimated 59 new releases for 2022.
The big movers into the Top 25: Oliva increased from the #50 spot to the #19 spot.  Quesada moved up from #72 to #25.
CLE was the one company that fell out of the top ten. Perdomo would take its place in the Top 10.
Our data continues to show our audience has little interest in the TAA (more below).
Our data continues to show our audience has little interest in single-store releases (more below).
The TAA Releases Show Little Audience Interest
I contend that the high-profile TAA releases just aren't resonating well with the Cigar Coop audience – despite our extensive coverage over the years.
Of the Top 25 companies listed in the Top 25, there have been 18 companies that have historically released a TAA Cigar. Here is where things get interesting. Out of the 500 most read-articles, only FOUR were related to TAA cigars – that translates to just 0.8%.  Our review of the My Father The Judge TAA Exclusive was the highest-read story related to the TAA, coming in at 172.
This is the third year in a row TAA data has come in extremely weak. I attribute this to the TAA and many of its manufacturers having done a poor job at marketing these cigars. With 18 companies delivering cigars to the TAA listed in our Top 25, I would expect these numbers to be higher than what has been shown here.
The Shop Exclusives Continue to Show Little Interest
While Shop Exclusives fared a little better, than TAA, they still didn't perform great in terms of audience readership. Of the 500 most read-articles, there were only nine articles (down from 15 last year) related to single-store releases!
While nine single-store articles in the Top 500 is low, it's an impressive number considering we rejected a great number of single-store releases due to non-compliance with our news policies.
Overall Growth
A huge year in overall growth as we grew 29.4% in readership from the previous year. We attribute this to the readership we gained during the pandemic, along with being smarter at covering brands that generate traffic.
2022: 29.4%
2021: 3.8%
2020: 11.48%