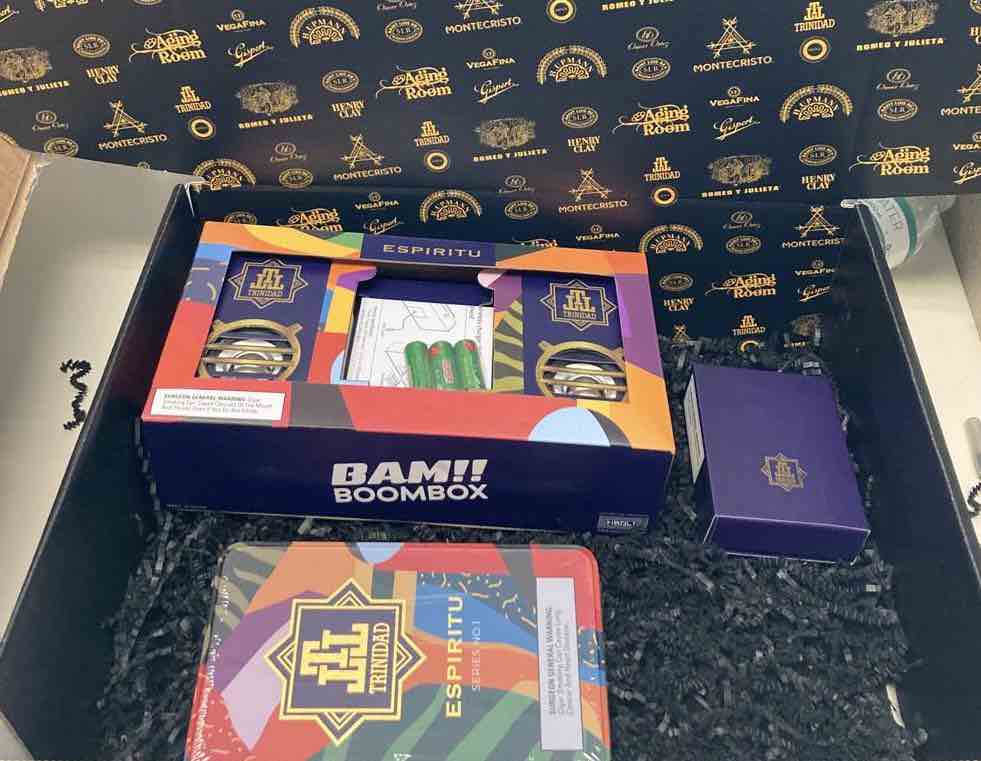 We are giving away a really cool Trinidad Espiritu gift set. This includes:
Trinidad Espiritu Portable Speaker Box
Trinidad Espiritu Domino Set
Trinidad Espiritu Lighter
Very simple to enter. There are two Trinidad Espiritu Releases – TELL US IN THE COMMENTS: DO YOU PREFER THE TRINIDAD ESPIRITU NO. 1 OR THE TRINIDAD ESPIRTU NO. 2
IN ADDITION, IF YOU TUNE INTO PRIME TIME SPECIAL EDITION 139 ON APRIL 4, 2023, YOU WILL BE GIVEN AN OPPORTUNITY FOR ADDITIONAL CHANCES TO WIN IN ON TOP OF YOUR ENTRY HERE! CHECK CIGAR COOP FOR DETAILS ON THESE ADDITIONAL CHANCES!
This contest will be open until Weds April 5, 2023 at 8pm PT.
As always, we provide the easiest way to enter our contests. NO PURCHASE IS EVER REQUIRED on a Cigar Coop contest!  We also do not share your contact or email information.
Contest Information
Winners will be selected at random. VERY IMPORTANT – WINNER WILL BE ANNOUNCED IN THE COMMENT SECTION and WE WILL ATTEMPT TO CONTACT VIA EMAIL. You have 24 hours to claim your prize via our instructions, or we will void the winner. Please do not enter if you cannot promptly respond. While we will announce the winner's name on Cigar Coop, any other contact information will remain private and not be distributed outside Cigar Coop.
Please only put comments under this article. Unless part of the April 4, 2023 Prime Time Special Edition 139, any comments received outside this article will not be considered. All comments are moderated, so they may not appear until reviewed. These comments are expected to adhere to our Code of Ethics. Only eligible comments will be posted to keep the contest selection process simple.
Also, the contest uses our general rules – be sure to read them. You may submit one entry per person. A reminder as per the general rules, employees and ambassadors of Tabacalera USA are not eligible. Resellers, retail store owners, sales representatives, social media influencers, and cigar media (as well as relatives and people living at the same address) are not eligible. Only U.S. entries are eligible. Prizes may be substituted at Tabacalera USA's discretion based on availability.
Photo Credits: Tabacalera USA