All eyes would be on Alec Bradley regarding the Forged Cigar Booth at the 2023 Premium Cigar Association (PCA) Trade Show. This would be the most significant stage Alec Bradley would be on since Scandinavian Tobacco Group (STG) acquired it almost five months prior. Since then, Alec Bradley Cigar Company became the Alec Bradley brand under Forged Cigar Company and would occupy one station alongside other Forged Cigar Company brands at PCA 2023. Alec Bradley would bring three releases, including a new core line and two limited-edition cigars. Representing the brand would be Bradley Rubin, the son of Alec Bradley founder Alan Rubin. The Cigar Coop Coalition team took the opportunity to present Bradley with the 2022 Cigar of the Year award for the Alec Bradley Fine & Rare BC-(13)4EV.
Alec Bradley's new regular production line brings back a line introduced in 2015 but with a new spin and new blend. Back in 2015, Alec Bradley introduced a brand called Post Embargo. At that time, there was talk of potential new trade agreements between the US and Cuba, so Alec Bradley created a brand around it. The brand was put on hiatus a few years ago. This year, Alec Bradley decided to revisit the concept and would introduce a new blend under the brand called the Alec Bradley Post Embargo B15.
The cigar features a fifth-priming Honduran Trojes Criollo wrapper with a rosado hue over a double binder of Honduran Jamastran Corojo and Honduran Trojes Criollo. The fillers include Nicaraguan Jalapa Criollo, Honduran Jamastran Criollo, and Honduran Trojes Criollo. Packaged in 24-count boxes, the Alec Bradley Post Embargo Blend B15 comes in three sizes: Robusto (5 x 52, SRP $8.99), Toro (6 x 52, SRP $9.99), and Gordo (6 x 60, SRP $10.99). Production comes from the Raices Cubanas factory in Honduras. These cigars are scheduled to ship in late August.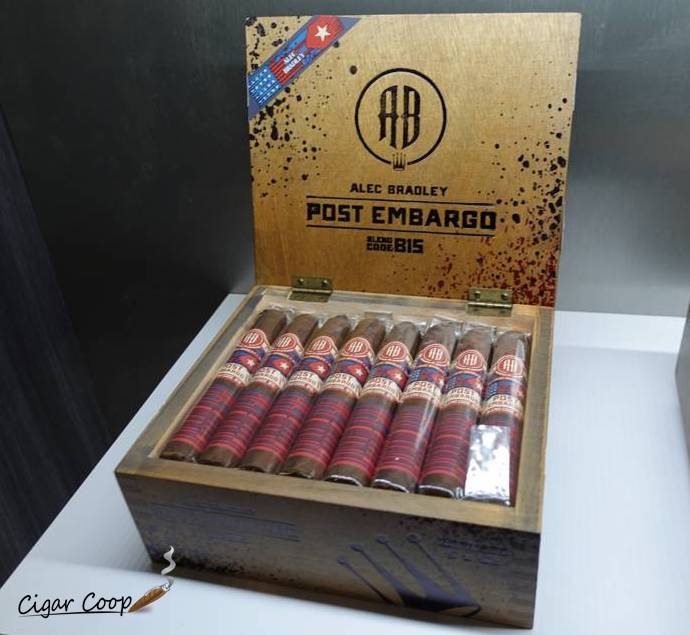 At the 2018 IPCPR Trade Show, Alec Bradley touted it would unveil a "mystery cigar." That cigar turned out to be the Alec Bradley Magic Toast. It would become one of the most successful releases by Alec Bradley (including landing on the Cigar Coop Countdown in 2018 and 2022). With 2023 being the fifth anniversary of Magic Toast, there is a special commemorative limited edition cigar to mark this milestone. The Magic Toast Fifth Anniversary is a line extension of the Magic Toast line in the form of a 7 x 54 perfecto. It utilizes the same blend as the Magic Toast, including a Honduran wrapper from the Trojes region, a double binder (one Nicaraguan Estelí Criollo and one Honduran Estelí Criollo), and a combination of Nicaraguan Jalapa Criollo, Honduran Jamastran Corojo, and Honduran Jamastran Criollo filler tobaccos. Pricing for the Magic Toast 5th Anniversary is set at $14.49. There will be a total of 2,000 ten-count boxes, and these are scheduled to ship in September.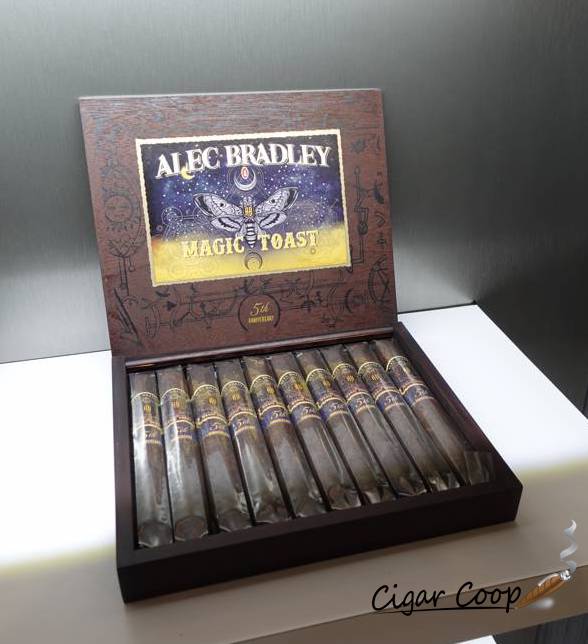 Following up the Alec Bradley Fine & Rare BC-(13)4EV, Alec Bradley brought a new Fine & Rare release for 2023. The Fine & Rare BCN-143 is the twelfth installment of the Fine & Rare series and introduces a new blend into the line. The BCN-143 keeps to the mantra of the Fine & Rare series by incorporating ten different tobaccos from Honduras and Nicaragua – including a double binder and seven different filler tobaccos. The blend is highlighted by a Honduran Trojes Criollo '98. The cigar comes in one size – a 7 x 50 box-pressed vitola. A total of 2,500 ten-count boxes have been produced. At $25.99, it's one of the higher-priced offerings in the Forged portfolio introduced this year.
Interview with Bradley Rubin, Scandinavian Tobacco Group
Due to age restrictions, you will need to click on Watch on YouTube to view this content.
Product Reports
Photo Credits: Cigar Coop